New T-Shirts
Wednesday, 19 April 2006
There were two common complaints six months ago when I started ringing the bell for Daring Fireball membership renewals. The first is that there weren't new t-shirt designs; people who had previously purchased the original shirt wanted to buy another, but, quite reasonably, didn't want to buy another of the exact same shirt.
As of now, this problem has been addressed: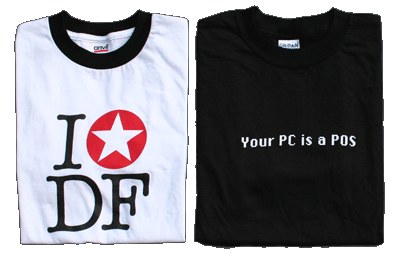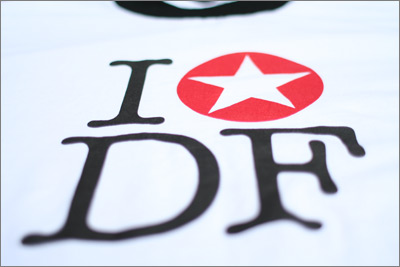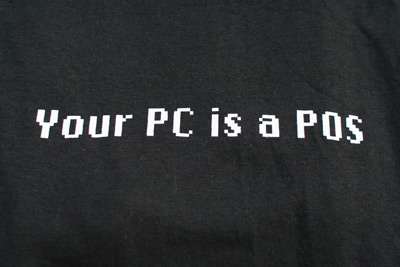 (I'm sure most of you don't need me to point this out, but do note that the "Your PC is a POS" slogan is typeset in Chicago 12px — the original system font of both the Macintosh and the iPod.)
Here's the deal: Your first shirt costs $29; each additional shirt costs just $19. So, you can buy two for $48, or get all three (the original shirt is still available) for $67. Shipping to the U.S. and Canada is included in the price, and is $5 per shirt anywhere else in the world. New orders include a one-year membership to Daring Fireball.
And — and this is really important — if you're already a Daring Fireball member, you can log in and you'll pay just $19 per shirt. I.e. you get the multiple shirt discount right off the bat, just by logging in with your email address and membership key.
As for the second common complaint regarding the membership system, that one tended to go something like this: You're a good writer and Daring Fireball is one of my favorite web sites, and so I might be willing to support your efforts by doing your membership thing, but, and I hate to say this, you don't write frequently enough. If you wrote more often and more regularly, I'd join.
I'll be announcing the fix for that one later today.