Wednesday, 17 April 2019
---
Wednesday, 17 April 2019
Steve Kovach, writing for CNBC:
Its surprise settlement with Qualcomm Tuesday over a years-long patent spat means it's now in a position to keep pace with its competitors to bring a 5G-ready iPhone to market as soon as this year.
There's no way there's going to be a 5G iPhone this year. There's no way there ever was going to be a 5G iPhone this year — even in a world where Apple and Qualcomm had never gotten into a dispute. It's too early. The carrier networks aren't ready, and the chips aren't efficient enough. And Apple doesn't make boutique iPhones — they're not going to do a 5G iPhone that is intended to sell in limited quantities just to say they have a 5G phone. (Samsung, I'm looking at you.)
Apple was "late" to 4G (starting with the iPhone 5) and they were arguably even late to 3G — the original iPhone only supported EDGE. They'll ship 5G iPhones when they can produce them in best-selling quantities, and when they meet Apple's expectations for efficiency and genuine usefulness on actual 5G networks.
But we don't live in a hypothetical world where Apple and Qualcomm did not have a years-long legal fight that led to Apple relying on Intel as its exclusive provider for cellular modems in the 2018 iPhones. We live in a world where Apple did rely exclusively on Intel, and where we know Apple's Plan A for a 5G iPhone was also reliant on Intel. I think it's pretty clear what happened here:
Intel's 5G modem efforts were so behind schedule that it looked increasingly likely, if not certain, that Apple wouldn't be able to use them for 5G iPhones in 2020. Forget about 2019 — I think Apple determined that even 2020 was increasingly in doubt if they sourced 5G modems from Intel.

It's clear to everyone that cellular modems are a key component in mobile devices.1 Apple's legal/licensing squabble with Qualcomm and Intel's technical failure shows that these chips are too important for Apple to rely on a third party — especially now that Qualcomm effectively has a monopoly on 5G chips. Fast Company has reported that Apple has a "team of between 1,000 and 1,200 engineers working on the modem chips for future iPhones" — but that team's work is obviously not going to be ready for a few years, at best. (If Apple's own in-house modems were going to be ready by 2020 they wouldn't have cut this licensing agreement with Qualcomm. Update: Good point from Benjamin Mayo — even if Apple's in-house modem chips were going to be ready soon, Apple would still need to work out a licensing deal for Qualcomm's patents on such chips.)

So Intel failed, and Apple's in-house team is years away. That left two options: settling with Qualcomm or heading into 2021 and perhaps beyond without 5G iPhones and iPads. Settling with Qualcomm was bitter medicine, but not having 5G devices until 2021 would be untenable.
Again, I don't think there was ever any plan for 5G iPhones in 2019 — even if Intel had succeeded beyond Apple's wildest dreams. In fact, I would bet that this year's new iPhone models will rely exclusively on Intel 4G modems, like last year's iPhone XS and XR models did. Mid-April is not just too late in the cycle to switch to Qualcomm 5G chips — I think it's months too late to even go back to a mix of 4G/LTE chips from both Qualcomm and Intel. There are tweaks that Apple can make to new iPhone designs this late in the cycle, but changing cellular modems is more than a tweak. I suspect the only way Apple could add Qualcomm modems into the mix for 2019 is if they'd been secretly planning for this possibility for months.
The 4G/LTE timeline is instructive. Android handset makers started shipping (or at least announcing) 4G phones in early 2011. E.g. Samsung's Galaxy S 4G LTE, which shipped on Verizon in May 2011. That year Apple shipped the iPhone 4S in October, with no support for LTE. Apple's first iPhone with LTE was the iPhone 5, in September 2012.
And lo, here we are in early 2019 and Samsung and Verizon are on the cusp of releasing their first 5G device. It seems fair to say that 2019 is for 5G what 2011 was for LTE, and that makes 2020 look like the right first year to expect Apple's first 5G iPhones. And current 5G technology is so bad, maybe 2021 is the right first year. Apple's goal shouldn't be to ship one of the first 5G phones — it should be to ship one of the first good 5G phones.
When2 new iPhones ship without 5G networking this fall, there will be headlines galore suggesting that Apple is late to the 5G game. But that was also the case in 2011 with LTE. But if 2020 were to come and go and iPhones still lacked 5G, they really would be late. Now is the time that fundamental early decisions for those 2020 iPhones need to be made, and it seems painfully clear that Apple determined they could not count on Intel. ★
---
Wednesday, 17 April 2019
Tuesday, 16 April 2019
Monday, 15 April 2019
Friday, 12 April 2019
---
Thursday, 11 April 2019
Peter Kafka, writing at Recode:
Disney+ will launch in the U.S. on November 12, for $7 a month. It will have a very large library of old Disney movies and TV shows — crucially, including titles from its Marvel, Pixar and Star Wars catalog — along with new movies and series made exclusively for the streaming service. It won't have any ads. And it will allow subscribers to download all of that stuff, and watch it offline, whenever they want.

For comparison: A standard Netflix subscription now costs $13 a month.
I don't think it's either/or — I'll certainly cough up $70/year in addition to whatever it is I'm paying for Netflix, and I'm sure tens of millions of others will too. But for the cost-conscious or simply those with a low threshold of subscription fatigue, $7/month for Disney+ looks like a much better deal than $13/month for Netflix. For those with young kids, it looks even better. In terms of depth of content, remember that Disney recently acquired 21st Century Fox — Disney+ will be the only streaming service with The Simpsons, to name just one Fox franchise now under the Disney umbrella.
$7 is really quite a deal — both by Netflix's current prices and Disney's own. $7 is about what it costs for a small box of popcorn and a bottle of water at Disney World.
Kafka again:
Disney's event still left several unknowns, some of which won't get answered anytime soon: For instance, does Disney plan on distributing its service via big internet platforms like Amazon and Apple, who are now officially frenemies with the media giant?
I'll eat my hat if Disney+ isn't available for Apple TV and iOS devices. The only question is whether they'll work out a deal with Apple to allow sign-ups on the device, or if, like Netflix now, you'll have to sign up on the web before using the service's apps on Apple devices.
Keep in mind that Disney CEO Bob Iger sits on Apple's board. So did Eric Schmidt, of course — before Android. I don't see this like that. Disney+ is central to Disney's future. Apple TV+ is not central to Apple. I know Apple News+ and Apple Music are both $10/month, and Apple Arcade might cost $10/month, but I don't think Apple expects to charge $10/month just for Apple TV+. I continue to think Apple TV+ will be something they add on for "free" when you pay for some sort of bundle with other Apple subscriptions — or maybe it will cost $10/month if it's the only thing you subscribe to from Apple, but they know that most people will get it as a "free" bonus.
(And, in case you missed it, Peter Kafka was my guest on the most recent episode of The Talk Show — very timely, even though we recorded a week ago.) ★
---
Thursday, 11 April 2019
Wednesday, 10 April 2019
Tuesday, 9 April 2019
Saturday, 6 April 2019
---
Wednesday, 3 April 2019
I'm far from the first person to notice this. It's such bad design it's obvious to anyone trying to read the release notes of a MacOS Mojave 10.14 update: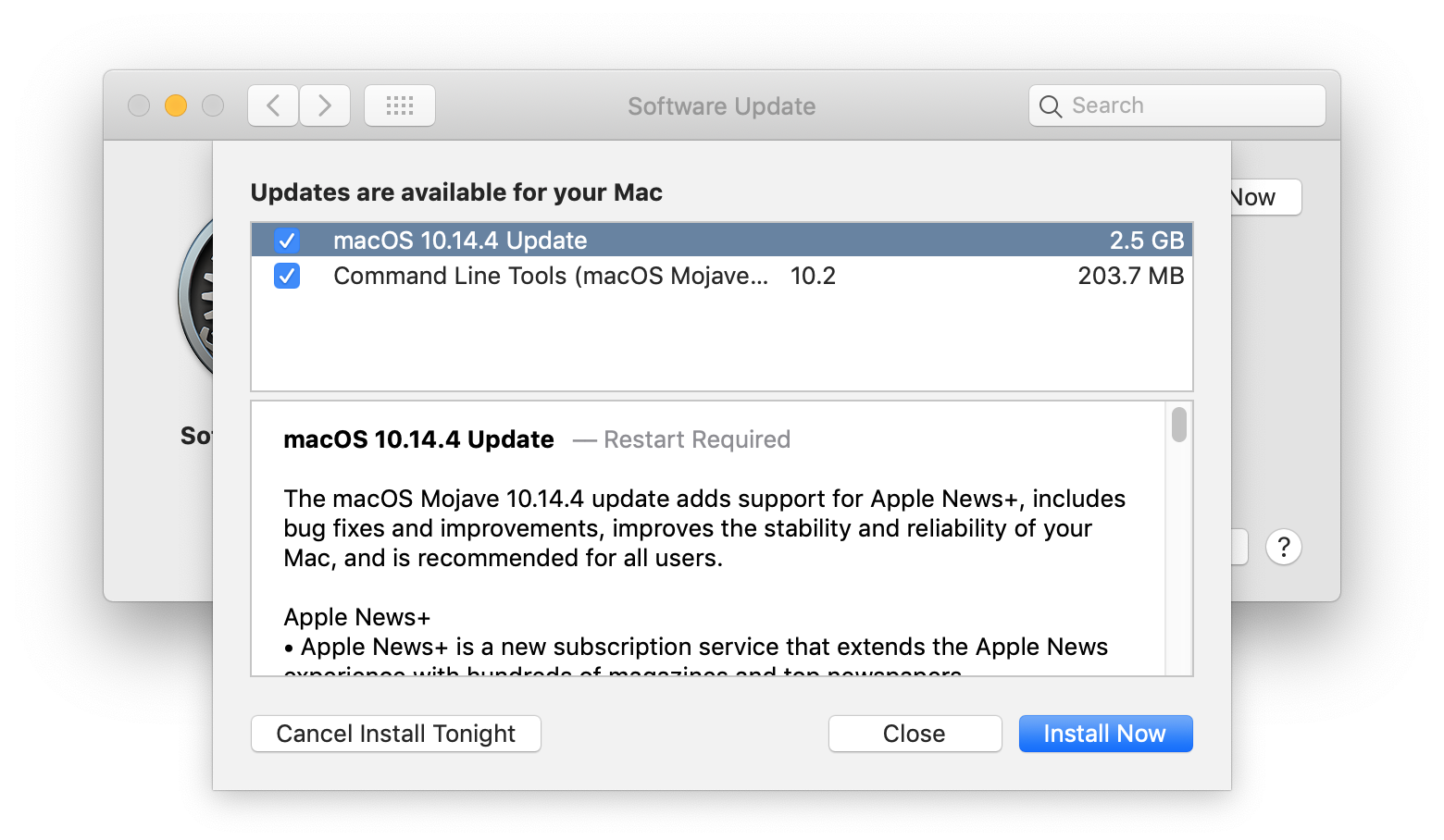 The release notes for the 10.14.4 update are quite long, as you can see from the relative size of the scroll. That's good — there's a lot new in this update and the release notes should mention everything new or different. But the sheet containing the release notes can't be resized. You see about 9 lines of text at a time, and there's nothing you can do about it.
Worse, the text can't be selected, so you can't even copy and paste it into TextEdit or some other app to read it comfortably. They even have URLs at the bottom of the note, pointing to support pages on apple.com which contain even more details about the update — but the URLs aren't clickable. Can't copy them, can't click them — the only way to actually open these URLs is to retype them manually.
It was a good idea to move system software updates out of the App Store app and (back1) into a System Prefs panel. System software updates aren't from the App Store, and System Prefs is — duh — the correct place to manage the system. But everything about the presentation of release notes in this sheet is obviously bad. Macs have displays ranging from large to giant, but these release notes are displayed in a fixed-size pane that shows less text than an iPhone SE. Seriously. The rigidity and clear lack of thoughtfulness makes it feel like a dialog box from some other operating system, like an old version of Windows. If this sheet were part of a student's assignment in an intro to Mac programming class, a good teacher would send it back and explain how to make a sheet resizable, how to make text selectable (and thus copy-able), and how to make URLs clickable.
But this isn't a student assignment. It's MacOS system software. ★
---