---
Wednesday, 16 January 2019
Coincident with the announcement of Slack's new branding, Pentagram posted some of the work they did for Slack. For example, this image showing seven takes on a new identity (alongside the old one). What they're showing is shockingly bad work. I can't believe Pentagram would present some of this to a client, and it's even harder to believe they would show it publicly.
Exhibit A: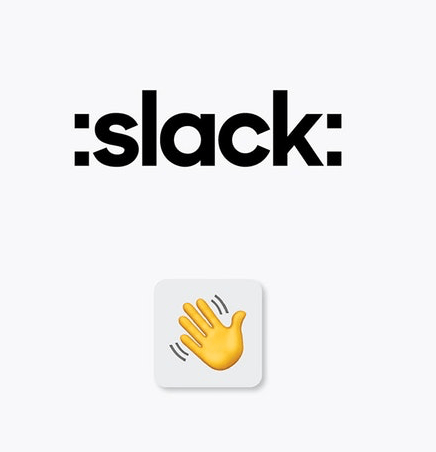 Slack uses colons like that for entering text shortcuts for Slack's emoji-like "reaction" stickers. E.g., type :wave: and it'll be replaced by a hand-waving sticker. No one who doesn't use Slack would know that; many people who do use Slack don't know that, because they have visual ways for choosing stickers; and even for people who do know what those colons represent, why in the world would anyone think they belong in the logo? And the actual waving hand in Pentagram's proposal isn't Slack's artwork, it's Apple's emoji. And why would a hand-waving emoji represent Slack as a logo? It makes no sense and looks like someone spent 30 seconds making it in TextEdit. It looks more like a tweet than a logo.
Exhibit B: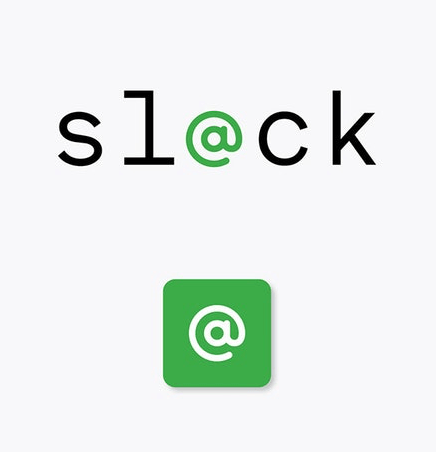 Where to even start with this gem? Why green? Why a monospaced font? (The lowercase L in this font looks a lot like the digit 1, which makes the whole thing look like a bad password — "[email protected]". Why an "@" symbol? Slack already was strongly identified with a standard punctuation character — the "#" hash mark. If anything, the "@" in the middle of "[email protected]" is reminiscent of an email address — but Slack's entire raison d'être is to serve as a superior alternative to email for group and team collaboration. Slack is not at all like email but can be a replacement for email. Whoever crapped this logo out clearly didn't even know what Slack is.
Then there's this collection of monochrome marks, with the caption "Logo explorations for the octothorpe":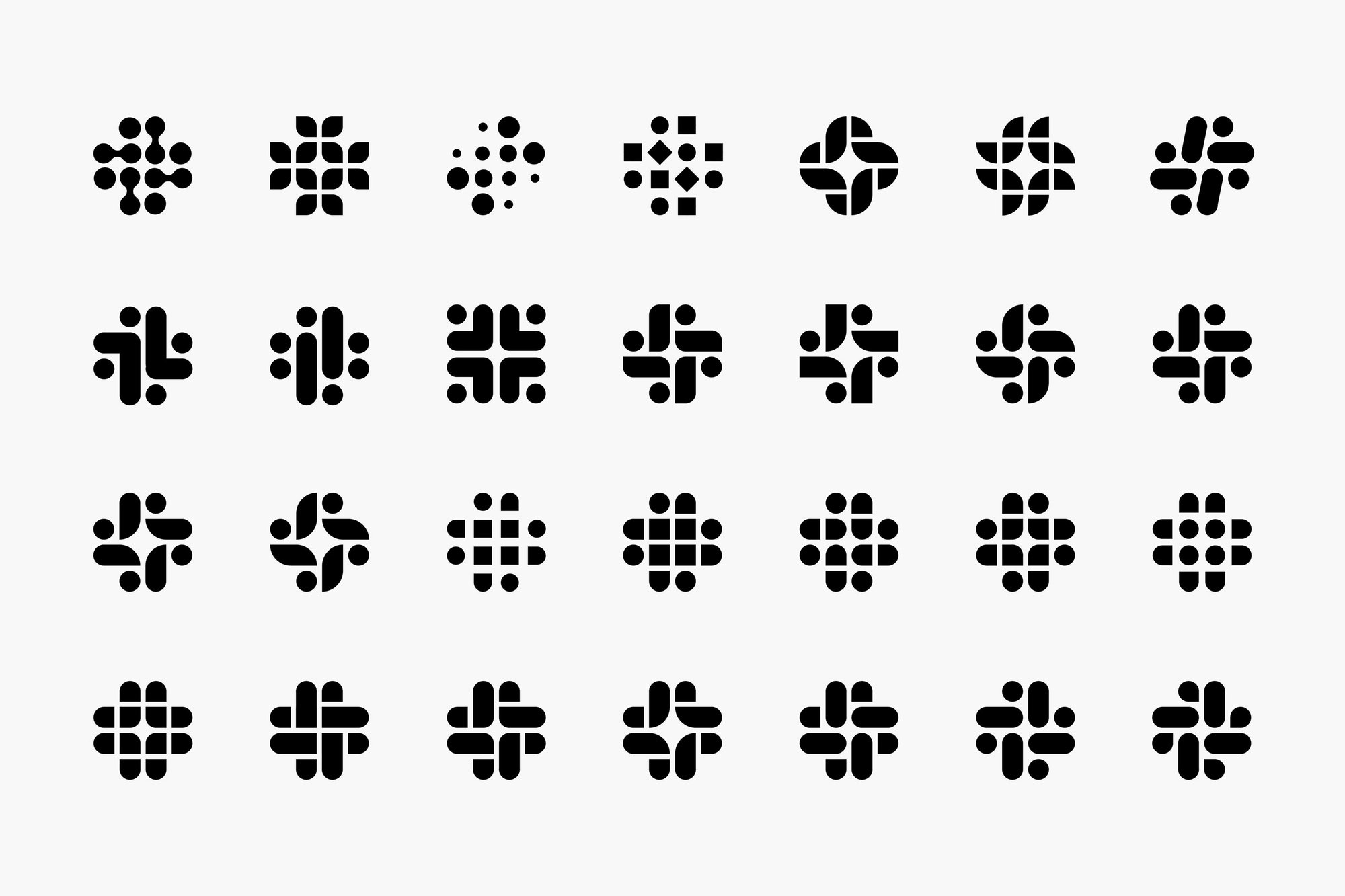 Only one of these 28 marks resembles an octothorp/pound sign/hash mark/whatever you want to call "#" (row 4, column 2). Maybe two or three if you squint. None of them are good marks. Most of them are terrible. This one looks like a man bouncing a ball behind a barber chair: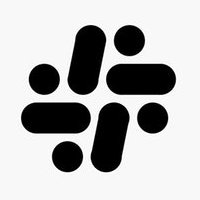 Pentagram proposed an ad using the new identity conceptually based on chat bubbles — and perhaps that's what those squirts in the corners of the new logo are supposed to represent. (To me they look more like this.) But Slack doesn't use chat bubbles. I suppose this new identity might presage a UI overhaul in which Slack will display chat bubbles, but if not, it again suggests Pentagram doesn't even use Slack.
If I were on Slack's marketing team and Pentagram showed me these proposals, I'd look around the room for hidden cameras, presuming that I was being pranked. If I weren't being pranked, I'd be furious, because this is the oldest trick in the designer's book — making one real proposal and then a bunch of throwaway garbage proposals to create the illusion of multiple directions for the client to choose from, and assuming the rube client will happily accept the real one and consider themselves smart for knowing which one was the best.1
Louie Mantia spent 10 minutes doodling and came up with a mark that:
It's not finished work but it's a better start than anything Pentagram proposed. What Pentagram has revealed indicates a total disregard for what Slack is and was — a brand which users have genuine affection for — and their new mark is nothing more than an unmemorable, unpleasant shape. ★
---
Wednesday, 16 January 2019
Tuesday, 15 January 2019
Monday, 14 January 2019
Saturday, 12 January 2019
Friday, 11 January 2019
---
Friday, 11 January 2019
Dr. Drang, regarding Jason Snell's tale of using BBEdit and Excel to create a working RSS feed for an old podcast, "Don't Fear the Regex":
Although I do often write short programs for text munging, I typically resort to that only if the problem requires more than just large-scale text editing or if I expect to be repeating the process several times. And even then, I usually start out by playing around in BBEdit to see what searches, replacements, and rearrangements need to be done. It's a convenient environment for getting immediate feedback on each transformation step.

(And if you expect to do a series of text transformations often and really don't want to get into writing scripts in Perl or Python or Ruby or whatever, BBEdit's Text Factories allow you to string together any number of individual munging steps.)
After I linked to Snell's piece, a reader emailed to ask why I didn't think this would've been better solved by writing a script in Perl/Python/Ruby or any other language with good regex support. Why use Excel for date transformations when scripting languages all have extensive date libraries?
What Drang describes above is my process too. If the task at hand is something I only need to do once or twice, right now, it's simply easier to just do it in BBEdit. I'm only going to make a proper script if it's something I know or suspect I'll reuse. But even when I do write a script to automate some sort of text munging, it inevitably starts with me working out the regex transformations step-by-step in BBEdit. Instant visual feedback with undo support — I've worked with text this way since 1992.
Drang:
Even worse, people who are thinking they should start using regular expressions often hear about this great book on the topic and have a natural reaction when they see it: A 500+ page book to learn how to search for text? No thanks.

This is too bad, because while Friedl's book is great, it's called Mastering Regular Expressions for a reason, and that reason is not because it's a tutorial. My recommendation for a tutorial is the one I learned from over 20 years ago: the "Searching with Grep" chapter in the BBEdit User Manual. I believe it was largely written by a young guy named John Gruber.
As for the Grep chapter in BBEdit's user manual — I did write a significant part of it, but I can't take and shouldn't get credit for all of it. Long story short, until BBEdit 6.5, BBEdit used a rather basic regex engine. If I recall correctly, it was a highly customized version of Henry Spencer's classic library, which supported only the classic features of regular expression syntax. I pushed for BBEdit to switch to Philip Hazel's excellent PCRE (Perl Compatible Regular Expressions) library, which supports just about every advanced bit of regex syntax anyone could want — and it's fast, supports Unicode, written in good clean cross-platform C, and more.
The Grep chapter in BBEdit's user manual was already very good when I started working at Bare Bones — the entire manual, cover-to-cover, has always been and remains genuinely excellent. In fact, like Drang, I learned regular expressions by reading BBEdit's Grep chapter. I went from "this stuff looks like gibberish" to "Oh, I get it, I see how this could be super useful" just by reading that chapter. If you're regex-curious, I highly recommend that you start by reading that chapter — even if you're not a BBEdit user. The regex syntax it describes will work in just about every current programming language or text editor. (The manual is available in BBEdit's Help menu.)
What I contributed to the Grep chapter was all the stuff in PCRE that BBEdit's old regex engine didn't support, which, admittedly, is a lot of stuff. Prompted by Drang's kind words, I just re-read the chapter for the first time in a few years, and it holds up. And I'm pretty sure the line about how many licks it takes to get to the center of a Tootsie Pop was mine.1 ★
---
Thursday, 10 January 2019
---
Thursday, 10 January 2019
Simeon, co-creator of the amazing iPad coding app Codea:
Codea is our iPad app for creative coding. I've been developing a universal version for some time.

It's hard to take a complicated, eight-year-old iPad coding environment and bring it to iPhone. There's so many damn features that need to work in so many damn configurations.

Autolayout takes care of many of these issues (thanks, SnapKit). But it doesn't take care of the most important: design. I've been stuck on the design for a universal version of Codea's code editor for over a year. It might even be two.

I realised six months ago as I was using my Mac, using the menus, that I need these things — menus — in Codea. I was trying to solve a problem that has been solved for decades.

So I set out to make the best menus I could make for iOS.
Do not miss their follow-up post, which has several videos showing their menus in action. Fantastic attention to detail in how they look and feel.
Here's something I wrote at the end of my piece on Undo in iOS last month:
What it comes down to, I think, is that the menu bar has become a vastly underestimated foundation of desktop computing. Once heralded, the menu bar is now seen as a vestige. I'm not arguing that iOS should have a Mac-style menu bar. I'm simply pointing out that without one, iOS is an 11-year-old platform that is still floundering to establish consistent conventions for some basic features, let alone complex ones, that are simple and obvious on the Mac.
What they're doing here with Codea isn't just putting the Mac menu bar on iOS. They've designed and built a very iOS-looking take on a menu bar, deeply informed by the aspects of the Mac menu bar that do work on a touch screen. Something like this is desperately needed as a standard interface element on iPad, and I think could work on iPhone too.
(As an aside, looking at the nice drop shadows behind Codea's menus reminds me how much I hate the almost-no-shadow flatness of standard iOS popovers on iPad. Ever since iOS 7 I've thought iPad popovers look like a rendering bug or an early prototype. Putting aside a debate regarding the overall flatness of iOS 7–12, iPad popovers just look wrong to me. They should look a lot more like what Codea is doing with their menus.) ★
---
Thursday, 10 January 2019
Wednesday, 9 January 2019
Tuesday, 8 January 2019
Monday, 7 January 2019
Saturday, 5 January 2019
Friday, 4 January 2019
Thursday, 3 January 2019
---
Thursday, 3 January 2019
Manish Singh, reporting for VentureBeat:
Netflix is further distancing itself from Apple's iTunes tax bracket. Earlier this year, the streaming giant enabled iOS users in more than two dozen markets to bypass the iTunes payment method as part of an experiment. The company now tells VentureBeat that it has concluded the experiment and has incorporated the change globally.

"We no longer support iTunes as a method of payment for new members," a Netflix spokesperson told VentureBeat. Existing members, however, can continue to use iTunes as a method of payment, the spokesperson added.
This is a big deal. Netflix is the top-grossing app in the App Store in the U.S. They might remain the top-grossing app, even, because users who have already signed up with iTunes billing can keep doing so. But it really tells you how fractious Apple's relationship is with content providers if the most successful one on the platform stops supporting it. And keep in mind that Netflix has long had a special relationship with Apple, with an 85/15 cut from the start, not just after a year.
If Apple wants to insist on a cut of in-app purchased subscription revenue, that's their prerogative. What gets me, though, are the rules that prevent apps that eschew in-app purchases from telling users in plain language how to actually pay. Not only is Netflix not allowed to link to their website, they can't even tell the user they need to go to netflix.com to sign up. This screen from the current version of Netflix for iPad is as close as they get, and I'll bet it was the result of tense negotiations with Apple. Again, Apple can make the rules — it's their platform. But it's just wrong that one of the rules is that apps aren't allowed to explain the rules to users.
Apple should be earning its share of in-app subscription revenue by competing on convenience, not confusion and obfuscation.
Oh, and that "Help" button up in the corner of the Netflix launch screen is interesting. Tap that button and you get the option to call Netflix customer support (over some VOIP system, not a real phone call). I tried that, was told the queue was "about 6 minutes", and exactly 6 minutes and 11 seconds later I was speaking to a friendly support rep. I told him I was using the iPad app and trying to sign up, but couldn't figure out how.
He told me I need to go to netflix.com in my browser. ★
---
Thursday, 3 January 2019