Tuesday, 23 October 2018
There's got to be a catch.
That's what everyone has been thinking ever since Apple announced the iPhone XR alongside the XS and XS Max on September 12. Right? The iPhone XR seemingly offers too much of what the XS provides at a significantly lower price.
Well, there is no catch.
The iPhone XR is everything Apple says it is, and it's the new iPhone most people should buy. I've been using one as my primary phone for the last week, and it's a lovely, exciting device. Even some of the things I thought were compromises don't feel like compromises at all in practice. Overall, yes, the XS and XS Max are better devices, but in a few regards the XR is actually better.
Let's start with the price. For the equivalent amount of storage, the iPhone XR costs $250 less than an iPhone XS, and $350 less than an XS Max.
| | 64 GB | 128 GB | 256 GB | 512 GB |
| --- | --- | --- | --- | --- |
| iPhone XS Max | $1100 | — | $1250 | $1450 |
| iPhone XS | 1000 | — | 1150 | 1350 |
| iPhone XR | 750 | 800 | 900 | — |
But in practical terms, the difference is even more striking than that. 64 GB of storage is a credible baseline — a far cry from just a few years ago when storage started at a criminally meager 16 GB for the iPhones 6S in 2015, and 32 GB for the iPhones 7 in 2016. But the sweet spot for most people in 2018, in my opinion, is one tier above 64 GB.
I think my wife is a fairly typical iPhone user. Music, photos, podcasts, games. I just checked and her iPhone is using right around 64 GB of storage. She could actually save about 12 GB if she enabled the Offload Unused Apps feature in iOS. So she could get by with 64 GB, but she'd need at least 128 GB to be comfortable. I think a lot of iPhone users have similar storage needs.
But only the iPhone XR offers a 128 GB storage tier, and it's just $50 more. If you want more than 64 GB with an iPhone XS, you've got to pay $150 more than the base price and jump all the way to 256 GB. So in terms of what I would actually recommend for most people — getting the storage tier one level above entry level — the 128 GB iPhone XR costs $350 less than the 256 GB XS and $450 less than the XS Max.
People who are looking for some way that iPhone XR purchasers are getting screwed have it backwards. If anyone is getting screwed on pricing, it's XS and XS Max purchasers, who don't have the option of buying a 128 GB device for just $50 more than the baseline 64 GB models.
In terms of what most people actually need and will use, storage-wise, the iPhone XR is $350-450 less than an iPhone XS or XS Max. That pricing difference is far more remarkable than any of the technical differences between the XR and XS iPhones.
So what actually is different? There's the lack of a second rear-facing camera, the different display technology (LCD instead of OLED, without 3D Touch), the different materials (aluminum instead of stainless steel) and sizes, and a few other relatively minor trade-offs.
Camera
The entire front-facing camera array on the XR is the same as on the XS models. Same camera, same depth sensor, same improved Face ID performance.1 The iPhone XR's lone rear-facing camera is exactly the same as the wide-angle camera on the XS — same lens, same sensor, and in my side-by-side testing, the exact same image and video quality.
For regular stills and video, the effect of not having a telephoto second camera is obvious: if you want to zoom in, image quality is noticeably worse than on the iPhone XS because the XR can only zoom digitally, not optically.
The difference is more complicated with Portrait Mode. The iPhone XS and XS Max shoot portraits using the f/2.4 telephoto lens. (They use the wide-angle lens in Portrait Mode, but only for computational help, not for primary image capture.) The iPhone XR does Portrait Mode using the f/1.8 wide-angle lens. An f/1.8 lens is about one full stop faster than f/2.4. And, as I covered in detail in my iPhone XS review, the wide-angle camera shared by the XR and XS also has a significantly larger sensor, which can gather up to 50 percent more light. By using the camera with the faster lens and bigger sensor, Portrait Mode on the iPhone XR works significantly better than on the XS in very low light scenarios.
Here are two shots of my son in a dark room at night, lit only by a nearby TV.
iPhone XS (original image file):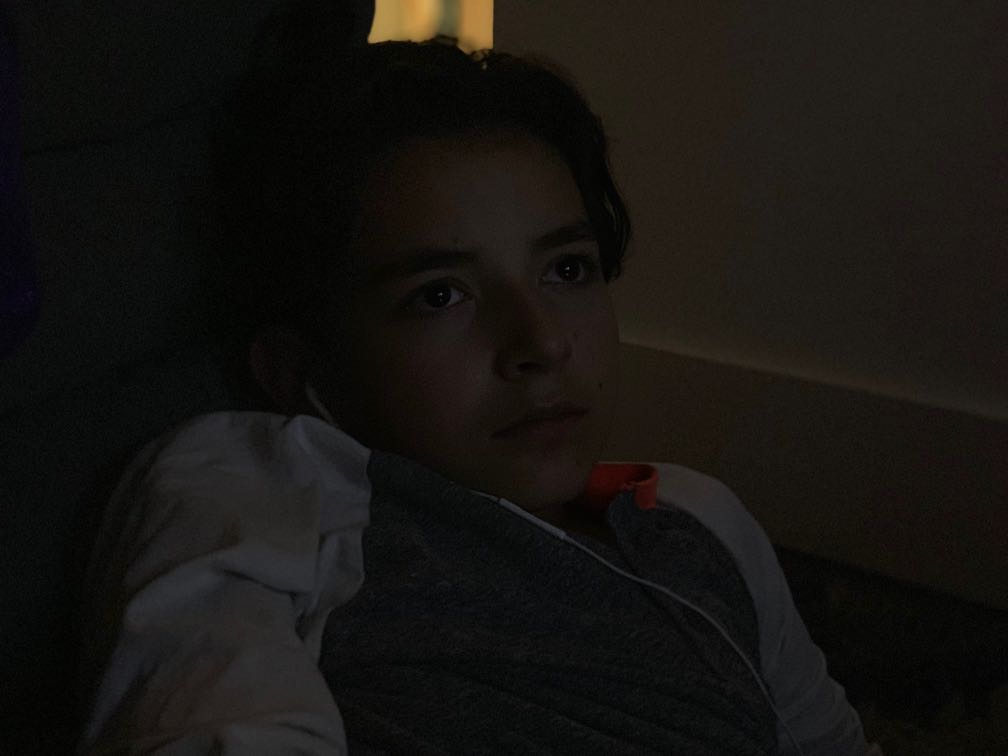 iPhone XR (original image file):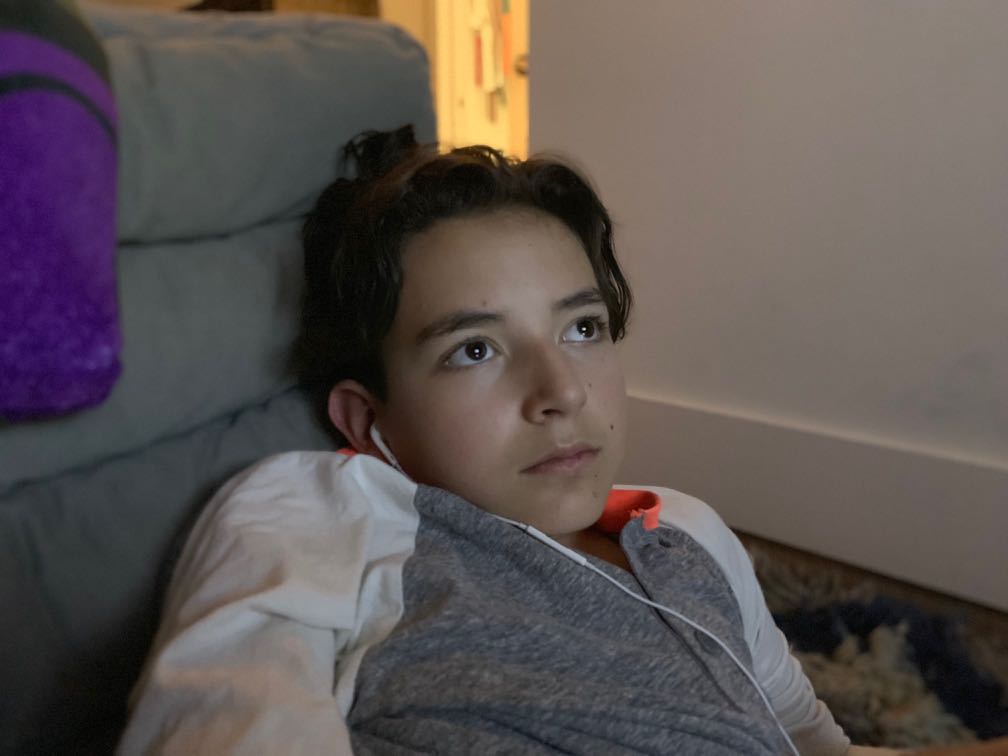 I have done no post-processing on these images other than to scale them to a smaller size, and I shot both with the iOS 12 Camera app. The original images, untouched other than converting from HEIF to JPEG when exporting from Photos, are about 2.2 MB in size.
Here are the same two images with a bit of editing in the iOS Photos app. For the XS shot, I turned up the "Light" significantly and applied the "Dramatic" filter. For the XR shot, all I did was apply the "Dramatic" filter. (I find "Dramatic" — along with its "Dramatic Warm" and "Dramatic Cool" variants — a good way to very quickly improve noisy low-light images.)
iPhone XS (full-size image file):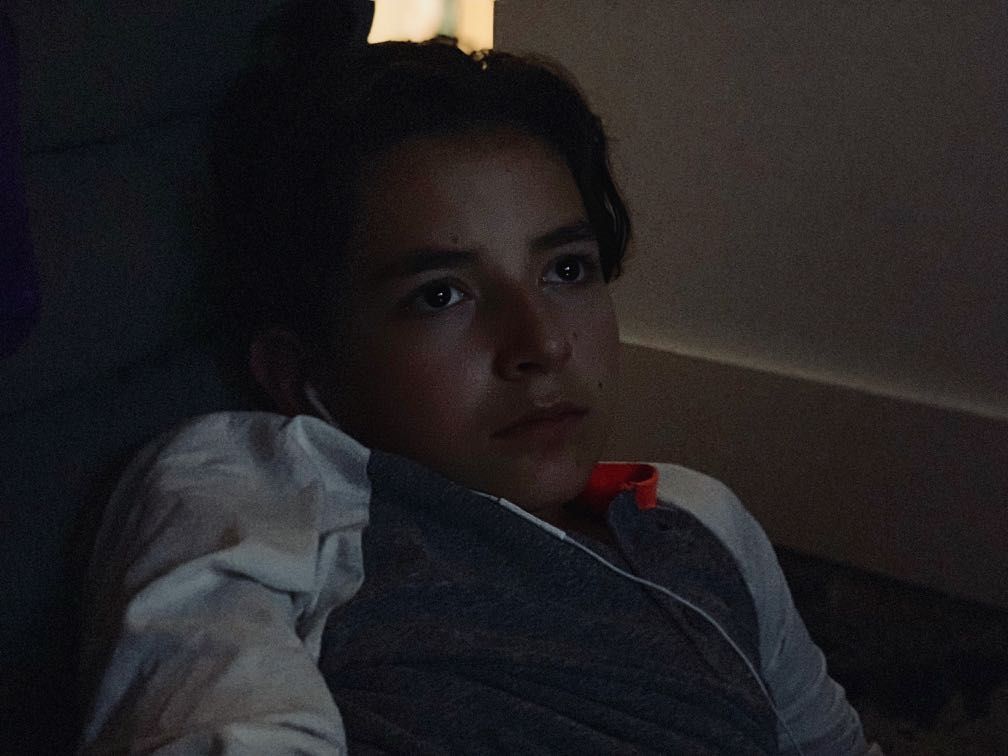 iPhone XR (full-size image file):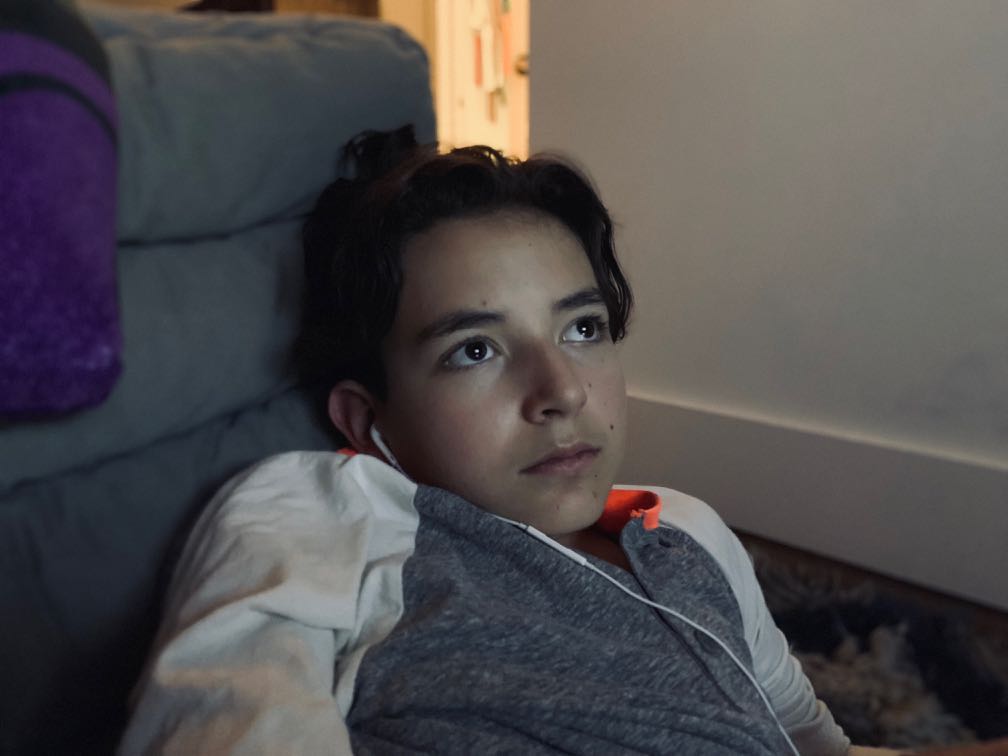 In short, Portrait Mode is usable on the XR in some low light situations where it's unusable on the XS.
With plenty of light, Portrait Mode is much better on the XS than the XR, simply because the XS telephoto lens is a much more appropriate focal length for portraits. And most of the time, Portrait Mode is useful when there's plenty of light. I don't want to make too much hay over the XR's ability to shoot portraits in low light, because the XS models can just shoot regular still photos in low light and in a lot of cases that's probably the way to go.
Portrait Mode on the XR has a few other limitations. For one, it only works with human faces. The subject's face does not have to be directly facing the camera — the subject can even be in profile — but there must be a human face for the camera to recognize. It won't work with dogs, and it won't work with faceless mannequins. Portrait Mode on the iPhone XS, on the other hand, although optimized for human faces, will work with inanimate subjects, whether human-like or not.
Lastly, Portrait Mode on the iPhone XR does not offer the Stage Lighting or Stage Lighting Mono lighting effects. No big loss, in my opinion — I've never once shot a Portrait Mode photo that looked good with either of these effects. To be honest, I've shot over 300 Portrait Mode keepers in the last year, using the iPhone X and now XS, and I almost never use any of the lighting effects. I see the potential with them, but for now they all still look more gimmicky than good, especially the Stage ones.
Now what's interesting about the differences in Portrait Mode between the XR and XS is that while the XR simply cannot do what the XS does (because it doesn't have the telephoto second lens), the iPhone XS could, in theory, offer the XR's Portrait Mode using the wide-angle lens. I believe Apple doesn't allow this in the interest of simplifying the user experience. It's easy to explain that Portrait Mode only works with human subjects with the iPhone XR. It would be confusing for most people to explain why Portrait Mode sometimes only works with human subjects but sometimes works with any subject, depending upon focal distance, if Apple were to enable wide-angle Portrait Mode on the XS today.
The most important bottom line comparing the iPhone XR to the XS is this: if you want to use the telephoto lens, the iPhone XS may well be worth a few hundred extra dollars for that reason alone. If you don't care about the telephoto lens, on the other hand, you should almost certainly consider buying an iPhone XR instead of a XS.
Display and Battery Life
After the camera, the second biggest difference between the XR and the XS models is the display. The XS models use OLED; the XR display is LCD. OLED is generally "better" than LCD — much higher contrast ratio with deeper blacks, and for technical reasons OLED displays can get closer to the edges of the device, reducing bezels. But LCD has advantages — most noticeably energy consumption. Apple goes out of its way to disguise this in its iPhone tech spec comparisons, but the iPhone XR has the longest battery life of any iPhone ever made. The primary reason is that the XS and XS Max's OLED displays use more power. All three new iPhones get good battery life, but it's really interesting that the lower-priced XR gets the best.
Another difference is that the XR display is 2x retina and the XS displays are 3x retina. That's 326 pixels per inch for the XR and 458 pixels per inch for the XS displays. More pixels per inch is better — but again, in general. The higher resolution of the XS displays contributes to their consuming more energy.
Yes, 326 pixels per inch is the same pixel density as the first retina iPhone, the iPhone 4 all the way back in 2010. But pixel density is not the only measure of display quality. The XR display is the brightest iPhone LCD display Apple has ever made. It looks terrific. To my eyes, the biggest difference between the XR and XS displays is the slightly larger bezel around the XR display — not the displays themselves. People who use an iPhone case — which is to say the vast majority of iPhone owners — may not even notice the larger bezel. And even without a case it's not a problem, per se, and is really only evident when compared side-by-side.
I'm not aware of any other phone in the world with an LCD display with no chin or forehead. Getting an LCD display to extend from corner to corner is a legitimate technical breakthrough on Apple's part. Also getting tap-to-wake working with an LCD — once you get used to tap-to-wake you simply cannot go back. The XR display is certainly a less expensive component than the XS's, but in no way does it look like Apple has cheaped out. It's an excellent, beautiful display.
The other notable display difference between XR and XS has nothing to do with what they look like, but what they feel like. The XR does not offer 3D Touch. This situation is a mess, in my opinion. Some iPhones have 3D Touch, some don't, and no iPad (to date at least) has it. This means no iOS software can depend upon 3D Touch.
In its place, the iPhone XR offers "haptic touch", but only in a few places where 3D Touch is used. For example, the Flashlight and Camera shortcuts on the lock screen. As far as I can tell, the heuristic for triggering haptic touch is just a long press. Whereas on the iPhone X and XS you press harder on the Flashlight or Camera lock screen shortcuts to trigger them, on the XR, you just press and hold for a short moment. I notice the delay, but it's not bothersome.
But anywhere where a long press already has meaning, haptic touch can't work. Most obviously, the home screen shortcut menus for apps. A long press on a home screen app icon already has meaning — it puts you in the jiggly-icon mode where you can rearrange and delete apps. iOS can't use a long press on an icon both to enter jiggly mode and to open the 3D Touch shortcut menu, so the iPhone XR doesn't offer these menus.
Where I miss 3D Touch the most is while editing text. A little-known but powerful feature in iOS is that while editing text you can 3D Touch on the keyboard to turn it into a trackpad for moving the insertion point around. iOS 12 introduced a feature where you can get into this mode without 3D Touch by tapping and holding on the space bar. That's almost as good, but I've developed strong muscle memory that I can get into this mode by pressing anywhere on the keyboard. With 3D Touch you can also force press again once you're in trackpad mode to select text. There's no way to do this on the iPhone XR.
I don't think the absence of 3D Touch is a dealbreaker for anyone, but it's just weird that the iPhone XR is the first new iPhone since 3D Touch was introduced not to have it. (The iPhone SE doesn't have 3D Touch either, but the SE was sort of only half new.)
Physical Attributes
Size-wise, the iPhone XR falls between the iPhone XS and XS Max. But because the XR has a somewhat thicker bezel surrounding the display, its relative proportions are a bit different. As a physical object, it's a bit closer in size to the XS Max than it is to the XS. But its display is closer in size to that of the XS.2
What's interesting, though, is how this size difference manifests in software. The XS and XS Max displays have way more pixels than the XR, but from a developer standpoint, the XR is not a new size. Developers (mostly) deal in points, not pixels. In the old pre-retina days, points and pixels were interchangeable — there was one on-screen pixel for each virtual point in the user interface. With a 2x retina display, like the iPhone XR, there are 2 display pixels in each dimension for every point, so a point, on screen, is represented by a 2 × 2 matrix of 4 pixels. On a 3x retina display, like the XS and XS Max, each point is a 3 × 3 matrix of 9 pixels. But the points are what correspond to the physical real-world size of on-screen buttons and text. In terms of points, the iPhone XR offers two display modes: standard and zoomed. You choose between these modes during initial setup, and you can subsequently switch between them in the Settings app. Standard mode is 896 × 414 points; zoomed is 812 × 375 points. These are the exact same as the standard and zoomed display modes on the XS Max. The iPhone XS only has one display mode: 812 × 375 points.
Effectively, this means that the iPhone XR is more like a smaller XS Max than it is a larger iPhone XS. And the difference between standard and zoomed modes on the iPhone XR is far more subtle than it is on the XS Max.
The XR is also less dense — about 9 percent less dense than the XS and 7.5 percent less dense than the XS Max. There could be internal components that contribute to this, but the obvious explanation is that aluminum weighs less than stainless steel. I think this lower density works in the XR's favor — it feels better, weight-wise.
The most visually striking difference, of course, is that the XR is available in a variety of cheerful colors. The black XR (which admittedly isn't cheerful) looks a lot like the black XS and XS Max — it's hard to tell them apart at a glance. The white XR (which is the color I've been using for the past week) is a much brighter white than the XS. The aluminum XR can't compete with the premium look of the XS's polished steel frame, but I think the white glass back of the XR looks better than that of the white XS models. It's really nice — and a bit Stormtrooper-y. The coral, yellow, blue, and Project Red models all look great. I got another look at all of them last week when I picked up my review unit in New York, and to me, the Project Red phone in particular is striking.
Given that most people keep their phones in cases, do these colors matter? I don't know. Maybe these colors will lead to a lot of people buying clear cases. Speaking of which, it's a bit strange that Apple isn't offering any first-party cases for the XR — at least not yet. To my recollection, the iPhone XR is the first iPhone since the 3GS to debut without first-party cases or bumpers from Apple.
Misc
The iPhone XS models support high-speed gigabit LTE; the XR does not. But this gigabit LTE support is the reason why the XS models have asymmetric antenna lines, and thus asymmetric speaker grills on the bottom. The XR is nicely symmetric in both regards.

The iPhone XR uses the same glass on the front as the XS models — glass that Apple is describing as their "most durable glass ever". But only the XS models use that same glass on the back. The XR uses some lesser quality glass on the back. Still supposedly scratch and crack resistant, but not as durable as the glass on the front.

Apple, for whatever reasons, has never advertised how much RAM is in iOS devices. But third-party utilities such as GeekBench can report on it. The iPhone XS and XS Max both sport 4 GB of RAM; the XR only has 3 GB. Ah-hah, I can hear you thinking, there's another catch. I'm not so sure about that. 4 GB of RAM is, of course, more expensive than 3 GB of RAM, but in terms of making your device run faster or the user experience better, I'm not sure the extra gigabyte of RAM in the XS models will make a difference. The XS models might need more RAM because they have twice as many pixels to push around on screen. Memory is shared between the GPU and CPU on iOS devices, which is what allows some things, like image filters, to run faster than they can on desktop computers. I don't think the XR has been shortchanged on RAM — I just think it makes sense that it needs less RAM to offer comparable performance because it has few physical pixels in its display.

Look for some dopes on YouTube to make a stink about this RAM difference, though.
The Bottom Line
I've focused mostly on the differences between the XR and XS models because, well, I covered everything else in my XS/XS Max review. But really, what matters most is everything they share — the same great A12 chip, the same great rear-facing wide-angle camera and front-facing camera system, vastly improved stereo speakers, and more.
The difference here isn't about the XS models being A-team phones and the XR being a B-team phone. It's more like the XS models are a bit luxurious — an extra camera, stainless steel frames instead of aluminum, OLED instead of LCD — and the XR is a bit more practical. But they're all on the A-team in terms of quality and performance. The XR is actually better in some ways, notably battery life and low-light Portrait Mode photography.
Last year's iPhone 8 and 8 Plus were great new phones, but the differences between them and the all-new iPhone X were vast. They simply looked hundreds of dollars different. Not so with the differences between the XR and XS models this year.
It sounds too good to be true, but the XR is almost as good as the XS models at a far lower price. Dollar for dollar, the XR is almost certainly the best iPhone Apple has ever made. ★
Friday, 12 October 2018
Early this week I noticed that I wasn't able to use the Instant Hotspot feature with my iPhone XS. That's the feature where you can leave the cellular hotspot turned off in Settings, but enable it on-the-fly from a Mac when you connect via the Wi-Fi menu. These "Personal Hotspots" show up at the top of the list of available Wi-Fi networks, in their own special section of the menu. My Wi-Fi menu no longer listed my iPhone, only my iPad. If I went into the iPhone's Settings app and enabled the Personal Hotspot manually — i.e. turned it on and left it on — my iPhone's hotspot was listed as a regular Wi-Fi network on my Mac, and when I connected, it worked just fine. So the hotspot worked, but the magic Instant Hotspot feature wasn't working.
I tried rebooting the Mac and iPhone, of course. No dice. I reset network settings on the phone. No dice. I then noticed that my iPhone's name (Settings → General → About → Name) had been changed to "iPhone". Not even "John's iPhone", which is the default when you set up a new iPhone. Just plain "iPhone". I changed it back to my custom name. Rebooted the phone again. Still no Instant Hotspot. And then eventually the device name was changed back to "iPhone" again. Weird, right? This was all on the release version of iOS 12.0.1, by the way.
I had a trip to New York coming up, and wanted to fix this. I did some searching on the web and eventually stumbled on a thread that suggested signing out of iCloud and then signing back in. This makes some sense, because all of these Continuity features go through iCloud. So I did that on the iPhone, and, long story short, that seemed to fix the issue. After one more reboot of the phone, Instant Hotspot was working perfectly.
A side effect of signing out of and back into iCloud is that it seemed to reset my iPhone's photo library sync state. It didn't delete my photos, but once I was signed back in to iCloud, the Photos app was trying to re-upload my entire library (over 28,000 photos and 1,100 videos) back to iCloud. I don't think it was actually uploading them — I think that's just the word Photos uses to indicate what it's doing — but rather checking each of the photos on the phone against each of the photos in my iCloud library.
It got through most of them fairly quickly, but the last 4,500 or so were effectively stuck. This process was proceeding really slowly. Profoundly slowly. I kept the phone plugged in last night and checked every hour, and it was only processing about 15 or 16 items per hour. I let it run overnight and it only moved from 4,183 remaining items to just over 4,000.
Effectively, I think what happens is that when you turn off iCloud Photo Library, it leaves all the photos and videos on your phone in your local library. When you turn iCloud Photo Library back on, it has no idea which of the items in your local iPhone library are duplicates of items in your iCloud library, and so it has to check them one by one. Whatever algorithm it's using for this is slow as molasses.
Adam Engst wrote about a similar problem on the Mac earlier this year:
I was seeing some strange problems on my 27-inch iMac running macOS 10.13.3 High Sierra. Messages wasn't getting or sending messages, Wi-Fi calling wasn't working, and after upgrading to 10.13.3, I was unable to enable auto-unlock with my Apple Watch. To solve these problems, I turned iCloud off and back on. Despite the iCloud preference pane throwing an ominous error, the problems did indeed disappear.

However, there's a nasty side effect of turning iCloud off and back on: iCloud Photo Library needs to re-upload all your photos. It does this in order to compare the library's contents to the synchronization "truth" at iCloud. Fair enough, except that this process can take days, depending on the size of your Photos library and the speed of your Internet connection. Bad Apple! We don't see that sort of poor performance with Dropbox or Google Drive, and this behavior is both unnecessary and driving people away from iCloud Photo Library.
That's pretty much exactly what I was seeing on my iPhone.
What surprised me about this isn't just that it's so dreadfully slow, but that iCloud Photo Library has gotten amazingly good in the last few years. It's not just very reliable, but very fast. I took a lot of photos using three different iPhones (my old iPhone X, and my review unit iPhones XS and XS Max) while writing my XS review last month. And I worked on the review on two different Macs. Every photo and video I took on every iPhone synced to all the other devices in a matter of seconds every single time. iCloud Photo Library made the whole process ridiculously easy.
Wiping and restoring my entire iPhone seemed like overkill when the only issue I was having was photo syncing. So my next idea was to delete all the photos from my phone and start over from scratch with iCloud Photo Library.
So here's what I did, and it seems to have worked. First, I eyeballed all the recent photos and videos I'd shot using my iPhone and double-checked that they had all already been synced to iCloud. They were — I could see all my recent shots on my other devices.
Next, I disabled iCloud Photo Library on my iPhone again. You do that by going into the Apple ID section of Settings (where your name is shown at the very top of the root level) → iCloud → Photos and turned off everything. When it asked if I wanted to download a copy of the photos and videos from my iCloud library I declined.
Next, I wanted to delete every single photo and video from my iPhone. To my knowledge there is no easy way to do this on the iPhone itself. (There are a lot of tasks like this that are easy on the Mac thanks to Edit → Select All that are painfully tedious on iOS. Update: Here's a clever way to use iOS 12's Shortcuts app to delete all photos and videos from your Library.) I connected the iPhone to my Mac with a Lightning cable and used Image Capture to delete all photos and videos from my phone. Image Capture just treats the iPhone like a regular camera. Image Capture crashed three times during this process (I'm still running MacOS High Sierra 10.13.6, for what it's worth), but after the fourth run the iPhone had no photos or videos left.
Then I re-enabled iCloud Photo Library on the phone, and about 20 minutes later, everything was back to normal. My iPhone reported exactly the same number of photos and videos in my library as on all my other devices. Most of those items are still just placeholders, even as I write this, but they're filling in steadily — which is exactly how iCloud Photo Library works when you start syncing a large library to a new device.
So if you temporarily turn off iCloud Photo Library and turn it back on, it might be easier to just delete all your photos from your iPhone first, and let them all sync back from iCloud. ★
Thursday, 4 October 2018
Bloomberg Businessweek today published an absolutely incredible story alleging that Chinese intelligence compromised thousands of data center servers by infiltrating the supply chain to insert hard-to-detect rogue chips on motherboards from a company named Supermicro. The entire report, by Jordan Robertson and Michael Riley, is worth reading in full.
Bloomberg alleges that Apple and Amazon were both among the companies that installed the compromised hardware. Apple and Amazon both vehemently deny the report. Someone is either wrong or lying. This cannot all be true.
From Bloomberg's report, regarding Amazon:
Nested on the servers' motherboards, the testers found a tiny microchip, not much bigger than a grain of rice, that wasn't part of the boards' original design. Amazon reported the discovery to U.S. authorities, sending a shudder through the intelligence community. Elemental's servers could be found in Department of Defense data centers, the CIA's drone operations, and the onboard networks of Navy warships. And Elemental was just one of hundreds of Supermicro customers.
Regarding Apple:
Apple was an important Supermicro customer and had planned to order more than 30,000 of its servers in two years for a new global network of data centers. Three senior insiders at Apple say that in the summer of 2015, it, too, found malicious chips on Supermicro motherboards. Apple severed ties with Supermicro the following year, for what it described as unrelated reasons.
And regarding both companies' denials:
The companies' denials are countered by six current and former senior national security officials, who — in conversations that began during the Obama administration and continued under the Trump administration — detailed the discovery of the chips and the government's investigation. One of those officials and two people inside AWS provided extensive information on how the attack played out at Elemental and Amazon; the official and one of the insiders also described Amazon's cooperation with the government investigation. In addition to the three Apple insiders, four of the six U.S. officials confirmed that Apple was a victim.
The companies' denials are seemingly unequivocal, however. Apple's statement to Bloomberg:
Over the course of the past year, Bloomberg has contacted us multiple times with claims, sometimes vague and sometimes elaborate, of an alleged security incident at Apple. Each time, we have conducted rigorous internal investigations based on their inquiries and each time we have found absolutely no evidence to support any of them. We have repeatedly and consistently offered factual responses, on the record, refuting virtually every aspect of Bloomberg's story relating to Apple.

On this we can be very clear: Apple has never found malicious chips, "hardware manipulations" or vulnerabilities purposely planted in any server. Apple never had any contact with the FBI or any other agency about such an incident. We are not aware of any investigation by the FBI, nor are our contacts in law enforcement.
That statement is credited only to "Apple", so presumably it was written by Apple PR. Amazon issued a similar statement to Bloomberg, but later published a full response, signed by Steve Schmidt, the company's chief information security officer. Schmidt is adamant and clear:
There are so many inaccuracies in this article as it relates to Amazon that they're hard to count. We will name only a few of them here. First, when Amazon was considering acquiring Elemental, we did a lot of due diligence with our own security team, and also commissioned a single external security company to do a security assessment for us as well. That report did not identify any issues with modified chips or hardware. As is typical with most of these audits, it offered some recommended areas to remediate, and we fixed all critical issues before the acquisition closed. This was the sole external security report commissioned. Bloomberg has admittedly never seen our commissioned security report nor any other (and refused to share any details of any purported other report with us).

The article also claims that after learning of hardware modifications and malicious chips in Elemental servers, we conducted a network-wide audit of SuperMicro motherboards and discovered the malicious chips in a Beijing data center. This claim is similarly untrue. The first and most obvious reason is that we never found modified hardware or malicious chips in Elemental servers. Aside from that, we never found modified hardware or malicious chips in servers in any of our data centers.
I see no way around it: either Bloomberg's report is significantly wrong, at least as pertains to Amazon and Apple, or Apple and Amazon have issued blatantly false denials. You can, perhaps, chalk up Apple's denial to it being written by Apple PR. I don't think this would happen, but hypothetically this issue could be deemed so sensitive — either within the company or as a national security issue — that the people at Apple with knowledge of the situation lied to Apple PR. But in my experience, Apple PR does not lie. Do they spin the truth in ways that favor the company? Of course. That's their job. But they don't lie, because they understand that one of Apple's key assets is its credibility. They'd say nothing before they'd lie.
Schmidt signing his name to Amazon's response is more telling. Presumably no one at Amazon would be more familiar with the details of such a breach than Schmidt.
One way or the other, there is more to come on this story, and the credibility of either Bloomberg, or Apple and Amazon, is going to take a significant hit. Currently those are the two most valuable publicly-traded companies in the world.
A few other notable tidbits. From Bloomberg's report:
One government official says China's goal was long-term access to high-value corporate secrets and sensitive government networks. No consumer data is known to have been stolen.
And then this from Amazon's response:
Because Elemental appliances are not designed to be exposed to the public internet, our customers are protected against the vulnerability by default.
I do not understand how, if these servers are not exposed to the public internet, they could "phone home" to Chinese servers outside the data centers.
Technical details aside, the whole central thesis of the story rings true — China cannot be trusted as a state actor, but the entire technology industry is dependent upon the Chinese supply chain. It is completely credible that the managers of Chinese factories are susceptible to bribes and threats of "inspections" that would shut down their plants. From the Bloomberg report:
Over the decades, the security of the supply chain became an article of faith despite repeated warnings by Western officials. A belief formed that China was unlikely to jeopardize its position as workshop to the world by letting its spies meddle in its factories. That left the decision about where to build commercial systems resting largely on where capacity was greatest and cheapest. "You end up with a classic Satan's bargain", one former U.S. official says. "You can have less supply than you want and guarantee it's secure, or you can have the supply you need, but there will be risk. Every organization has accepted the second proposition."
Lastly, whatever the veracity of the report, Bloomberg deserves kudos for this sentence:
Two of Elemental's biggest early clients were the Mormon church, which used the technology to beam sermons to congregations around the world, and the adult film industry, which did not.
Update: Apple has issued a stronger denial of Bloomberg's report. ★