Monday, 24 September 2018
Saturday, 22 September 2018
Friday, 21 September 2018
---
Thursday, 20 September 2018
This week, DF has seemed incredibly slow for some people, sometimes. Here's a Twitter search for tweets to me with the word "slow" this week. This was killing me, because I pride myself on Daring Fireball being a fast-loading website, and because this was a pretty big week content-wise.
It was not my server, and had nothing to do with higher levels of traffic from my iPhone XS and Series 4 Apple Watch reviews. When DF itself is slow — which happens rarely but does happen — you almost always see DF's trademark #4a525a slate gray background first, then the elements of the page slowly fill in. If you experienced slowness this week, you probably just saw a white background in your browser tab, and then all of a sudden the whole thing filled in. This sometimes took 30-60 seconds. Long story short, it was taking that long for the initial request to even get to my server; once it did, everything after that was as fast as usual. I'm still not sure what exactly was causing this, but I've worked around it by having Cloudflare act as an HTTP/S proxy for daringfireball.net. If any of you continue to see slow page loads, let me know.
Second, there was an issue where requests using the "www" prefix over HTTPS were triggering an SSL certificate warning from Safari that the site might not be legitimate. Only when using the "www" prefix, and only over HTTPS, not HTTP, because it was an SSL problem. I hadn't changed anything on my end, but the latest version of Safari has tightened its SSL security. (Which is good.) I've never made use of a "www" prefix at Daring Fireball — I hate that prefix. But you have to support it, because so many people type it out of habit. So I've always redirected requests for "www.daringfireball.net" to "daringfireball.net". The problem is, because I don't actually use the "www" domain, I never properly supported it in my SSL certificate. Until a few weeks ago, Safari would just let you get redirected; now it doesn't.
I solved this problem using Cloudflare too. In fact both problems were fixed the same way — by clicking one button in Cloudflare's list of my DNS entries to allow Cloudflare to proxy HTTP/S requests. I switched to Cloudflare a year or so ago for managing my DNS, and I couldn't be happier. It's like magic. DNS can seem like voodoo (at least to me) but Cloudflare makes it easy. I don't even pay them — I'm just using their free basic account level. This is not a sponsorship or ad — I just had to thank them for their wonderful service.
Anyway, I want to apologize to any of you affected by either of these issues. ★
---
Thursday, 20 September 2018
---
Wednesday, 19 September 2018
Tim Cook opened the Apple Watch segment of the event last week by stating that Apple Watch wasn't just the number one smart watch in the world (come on, that's obvious), but that "it's the number one watch, period", standing in front of a slide with a big "#1" on it.
Number one by what measure, though? They didn't say, which I find irksome. Presumably Cook meant number one by revenue. At last year's event he noted revenue specifically, mentioning that Apple Watch had surpassed Rolex.
Apple has several products that lead their markets in revenue or profit. What makes Apple Watch different from every other product the company makes, though, is a measure near and dear to the company's soul by which they cannot claim Apple Watch to be number one: nicest.
Nicest is inherently subjective, of course. But iPhone, iPad, MacBook, and iMac can all reasonably be argued to be the nicest products in their respective markets. You can definitely add Apple Watch to that list if you limit the comparison to other smart watches and fitness trackers. I would say hands-down, no question, Apple Watch is the nicest of those. But that's like saying you're the richest person in the poorhouse. And Tim Cook is the one who stood on stage boasting about Apple Watch's position among all watches.
Traditional watches are Apple's competition for nicest watch. And Apple Watch just isn't there. It's not even close. Don't get me wrong — Apple Watch is nice, and always been. I think that's ultimately what defined the minimum viable product for the original Apple Watch. Apple could have made something that did what the original Apple Watch did years earlier, I'm sure. But it wouldn't have been nice enough. But as nice as Apple Watch has always been, there are many watches that are nicer. And that makes Apple Watch unique in the history of the company. What successful product has Apple ever made that wasn't at least arguably the nicest in its category? Apple Watch is the first.
Apple Watch is a hit despite this because it's such a great product. People love it for what it does, how it works, and for how nice it actually is. Apple Watch is thriving despite being far from the nicest watch because all of the watches that are nicer do so much less. That's the flip side of Apple Watch's anomalous status in Apple history. Apple's products, especially new ones, generally do less than their competitors. Apple Watch is taking over the watch industry because it does so very, very much more than traditional watches could ever do.
A thought experiment that practically proves my argument: Most of the watches that are nicer than Apple Watch only tell the time and date. Often not even the date. If Apple Watch had been exactly as we know it — same shape, same materials, same display, and the same prices — but functionally did nothing other than show the date and time, would Apple Watch be the number one watch in the world? By any measure? No. It would be absurd. Conversely, if Apple were to actually make a watch that only displayed the time and date, it wouldn't look anything like Apple Watch as we know it. It would be so much nicer. It probably would be one of the nicest watches in the world.
The luxury watch market is in large part about niceness. No one buys a Rolex or Omega or Panerai or Patek Philippe because of its timekeeping accuracy. They buy them because of how nice they are. Jony Ive is a watch guy. He knows this. Phil Schiller is a watch guy. Apple is full of people who love traditional watches, because they appreciate craftsmanship, attention to detail, typography. Nice watches are all about design down to the smallest details.
Of course it bothers Apple that Apple Watch can't do all the things that it does and fit into one of the nicest watch cases in the world. At some level it must kill them. They're winning, but they don't just want to win the race. They want to win the race while driving the best-looking car on the track.
I've known this ever since I saw Apple Watch introduced in September 2014, but I was never able to put my finger precisely on niceness as the key to understanding Apple's otherwise somewhat baffling approach to the product. Wearing an Apple Watch Series 4 for a few days, and taking time to consider why I'm so fond of it, prompted a moment of clarity.
An appreciation of nice watches, and an honest reckoning of where Apple Watch stands in that regard, informs everything about the entire product, including, I think, the absurdly expensive 18-karat gold Edition models in the original lineup. The fundamental problem Apple faces is that the smallest possible computer they can make — today — to do what they want Apple Watch to do isn't small enough to fit it into a watch case of size and shape that would be considered among the very nicest in the world.
Every other aspect of Apple Watch other than the case is, in fact, world-class nice. The default watch strap, the Sport Band, is absolutely wonderful. Jony Ive's close friend Marc Newson is renowned in the watch world. Ive brought Newson to Apple to make an even better version of his 1996 Ikepod strap. You know what's not nice about most watch straps? The extra bit of strap that sticks out after you buckle it. Newson's insight, that it could be neatly tucked under the other side of the strap, is simply genius. Tens of millions of Apple Watch owners now enjoy this design. And that's just the default strap — Apple Watch's well-liquor straps are far better-designed than the top-shelf-liquor straps from many luxury watchmakers.
Apple's higher-end bands put most Swiss watch companies to shame. Apple's link bracelet is extremely nice, and features a way to add and remove links to adjust the size that requires nothing more than your thumbnail. No one else has a link bracelet like this. The whole idea of easily swappable bands and straps — using nothing more than your thumbnail — is an astounding innovation. It's a key driver of Apple Watch's success as a watch. People have been wearing wristwatches for over 100 years, but until Apple entered the market no company had ever thought to design a connector system that would allow for seasonal new straps and bands. It helps make Apple Watch fun for owners and helps make money for Apple.
Apple didn't start with one band and slowly grow its lineup over time. They entered on day one with an incredible strap lineup. No one would say Apple Watch debuted as the nicest watch in the world. But you can argue it debuted with the nicest lineup of straps.
Apple has long been guided by a good/better/best approach to its product lines. But the stainless steel Apple Watches are identical functionally to the aluminum models. They cost hundreds of dollars more and the only thing that makes them better is that they're made from nicer materials. That makes no sense at all in the world of computers. It makes perfect sense in the world of watches. I think Jony Ive made those gold Edition models and drove his team to create such a wide lineup of straps on day one to send a message. Ive owns and admits to still occasionally wearing a few traditional watches (his favorite: a stainless steel Patek Philippe Nautilus1) and he wanted to prove that he wasn't lowering his standards one iota, and that there's no aspect of the watch industry — from working with precious metals to designing a perfect deployment clasp — that Apple couldn't do at the highest level.
---
The Series 4 Apple Watch is defined by being a nicer watch. The upcoming ECG feature is deservedly headline grabbing, but I wouldn't even consider buying a Series 4 to replace my year-old Series 3 if it still looked the same. In fact, I would consider buying a Series 4 even if the only changes from Series 3 were the new case size and new display and watch faces. It's that much nicer.
Apple has this diagram on their nifty Apple Watch Comparison page, where the Series 4 and 3 watches are reduced to icons to convey their relative dimensions:

That the Series 4 watch is rendered so much thinner than the Series 3 even though the stated difference in thickness is only 0.7 mm may strike you as shameless marketing exaggeration. But after wearing and looking at a Series 4 watch on my wrist all week, I'd say this illustration conveys the difference completely accurately, and far better than any side-by-side photograph could. It really feels that much thinner.
For watches, 0.7 mm is significant. The Series 4 Apple Watch sits better on the wrist. It doesn't look nearly so chubby.
My review unit is a 44 mm model in stainless steel with the new gold finish. It's smaller by volume than the Series 0-3 42 mm models, but larger by surface area. And the display simply seems immense. It makes me wonder if I might not prefer the new 40 mm size, the display of which is slightly larger than the display of the old 42 mm models. I would encourage anyone on the fence about which size to get to go to a store and try them on before deciding. It's not that I think this 44 mm model is too big for me, it's that I wonder if the 40 mm model would be big enough.
Apple provided me with the gold Milanese Loop as well. I wore it around the house for a day. It's very nice, but not my style. It is interesting that there is no Link Bracelet in gold. That means the Milanese Loop is the only matching metal band for the gold watch.
The gold is a very interesting color. It really has quite a different effect depending on which strap you wear with it. I've been wearing it with a black Nike Sport band (they call the color Anthracite), and I'm amazed at how much I like the combination. I don't generally like gold, but I do like this gold with a black strap. This watch looks really good with a black strap.
The gold finish is applied using a physical vapor deposition (PVD) process. Apple tells me this process is very similar to the process that applies the diamond like coating (DLC) to the space black watches. One thing about both of these processes is that they take several hours to apply per watch, according to Apple. That's why the space black stainless steel models have always been more expensive. But the gold Apple Watch models cost the same as the regular stainless steel models ($699 for 40 mm, $749 for 44 mm). And, in a nice touch, the space black models are now the same price as regular stainless steel as well.
The Series 4 Digital Crown is clearly all new. Apple — during the event and in their marketing materials — is trumpeting the Crown's new haptic feedback. It "clicks" as you spin it, and the clicks correspond to whatever it is you're scrolling. This is a very nice touch. But the best thing about the new Digital Crown is how freely it spins. There's almost no friction at all. It makes the Crown on my Series 3 watch feel like it's rusty. The feel of this new Digital Crown is so much nicer than the old ones.
I've long believed through personal experience that haptic taps felt noticeably better on aluminum Apple Watch models than the stainless steel ones. With my Series 0 space black watch, taps were so faint I often didn't feel them. It makes sense that it would be more difficult to provide good haptic feedback through a more rigid material. But in way it's counterintuitive that the more expensive models would provide a worse experience for one of Apple Watch's key features. The taps on this Series 4 watch are the best I've ever felt on any Apple Watch. They're strong but not too strong. The Series 4 pages at Apple.com don't seem to even mention the Taptic Engine, though. I asked Apple if they improved the Taptic Engine for Series 4, and the answer was something like, "We're always working to improve every aspect of the experience" — typical Apple-ese for "We don't want to answer that." They did say though, that the Taptic Engine should feel better because the Series 4 watch sits better on the wrist. Perhaps that explains what I'm feeling, but I suspect it's both — that taps are helped simply because the watch sits better on the wrist and Apple improved the Taptic Engine.
Back in September 2014 at the event where Apple Watch was unveiled, I had a post-event briefing where I got to spend time examining and trying several prototype Apple Watches. (Remember: Apple announced it in September 2014, but it didn't begin shipping until late April 2015.) In my post-event thoughts and observations piece, I wrote:
The digital crown feels amazing. It didn't actually control anything on-screen on the demo watches I handled last week, but it has the most amazing feel of any analog controller I've ever used. Lubricious (in the second sense, if not the first as well) is the word that springs to mind.
This Digital Crown feels exactly how I remember that prototype Digital Crown feeling. Lubricious. I also vividly recall that the taps I got from those prototype watches felt almost humane — as though I were being tapped on the wrist by a friend trying to subtly get my attention. That's what the taps on this watch feel like. Assertive, but polite. In the way that a notification sound can be pleasant, these taps are pleasant. This makes me think it took Apple four years to get to the point where the Digital Crown and Taptic Engine in production Apple Watches feel the way they've wanted them to feel all along. In hindsight I'm rather shocked that Apple granted me hands-on time with what were clearly prototypes.
Which brings us to the most striking new hardware on the Series 4: the display. I cheated a bit when I wrote the following bit in my thoughts and observations piece regarding last week's event, because I'd been wearing this review unit for several days already:
With the exception of the Photos watch face (which Apple added to early models only grudgingly, knowing it looked bad but also knowing people would want it), previous Apple Watch faces all took advantage of the way OLED's deep black could blend in almost seamlessly with the surrounding black bezel to effectively hide the corners of the display. A sharp-cornered rectangular display doesn't look good on a round-cornered device. The entire concept was to blur the transition from the edges of the display to the bezel. The Series 4 watch faces embrace the corners of the display, celebrate the corners even, enabling fun and colorful watch faces that Apple surely never even considered for previous models. All previous Apple Watch faces were dark; most of the new ones are bright and colorful. It's a big change.
There are a few new watch faces exclusive to Series 4, including its default watch face, Infograph. Infograph Modular is also exclusive to Series 4. This isn't marketing spite — they just wouldn't fit on the old displays. The other new full-bleed faces — Fire and Water, Kaleidoscope, Liquid Metal, and Vapor — are available on all watches running WatchOS 5, but they look far better on Series 4. On older watches they fill a circle in the middle of the display. On Series 4 they fill the display. I feel like it was a mistake for Apple to put any of them on the older watches. The Series 0-3 watches were meant to have faces with black backgrounds. Breathe is the only new face that I think looks at home on both old and new watches, but that's because it isn't meant to go full-bleed on the Series 4.
These colorful new full-screen watch faces look good and look fun. They make all the previous analog faces with black backgrounds look a bit staid. Me, I like staid. But a lot of people like fun more than staid.
But the other thing I've found is that the older watch faces, at least the analog ones, don't look as good on a Series 4 watch as they do on Series 0-3. The old faces look better on the old watches and the new faces look better on the new ones.
Here's an example. My very favorite watch face since Series 0 in 2015 has been Utility. I prefer minimal, uncluttered faces. This is how I've run Utility for years: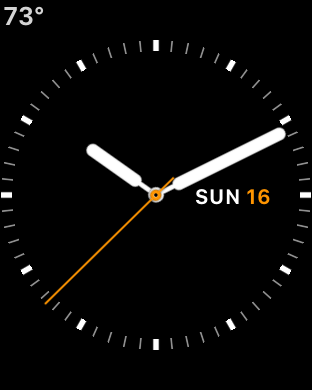 Here's what that layout looks like on Series 4: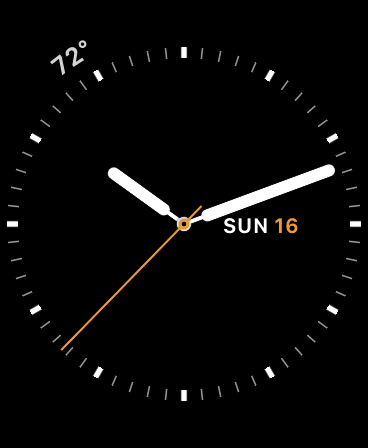 I don't like the temperature at an angle up there at 11 o'clock. It fits with the Series 4 aesthetic where complications follow the curve of the dial rather than sit straight up and down in the corners, but it doesn't look right to me. Because it's only two characters, it doesn't look like it's following the curve of the dial. It just looks crooked. I don't know that it would look better the old way either. The nature of the Series 4 has changed too much with this bigger display. It sounds like roll-your-eyes-prima-donna-designer talk, but Apple's faces really are designed hand-in-hand with the hardware.2
What I like better is this layout using the new Infograph face: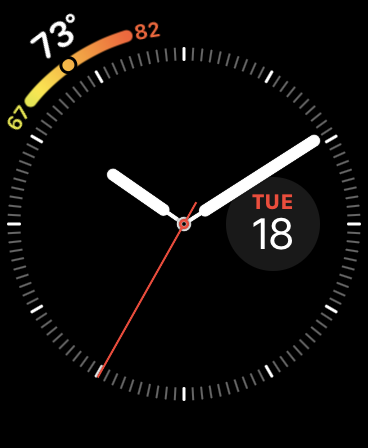 It's nowhere near as minimal, but that low-high temperature graph does provide useful information at a glance. And it looks like it's meant to follow the curve of the dial. In the abstract, just looking at them as screenshots, I like this Infograph layout the least of all three, but on the Series 4 watch, on my wrist, I like it the most.
Miscellaneous
As promised, the speaker is much louder. It's great for making short phone calls. The people I spoke to via calls over the watch said I sounded good, too. But I say "short calls" because it's tiresome to hold your wrist in front of your mouth.

Infograph in its default configuration is beautiful, but in my opinion far too busy to be the default watch face. It's the most information-dense face you can configure. And the default clock dial has a white background, which is even more distracting than the black background for Infograph that Apple is using in Series 4 product marketing photographs and video.

Even the back of the Series 4 watch looks cooler.

Complications have always been fun to play around with. It's not full-on designing, but it is tinkering. You can lose a lot of time just tinkering around with Infograph alone.

Setting up a new Apple Watch still takes a very long time. It's not a nice experience.

The side button now sits perfectly flush with the case, but is just as easy to press. That's nice.

I haven't fallen down this week.
The Bottom Line
Here's one more morsel I'll re-use from my event wrap-up:
I would argue that the landmark iPhone models were the original, the iPhone 4, the iPhone 6, and the iPhone X. It's kind of interesting to me how the Apple Watch's evolution has paralleled the iPhone's. A first-generation model like nothing seen before, good enough to change an entire industry but deeply flawed in certain obvious ways. Second and third generation models that simply address those obvious flaws. And then a fourth generation model that takes things to an altogether new level, particularly pertaining to the display and the physical case of the device.
If you want a one sentence summary of what I think of the Series 4 Apple Watch, it's this: Series 4 is to Apple Watch what iPhone 4 was to iPhone — the model that takes the original design to a new level.
The Series 4 Apple Watch models cost more than the Series 3 models did last year. Last year the Series 3 models started at $329 without cellular, $399 with. This year the Series 4 starts at $399 without cellular, $499 with.
That doesn't seem right, you might think. You were waiting for these, and you love what you see, but they cost more than you expected to pay.
Welcome to the world of nicer watches. ★
---
Wednesday, 19 September 2018
---
Tuesday, 18 September 2018
Three years ago, Phil Schiller was my guest on stage at The Talk Show Live From WWDC 2015. Nearing the end (skip ahead to just before the 48:00 mark in the video), and wanting to talk about the iPhone and photography, I said, "I think it's so clear — and the 'Shot with iPhone' marketing campaign shows that you guys clearly believe it too — that Apple has become one of, if not the, leading camera companies in the world."
Before I could get to a question, Schiller jumped in.
"The," he said emphatically.
That moment, more than any other in that interview, really stuck with me. Go to Apple.com and look at the products atop the page: Mac, iPad, iPhone, Watch, TV, Music. Of course Phil Schiller thinks Apple is the world's leading company in all those categories. I'd venture to say almost everyone in the audience for that show would have agreed with that. But to say Apple is the leading camera company in the world, full stop, wasn't just about comparing Apple to other phone makers. It was about comparing Apple to companies like Canon, Nikon, Sony, Fujifilm, and Leica. And trust me, Schiller — an avid hobbyist photographer — understands exactly what those companies' cameras are capable of. His emphatic, instant confidence in that statement — that in June 2015 Apple was already the leading camera company in the world — made me think one thing:
I wish I knew what he knows about the iPhone camera pipeline for the next few years.
Let's Get the Size Thing Out of the Way First
The last four years, I've coyly titled my iPhone reviews "The iPhones 6", "The iPhones 6S", "The iPhones 7", and "The iPhones 8". That's not how most people would pluralize these iPhone pairs (but some would — there's some legitimate precedent with pluralizations like "mothers-in-law" and "attorneys general" where the adjective comes after the noun).
My thinking with the first of these — the iPhone 6 generation — was that I didn't want to use the title "The iPhone 6 and 6 Plus", because the year prior I'd used the title "The iPhone 5S and 5C". That title fit, because the 5S and 5C were definitely different phones — the 5S had a new A7 chip (the first to go 64-bit), Touch ID, and a new camera. The 5C was basically the year-old iPhone 5 in new colorful plastic bodies. The iPhone 6 and 6 Plus were different, but clearly of the same generation. I thought the "The iPhones 6" formulation helped emphasize that. Secondarily, I didn't want to use the headline "The iPhone 6s" (as a plural) because there seemed to me a very good chance Apple would use the name iPhone 6S (singular) the next year — and I was right. And I didn't want to use "The iPhone 6's" (as a plural) because even though it's acceptable to use an apostrophe followed by an S to pluralize letters and numbers,1 it doesn't look good.
I've been testing an iPhone XS and XS Max — both in gold — since Wednesday evening last week. I spent the first few days mainly with the XS Max, and the remainder mainly with the XS. This year, I strongly considered titling this review "The iPhone XS". Not to ignore the XS Max, but because I honestly think it's best to think of them as two sizes of the same iPhone, not two separate iPhones — in the same way we treat color options. Pick your size, pick your color. It makes no more sense to review the iPhone XS and XS Max as different devices than it would to write separate reviews of medium and large cups of the same coffee. (There is no small coffee.)
Exact same A12 system-on-a-chip. Exact same cameras. In my own testing I have seen no discernible difference in performance, display quality, or the cameras' photo or video quality. Maybe the XS Max is a little louder when you play audio through its speakers? If so, it's not by much.
The only practical differences in the hardware are that the XS Max has — duh — a larger display (same exact quality as the XS, but more pixels, and thus displays more information on screen) and a larger battery. And in software, only the XS Max gets iPad-style two-column layouts in landscape orientation in apps like Messages and Mail.2 Those are meaningful differences, so "The iPhones XS" it is.
Coming from any previous iPhone from the Plus era, if you preferred the Plus size, I can't see why you wouldn't prefer the XS Max now. It's almost exactly the same height and width as the 6-8 Plus devices, but about a millimeter smaller in both dimensions. That shouldn't make much of a difference, but I swear, in my hand, it actually somehow feels more comfortable than an iPhone Plus. I don't know if that's a steel vs. aluminum thing or just the reviewer's placebo effect.
Personally, I prefer the XS. But it was a closer call for me than in previous years.
For the remainder of this review, I'm mostly going to talk about the "iPhone XS", but everything I say pertains to both sizes.
Photography
Take a look at Apple's nifty three-column iPhone Comparison web page. It defaults to comparing the XS, XS Max, and XR.3 Change that third column to last year's iPhone X, and the differences from top to bottom mostly look rather mild. Part of that is that most of the year-over-year improvements are rather mild. Water resistance, for example, went from IP67 to IP68 — from 1 meter for up to 30 minutes to 2 meters for up to 30 minutes. Nice, but not wow.
But there is one wow factor comparing the iPhone XS to last year's iPhone X: photography. But the reasons don't show up in Apple's comparison spec list (even though some of them could). I've focused nearly the entirety of my testing on taking photos and videos side-by-side against my 10-month old iPhone X. Overall, I'm simply blown away by the iPhone XS's results. Sometimes the difference is subtle but noticeable; sometimes the difference is between unusable and pretty good. The iPhone XS can capture still images and video that the iPhone X cannot.
It's worth emphasizing — as I do every year — that normal people do not upgrade their phones after a single year. Most don't upgrade after two years. They upgrade when their old phone breaks or gets too slow. Anyone upgrading to the iPhone XS from an iPhone 7 or older is getting a great upgrade in dozens of ways, and the camera system is just one of them. I've concentrated on comparing the iPhone XS's camera to the iPhone X's for two reasons. First, even though most people don't buy iPhones annually, Apple releases a new generation of iPhones annually, so that year-over-year comparison feels like the natural way to measure their progress. Second, a fair number of people do upgrade annually, or at least consider it (enough people that Apple deemed it worthwhile to create an annual upgrade program), and for the people who own an iPhone X who are considering an upgrade to the XS, to my mind, the camera system is the one and only reason to do it. There are always edge cases. Someone who is a frequent international traveler might consider it worth upgrading just to get the dual SIM support. I'm sure some number of iPhone X owners will upgrade just to get the gold model. But for most people, I'm convinced the camera system is the reason to think about it.
A cynic might argue that the reason Apple spent so much time talking about photography and the camera system (which includes the Apple Neural Engine) is that it's all they had to talk about this year. I would argue they spent a lot of time talking about photography because there's a lot to talk about. In fact, I think Apple left out some remarkable aspects of the iPhone XS camera system from the keynote and their website.
Computational Photography and the Neural Engine
Apple didn't leave this part out. Computational photography and the A12's vastly improved Neural Engine are central to Apple's pitch for the iPhone XS camera system. Based on the photos and videos I've shot, I believe them.
At a low level the Apple Neural Engine is way beyond my ken. I understand fundamentally how a CPU works. I sort of understand how modern GPUs are much faster than CPUs at certain computations which don't necessarily pertain to rendering "graphics". I have no idea how a neural engine works. All I know is it can be seemingly impossibly faster than a CPU or GPU at executing a machine learning model.
The iPhone XS has a seriously improved wide-angle camera. Just in terms of pure old-fashioned optics — light passing through a lens onto a sensor. More — perhaps too much more — on that later. But the iPhone XS has captured images for me that I'm certain can't be explained by optics alone.
HDR has been around for a long time, and for years on the iPhone. It's basically pretty simple: in difficult lighting conditions (harsh backlighting for example) HDR combines multiple exposures into a single image. In years past I generally turned HDR off on the iPhone. It was too hit and miss. That's why up until last year, iPhones defaulted to keeping a normally exposed image alongside HDR images. But that was a pain in the ass, too — you'd wind up with two images in your photo roll for every picture you took. Even when the HDR image was better, you'd still have the non-HDR version to throw away.
On the iPhone XS Apple is touting a new feature they call Smart HDR:
Smart HDR. Leveraging multiple technologies — like faster sensors, an enhanced ISP, and advanced algorithms — Smart HDR brings more highlight and shadow detail to your photos.
Here's my single favorite XS-vs.-X comparison shot. I took it last Friday after Cheaper Than Therapy, a terrific stand-up comedy show in San Francisco co-produced by my friend and sometimes podcast guest Scott Simpson.4
iPhone X (original image file):
iPhone XS (original image file):
I have done no post-processing on these images other than to scale them to a smaller size, and I shot both with the iOS 12 Camera app by just pointing, framing, and shooting. The original images, untouched other than converting from HEIF to JPEG when exporting from Photos, are about 2.2 MB in size.
The difference speaks for itself.
It's a small theater in a basement. The lighting is just right for the lobby bar of a standup theater, but terrible for photography — ambient light is dim, but the clown has a bright spotlight right on its face. The iPhone X image is blown out; the iPhone XS image looks pretty good. That's entirely attributable to Smart HDR. Notice too how in the XS shot you can easily read the "Shelton Theater" sign in the back of the clown's mouth.5
Cheaper Than Therapy does shows four nights a week and people take photos inside that clown every show. Simpson told me the clown's face always gets blown out. He was genuinely impressed and he's just a dumb comedian.
I should be showing you pictures, a lot more pictures, not telling you about them. And video clips. They speak for themselves. Alas, Daring Fireball isn't rigged up for presenting a lot of photos. (Regular readers: "Really? I never noticed that, Grubes.") I plan to publish a variety of comparison shots in a more appropriate venue after this review.
The way I understand it, Smart HDR is basically applied to all images from the iPhone XS. Sometimes more, sometimes less. If an image needs a little highlight recovery, a little Smart HDR is applied. If it needs a lot, it does more. But Photos only applies the "HDR" badge when it's really extreme. It didn't even apply the "HDR" badge for the shot with the clown above.
Here's another example. This time, Portrait Mode shots of yours truly, taken by my wife at brunch Sunday afternoon. There was bright sunlight streaming through a window over my shoulder.
iPhone X (original image file):
iPhone XS (original image file):
I did not cherry-pick these two images. My wife took a bunch with each camera from the same position (her seat at the table), and the above images are representative of what all the photos from each respective iPhone looked like. Again, unusable vs. pretty good.
I never planned to put pictures of myself in this review. But these were so genuine. Not staged in the least. We didn't pick our table. These portraits are how real people take real photos in the real world. Across a table from each other, enjoying a nice meal, on a nice day. Point, shoot. And this is what she got.
Here's one more image from that bunch, which I didn't use in the A/B comparison above because the framing and angle are slightly different.
iPhone XS (original image file):
Here's a crop of that image at 100 percent:
I've never seen Portrait Mode on the iPhone X isolate individual strands of hair like that. That's the exception rather than the norm on the XS, but still. [Update: As numerous sharp-eyed readers have pointed out, those hairs are in focus not because Portrait Mode did something right, but because it does something wrong — the depth mask has that whole dark column between windows behind my head in focus, and the side of my head just happened to fall in that region. It's sort of a Bob Ross "happy accident" that I like the way this looks.]
My takeaway is that the Neural Engine really is a big fucking deal for photography and video. Supposedly, it's just as big a deal for AR, but the camera has been my obsessive focus this past week. For users, it's a big fucking deal because it has a dramatic, practical, real-time effect on the quality of the photos and videos they can shoot. None of this happens in post; all of it is visible live, as you shoot. And for Apple, it's a big fucking deal because I don't think any of their competitors have something like this. Support for the Neural Engine permeates iOS and the entire A12 I/O system. Android handset makers can't just buy a "neural engine" chip and stick it in a phone. Google does advanced machine learning — including for photos — but they do it in the cloud. You shoot a photo, upload it to Google's servers, and they analyze the dumb photo to make it better. Their input is a JPEG file. (With the exception of their Pixel phones, where they do design the hardware and can apply machine learning on input from the sensors.)
With the iPhone XS and Apple Neural Engine, the input isn't an image, it's the data right off the sensors. It's really kind of nuts how fast the iPhone XS camera is doing things in the midst of capturing a single image or frame of video. One method is to create an image and then apply machine learning to it. The other is to apply machine learning to create the image. One way Apple is doing this with video is by capturing additional frames between frames while shooting 30 FPS video, even shooting 4K. The whole I/O path between the sensor and the Neural Engine is so fast the iPhone XS camera system can manipulate 4K video frames like Neo dodging bullets in The Matrix.
The New Wide-Angle Lens and Sensor
Apple describes the XS as sporting "dual 12MP wide-angle and telephoto cameras". This will be obvious to most of you, but in case it's not, they're not just dual rear-facing lenses, they're dual rear-facing cameras. The wide-angle and telephoto lenses each have their own sensors. As a user you don't have to know this, and should never notice it. The iPhone XS telephoto camera is the same as in the iPhone X — same lens, same sensor.
But the iPhone XS wide-angle camera has a new lens, which I believe to be superior to last year's, and an amazing new sensor which is remarkably better than last year's. And last year's was very good.
I don't want to wander too far into the weeds here, but bear with me. Focal length is how wide a lens is. A wide-angle lens has a lower focal length; a telephoto lens has a higher one. The camera industry advertises focal lengths in terms of their equivalence to a 35 mm film camera system. So on an actual 35 mm film camera or a full-frame DSLR (so called because the sensor is the same size as a frame of 35 mm film), a "28 mm lens" has an actual focal length of 28 mm.
Phone camera sensors are way smaller than 35 mm. They're tiny in comparison. The lenses are tiny in comparison too. The actual focal length of a phone camera lens is much smaller than the focal length in 35 mm equivalent terms. So for example, the telephoto lens on both the iPhone X and XS has an equivalent focal length of 52 mm. That means if you took photos from the same spot with the iPhone XS telephoto lens and a full-frame DSLR with a 52 mm lens, you'd capture the same field of view in the resulting images from both cameras. They would appear to be equally wide. But the actual optical focal length of the iPhone XS telephoto lens is 6 mm. You can see the actual focal length of the lens used to capture any image in your library by opening the Info palette in the MacOS Photos app — the focal length is right next to the ISO value. It's stored in the image as part of the EXIF data.
Here's where it gets interesting. (I swear.) The iPhone X's wide-angle lens had an equivalent focal length of 28 mm. Its actual focal length was 4.0 mm.
When I first started comparing side-by-side shots from the iPhone XS and iPhone X using the wide-angle lens, I noticed that the shots from the iPhone XS had a slightly larger field of view. They were a little bit wider. Look at the photos of the clown photo booth above and you can see it clearly. I didn't move at all between those shots — both phones were roughly the same distance from the subjects, but the iPhone XS captured more of the scene. Apple confirmed to me that this is true — the iPhone XS wide-angle lens has an equivalent focal length of 26 mm. Not a lot wider, but enough to be noticeable. But when you look at the actual focal length of the lens in Photos (or any other app that can display the EXIF data of the image files), it is 4.25 mm.
0.25 mm may sound tiny but consider that the "telephoto" lens is only 6 mm. The equivalent focal length is wider, but the actual focal length is longer. This made no sense to me at first. Then I realized it would make sense if the camera sensor were a lot larger. And lo, here's what Apple's iPhone XS camera page says:
More low‑light detail. The camera sensor features deeper, larger pixels. Deeper to improve image fidelity. And larger to allow more light to hit the sensor. The result? Even better low‑light photos.
"Larger" is all they say. Not how much larger. That left me with the assumption that it was only a little bit larger, because if it were a lot larger, they'd be touting it, right? There are "field of view" calculators you can use to compute the sensor size given the other variables, so I used one, and by my calculations, the sensor would be over 30 percent larger.
I repeat: over 30 percent larger.
That seemed too good to be true. But I checked, and Apple confirmed that the iPhone XS wide-angle sensor is in fact 32 percent larger. That the pixels on the sensor are deeper, too, is what allows this sensor to gather 50 percent more light. This exemplifies why more "megapixels" are not necessarily better. One way to make a sensor bigger is to add more pixels. But what Apple's done here is use the same number — 12 megapixels — and make the pixels themselves bigger. 12 megapixels are plenty — what phone cameras need are bigger pixels.
I think what makes this 32 percent increase in sensor size hard to believe, especially combined with a slightly longer lens, is that by necessity, this combination means the sensor must be further away from the lens. This basic necessity of moving the lens further from the sensor (or film) is why DSLRs are so big compared to a phone. But the iPhone XS is exactly the same thickness as the iPhone X, including the camera bump. (Apple doesn't publish the bump thickness but I measured with precision calipers.) So somehow Apple managed not only to put a 32 percent larger sensor in the iPhone XS wide-angle camera, but also moved the sensor deeper into the body of the phone, further from the lens.
And to geek out even more, even though the XS has a wider field of view, because the actual lens element on the XS is longer than the X, it gets this wider field of view without introducing additional wide-angle lens barrel distortion — in fact, because the actual lens is longer, I suspect there's less barrel distortion. Slightly less of that generally undesirable fisheye effect, even though the field of view is slightly wider.
Why isn't Apple touting this larger sensor? Well, look at how long it took me to get to the end of this section. It's a rabbit hole. They got out of this whole digression by just saying the sensor gathers 50 percent more light. On the one hand, that's really all that matters. But on the other hand, to my ears at least, "50 percent more light" seems a bit hand-wavy.
"32 percent larger sensor", however, means something very specific, and it should perk up the ears of any photographer — even one who's skeptical of Apple's "computational photography" claims. You could sell an upgrade to the XS to iPhone X-owning photo enthusiasts just by telling them the sensor is so much larger.
The other explanation I can think of is that this almost certainly isn't Apple's own sensor. Camera sensors aren't something Apple designs on its own (yet?). So maybe they don't want to call extra attention to something that is bound to appear in other high-end phones soon.
Apple isn't celebrating this new sensor, but photographers will be.
The Great Thickening
I knew that last year's iPhone X was thicker than the previous few years of iPhones, which was interesting in and of itself. But I didn't think about it as part of a years-long trend. The iPhone 5 series phones (including the SE) were all 7.6 mm thick, with no camera bump. Ignoring the bumps, the iPhone 6 slimmed to 6.9 mm, and thickness crept up to 7.1 mm with the iPhone 6S and 7, and then up to 7.3 with the iPhone 8. (The Plus model counterparts of each generation were all 0.2 mm thicker.) One common refrain during the iPhone 6 era was Apple had taken its obsession with thinness too far. No one thought the iPhone 5 wasn't thin enough, but lots of people had problems getting all-day battery life. Why didn't Apple maintain the same overall thickness of the thin-enough iPhone 5 and use the extra volume for a slightly bigger battery?
Well, the iPhone X, XS, and XS Max are all 7.7 mm thick — just a hair thicker than the iPhone 5. And those iPhones all share the biggest ever camera bump — at the bump, they're all 9.05 mm thick. And the iPhone XR is even thicker: 8.3 mm. Apple does tend to make its products ever thinner and lighter, but they've reversed course. Every model in the iPhone X series is thicker than any iPhone since the 4S, and each generation of iPhone has gotten thicker since the iPhone 6. I think this is the right trade-off, both for battery life and to allow for a bigger camera.
Miscellaneous
Apple is calling the iPhone XS Face ID "Advanced Face ID". I asked why they weren't calling it "second generation", like they did with Touch ID, and was told it's because Face ID is more of a system. Second-generation Touch ID was a single new component. A complicated component, but a component. The improvements to Face ID aren't just a component in the sensor array — they're tied to things like the Neural Engine in the A12. Is it actually an improved experience? I think so, but it's hard for me to say because Face ID works so well for me with my iPhone X.

Apple describes the glass (front and back) on the iPhone XS as "the most durable glass ever in a smartphone". I asked, and according to Apple, this means both crack and scratch resistance.

One imperfection: the antenna lines on the iPhone X were symmetric; on iPhone XS they are not. And a side effect of the new antenna line on the bottom left is that the speaker grille holes are no longer symmetric — there are 3 on the left and 6 on the right on the XS, and 4 on the left and 7 on the right for the XS Max. The iPhone X had 6 symmetric holes on each side. I guessed this new antenna layout was for dual SIM support, but I was wrong. It's for 4 × 4 MIMO license-assisted access technology, which is how the iPhone XS supports gigabit LTE where available. I would trade symmetry for gigabit LTE — my only question is how many people can actually take advantage of it?

One thing that's weird about Portrait Mode is that you can't edit it on other devices. If you use an iPhone X to edit a Portrait Mode photo shot on an iPhone XS, you can modify the lighting effects, because the iPhone X supports lighting effects. But to play with the bokeh depth of field f-stops, you have to use an iPhone XS because it depends on the A12's Neural Engine.


Update: The above is all wrong. Any iPhone or iPad running iOS 12 can edit the bokeh depth of field of a Portrait Mode shot from an iPhone XS or XR. Even better, when Mojave ships, Photos for Mac will be able to do it too. My mistaken assumption was reasonable, though. Before last week's Apple event, I updated my iPhone X to the developer GM of iOS 12. Throughout my testing of the iPhone XS, that's what I was using. But the developer GM build of iOS 12 didn't have the depth of field stuff in it, because that was a secret held for the keynote announcement of the feature. If it had been in the GM, Guilherme Rambo or Steven Troughton-Smith would've found it before the keynote. That never occurred to me — and I thus assumed the GM build I was running was feature-complete. Anyway, I'm happy to be wrong about this.

The default wallpapers for iPhone XS (they're actually soap bubbles, not planets, as I originally thought) hide the sensor array notch with a black background. Purely a coincidence, I'm sure. The notch was a worthwhile tradeoff. But the device looks better when it's hidden by a black background, and that's how the iPhone XS looks in the initial ad campaign.

I asked Apple about the "improved wireless charging". It's a classic S-cycle refinement. It's not a new charging standard or support for a higher wattage or anything like. The iPhone XS has a new tighter coil design, which helps it to be more forgiving when it's misaligned on the charging pad. I've run into this myself — sometimes with the iPhone X, if you're not really paying attention when you put it on the pad, it either charges very slowly or not at all. The iPhone XS has a larger sweet spot.

There's a cool XS-exclusive feature in Settings → Camera → Record Video. If you're shooting at 30 FPS — whether in 720p, 1080p, or 4K — you can enable "Auto Low Light FPS", which will drop the frame rate to 24 FPS on the fly whenever the phone deems necessary to get better low light exposures. This can happen in the middle of recording. Start recording in a bright room and move to a dark one or turn down the lights, and the frame rate will change within the clip.
Conclusion
For anyone upgrading from an older iPhone, the iPhone XS and XS Max should seem amazing in every regard. Compared to last year's iPhone X, the XS and XS Max are solid refinements across the board, but deliver a dramatic year-over-year step forward in photo and video quality. If you care about the image quality of the photos and videos you shoot with your phone, it's hard to resist.
What I find most interesting is that the two things responsible for that step forward — the A12 system (including the same Apple Neural Engine) and the much larger new wide-angle camera sensor — are included in the upcoming iPhone XR, which, for the same amount of storage, costs $250 less than than the XS and $350 less than the XS Max. I suspect there are a lot of people out there who don't care about the telephoto lens on the XS and who don't see much if any difference between the XR's LCD display and the XS's OLED one who are looking at these prices thinking they must be missing something. They're not.
iPhones can't compete with big dedicated cameras in lens or sensor quality. It's not even close. The laws of physics prevent it. But those traditional camera companies can't compete with Apple in custom silicon or software, and their cameras can't compete with iPhones in terms of always-in-your-pocket convenience and always-on internet connectivity for sharing. In the long run, the smart money is to bet on silicon and software. ★
---
Monday, 17 September 2018
Saturday, 15 September 2018
---
Saturday, 15 September 2018
The Event and Venue
I just re-read my "Welcome to the Steve Jobs Theater" piece from last year, and my description of the venue holds up well. It truly is a magnificent venue. Before, during, and after the show, it feels like something big is being announced. That feeling just couldn't be conjured at the old Town Hall facility on the Infinite Loop campus. WWDC feels big, of course, but that's because there are like 5,000 or 6,000 people in the audience and it's held in a cavernous convention hall. Apple's numerous events in San Francisco could have a "this is a big deal" feel — especially the recent ones that were held at the Bill Graham Civic Auditorium — but what the Steve Jobs Theater provides that no venue in San Francisco ever could is seclusion. Apple Park really feels like it is its own world. Putting "Park" in the complex's name was exactly right. In terms of sight lines and feeling like you're isolated from the rest of the world, the effect is very similar to being in one of the theme parks at Walt Disney World. As you walk the pathway uphill from the Visitor Center to the theater, ambient music plays from hidden speakers. The only thing man-made you can see from the pavilion atop the Steve Jobs Theater is Apple Park's Ring building, seemingly on the horizon. The foliage and grass filled in significantly since last year. It even smelled better this year — last year the odor of fertilizer for the grass still wafted in the air.
It's simply beautiful, inside and out. The experience of attending an event there is just very, very Apple. Steve Jobs would have loved it.
Last year I complained about the hands-on area being crowded. Apple had an altogether new table layout this year, and it really helped.
Apple, I suspect, wants to be conservative about using this space for events. Many of us expect Apple to hold an event some time in October, to introduce new iPad Pros and updated MacBooks. They might hold that at Apple Park too — the new iPad Pros look to be major updates, worthy of a major event. But I wouldn't be surprised if they held it elsewhere. And I really doubt they'll ever hold more than two public events here in a year. It's extraordinary to think about how much they spent to build a facility they intend to use only a handful of times per year. (They do use the theater internally, for company events.)
Apple Watch Series 4
All three products (counting XS and XS Max as a single product in two sizes, which, as I'll explain later, is how to think about them) are interesting, but to me, the Series 4 watch was the standout of the show. The XS and XR iPhones are refinements to the landmark X that was announced last year. The Series 4 watch is a landmark redesign.
I would argue that the landmark iPhone models were the original, the iPhone 4, the iPhone 6, and the iPhone X. It's kind of interesting to me how the Apple Watch's evolution has paralleled the iPhone's. A first-generation model like nothing seen before, good enough to change an entire industry but deeply flawed in certain obvious ways. Second and third generation models that simply address those obvious flaws. And then a fourth generation model that takes things to an altogether new level, particularly pertaining to the display and the physical case of the device.
Series 4's display improvements (bigger, stretching corner to corner) and case redesign are subtle compared to iPhone 4's retina display and utterly new glass-backed steel-framed case, but watches (well, most watches) are inherently subtle things.
The Series 4 displays take up so much more of the face of the watches that the new 40mm watch's display is larger than the display on the old 42 mm models — the new small watch has a larger display than the old large watch. With the exception of the Photos watch face (which Apple added to early models only grudgingly, knowing it looked bad but also knowing people would want it), previous Apple Watch faces all took advantage of the way OLED's deep black could blend in almost seamlessly with the surrounding black bezel to effectively hide the corners of the display. A sharp-cornered rectangular display doesn't look good on a round-cornered device. The entire concept was to blur the transition from the edges of the display to the bezel. The Series 4 watch faces embrace the corners of the display, celebrate the corners even, enabling fun and colorful watch faces that Apple surely never even considered for previous models. All previous Apple Watch faces were dark; most of the new ones are bright and colorful. It's a big change.
A few millimeters shaved here and there can make a huge difference in how any sort of watch looks on your wrist. Without even considering the displays, the new Apple Watches simply look better, both off and particularly on the wrist. They sit better.
The ECG feature is getting a lot of attention, and I think justifiably so. Jeff Williams put it well when he said something to the effect of "We know this feature is going to save lives." I don't know if that's going to be dozens of lives or thousands, but no matter the number, that's really a hell of a thing. Yes, Apple is the world's most profitable company and they're not giving these watches away, but both of these things can be — and I believe are — true: Apple wants to make a ton of money selling Apple Watches, and Apple, institutionally, from engineers and designers right up to C-level executives, cares deeply about this health and fitness stuff.
The fall detection features are an interesting example. The feature could be useful for anyone, of course. Even the healthiest, strongest, able-bodied-est person can slip on ice or fall down, say, five steps. But it seems obvious to me this feature will be most useful for people most at risk of falling (and most at risk of needing help after a fall) — the elderly and people with significant medical conditions. Just at the event itself in the post-show hands-on area, I spoke to several people in their 40s or 50s who said the same thing: they were already considering buying Series 4 watches for their parents for this feature alone.
There is no Edition model of Apple Watch this year. I'm not sure what to make of that. The original 18-karat gold Edition watches never made sense to me. It's clear that was a mistake — they never sold well even by the standards of $20,000 watches, and working with gold didn't help Apple with other products. The Ceramic Edition models, though, I thought were great. They looked good, felt good, and weren't that much more expensive than the steel ones. And ceramic seemed like a material Apple might work with again.
The new gold stainless steel option is intriguing. It's not my style, but I'm certain it's going to be popular. I would describe it as being a non-blingy gold. It looks premium, not cheap in the least (which is how I feel about Apple's gold anodized aluminum), but it's not a Goldfinger gold-bars-in-Fort-Knox gold like the original Apple Watch Edition was. There's a slight bit of brassiness to it and maybe a touch of pink. And the color exactly matches the gold iPhone XS and XS Max — I asked and Apple confirmed they're using the exact same process on both.
iPhone XS
The XS is exactly what I expected: a classic S-model upgrade to the iPhone X. More energy efficient in some ways (CPU), impressively faster in general (particularly the GPU), and a lot faster in certain very specific ways (Apple Neural Engine). These improvements are most noticeable with the camera (which has a new lens system and a significantly better sensor) and AR. I saw some AR demos after the event and the difference between the iPhone XS and iPhone X was astounding. If you think Apple is blowing smoke about the Apple Neural Engine being 9 times faster than last year, try some ARKit apps side by side.
iPhone XS Max
The XS Max is exactly what I expected: just a bigger version of the XS. It has a bigger display, but the displays are otherwise identical. It has a bigger battery, and thus gets a bit more battery life (Apple says about an hour). Otherwise, the XS and XS Max are equals. That was never true of the Plus-labeled phones — the Plus models had slightly better cameras and displays with higher pixel density.
iPhone XR
The XR is not what I expected. I figured it would be less than a X-class iPhone. Maybe it would have last year's A11 chip. Maybe the camera would be a bit worse than the wide angle camera on the XS. Maybe it would have "first generation" Face ID. None of that is true. My guess that they'd call it iPhone 9 was based on my wrong assumption that this would be a mid-range iPhone. It's not. It's absolutely worthy of being called an iPhone X.
The differences between the XR and XS are very few, and mostly very obvious. The XR has an LCD display, not OLED. One side effect of this is that the bezels surrounding the display are slightly wider — because of LCD backlighting, Apple couldn't get them as close to the edges as they can with OLED. It only has one camera on the back, but that camera is exactly the same as the wide angle camera on the XS models. Same A12 chip, too, so photos and video shot on the XR get the same "computational photography" improvements.
The XR is not a new mid-range iPhone like the iPhone 5C was. The 5C shipped alongside the 5S but it had the internals of a year-old iPhone 5. The XR is a new premium iPhone. Last year's iPhone X ushered in a new super-premium tier, which is now occupied by the XS and XS Max.
The one compromise that sticks out is the XR's lack of 3D Touch. Not because I particularly like 3D Touch — I don't — but because it makes for a confusing mishmash of what you can do on which iOS devices. No iPad to date has had 3D Touch, and now we have a new premium iPhone that doesn't have it. The iPhone XR does have a "Haptic Touch" feature that takes the place of 3D Touch, but only in a few places: the flashlight and camera shortcuts on the lock screen, and I think in Control Center. In my very limited time with a XR after the event, it seems like a long press with a tap when it triggers. They might be doing something to detect the size of your touch area on the display, such that a light touch held for a long time won't trigger it. I think the reason it can't work everywhere 3D Touch works is because it's really just a long press. Apple can't use Haptic Touch on home screen icons, I think, because a long press already has meaning there: it enters you into jiggle mode. They can use it for the flashlight and camera lock screen shortcuts because a long press has no meaning there. Same for Control Center. Those are the places where I use 3D Touch most, so I actually think this Haptic Touch fallback will turn out just fine for XR users (and iPad, if they use the same thing there).
Incredibly, the XR actually has one significant advantage over the XS models: longer battery life — even compared to the XS Max. Look at Apple's excellent iPhone comparison page and scroll down to the Power and Battery section. (Here's a screenshot for posterity.) For the first item — overall daily battery life — they no longer give a single number. The XS and XS Max are instead compared to the iPhone X (up to 30 minutes and 90 minutes more, respectively). The XR is compared to the iPhone 8 Plus (up to 90 minutes more). But look at the specific numbers down the list. For "Internet use", the numbers for the XS, XS Max, and XR are 12, 13, and 15 hours. For "Video playback (wireless)", the numbers are 14, 15, and 16. It's not a huge difference but it sure is intriguing. All three new iPhones get excellent battery life, but the iPhone XR — according to Apple — gets the best.
The Names
I honestly believe most people in the real world spent the last year pronouncing the X in "iPhone X" as ex, not ten. With these XS and XR names, that's only going to get more pronounced. I really find it hard not to say ex-arr and ex-ess. A Roman numeral is hard enough. But to put two alphabetic characters next to each other and expect people to treat one as a Roman numeral and the other as a letter is too much. They look like ex-arr and ex-ess so people are naturally going to see them and say them as ex-arr and ex-ess.
Think about this. If the naming system is "X_", where the leading X represents 10 and the underscore is a letter of the alphabet, we could have an "iPhone XX", which Apple would have you believe should be pronounced ten-ex. Madness. Apple wouldn't do this, of course, but it shows how illogical this X-as-ten naming scheme is.
As for the S and R letter, here's what I think. An S suffix has been Apple's go-to naming scheme for any new iPhone with a nearly identical form factor to the previous year's model. The only time they've ever offered an explanation for this was during the introduction of the 3GS, when Phil Schiller said, "The S simply stands for 'speed'." No explanation has been given for the letters Apple has used since. Whether the S still stood for "speed" with the iPhones 4S, 5S, 6S, and now XS, Apple has never said. It seems to me to mean "It looks almost exactly like last year's iPhone but has cool new stuff inside."
The C in "iPhone 5C" seemed rather obviously to stand for "color", but Apple never confirmed that. Some speculators thought the XR would be named the XC for the same reason — the rumor mill had suggested for months that the new 6.1-inch LCD model would be available in a variety of sporty colors. I think Apple avoided that because when they use these letters, they use them in the same way. The XR iPhones are indeed colorful, but as I wrote above, the 5C debuted as a mid-range iPhone with year-old specs; the XR is a premium iPhone with this year's specs. So they needed a new letter, and R was it. After the event, I tried asking several people who would know what the R stood for. Even completely off the record, no dice. The only answer I could get was, "We don't like to talk about what the letters mean."
Here's my genuine guess. The R doesn't stand for any particular word. I can't even think of any words starting with R that describe the iPhone XR. I think Apple thinks "iPhone XR" looks cool, sounds cool, and because R immediately precedes S in the alphabet, it subtly implies the XR's place in the product lineup — it's less than an XS but only just so.
It also occurs to me that in recent years Apple doesn't have anyone narrating iPhone commercials. They just play music and show title cards. How would someone who doesn't watch Apple keynotes even know they're supposed to be pronounced ten-ess and ten-arr? Everything I wrote last year regarding why I thought it would be pronounced ex, not ten, stands up. Why choose names they know will be mispronounced by most customers?
My only guess — and again, a genuine guess, because I'm telling you, they do not like to talk about why they choose the product names they do — is that they don't care that millions of people will pronounce them ex-arr and ex-ess. They don't care that ex-ess sounds like "excess" even though it's used in the name of a cell phone that costs almost $1500. They think the X's look cool and they go with their guts and that's all there is to it.
Regarding capitalization, there's some lingering confusion over whether Apple is capitalizing these names as "XS/XR" or "Xs/Xr". That's because on their website and in some printed materials, they're using small caps for the S and R, and with the iPhone XS, a small caps S is very difficult to distinguish from a lowercase S. But a quick glance at the iPhone XR product page will make this clear — a small caps R looks nothing like a lowercase one.
Miscellaneous
AirPower: I wrote about AirPower's absence earlier this week. What I've heard, third-hand but from multiple little birdies, is that AirPower really is well and truly fucked. Something about the multi-coil design getting too hot — way too hot. There are engineers who looked at AirPower's design and said it could never work, thermally, and now those same engineers have that "told you so" smug look on their faces. Last year Apple was apparently swayed by arguments that they could figure out a way to make it not get hot. They were, clearly, wrong. I think they've either had to go completely back to the drawing board and start over with an entirely different design, or they've decided to give up and they just don't want to say so.

AirPods: A few weeks ago I tweeted, "I wonder how many people have put off AirPod purchases while waiting for the AirPower-compatible case?" A bunch of people replied that they were doing just that. People are waiting for new AirPods, or at least the new AirPods case. And the only reason to wait for the case is AirPower. So the AirPower debacle is even hurting AirPod sales (at least to some degree — there are obviously many people buying AirPods every day).

AR: The Steve Nash basketball demo — Homecourt is the name of the app — was great. I've seen a bunch of ARKit demos that made me think "That's very cool". This was the first one that made me think "That's very useful". I played competitive basketball in high school and then for years afterward recreationally, and there's no doubt in my mind that coaches are going to use this app. No sensors on the player, no sensors in the ball or on the rim, just an app and your iPhone — and tremendously useful training information and analysis. ★
---
Saturday, 15 September 2018
Friday, 14 September 2018
Wednesday, 12 September 2018
Tuesday, 11 September 2018
Monday, 10 September 2018