Tuesday, 19 January 2021
Monday, 18 January 2021
Saturday, 16 January 2021
Friday, 15 January 2021
Wednesday, 13 January 2021
Tuesday, 12 January 2021
Monday, 11 January 2021
Sunday, 10 January 2021
Saturday, 9 January 2021
Friday, 8 January 2021
---
Thursday, 31 December 2020
Joe Rossignol, MacRumors, "HomePod Mini Now Works With Select 18W Chargers Following 14.3 Software Update":
As noted in a Reddit thread spotted by The 8-Bit, and confirmed by MacRumors, the HomePod mini now works with Apple's own 18W USB-C power adapter and select third-party 18W power adapters from brands like Aukey. One user was even able to power the HomePod mini with an 18W battery pack from Cygnett, allowing for portable use.

Previously, when attempting to use the HomePod mini with a power adapter rated below 20W, the speaker would simply display an orange light and not function. This may still be the case with certain 18W power adapters, as certain power profiles may be required.
If you don't know a little about how AC adapters work, it might seem crazy that the difference between an 18W charger and 20W charger could be significant. If you think it's all about wattage, they sound so similar — how could 2 watts make a difference? And Apple's own 20W charger (that they started selling this year, and which is included with the HomePod Mini) looks identical to Apple's previous 18W charger (which was included with some iPads and the iPhones 11 Pro). The only way to tell Apple's new 20W charger apart from their old 18W charger is to look at the hard-to-read small print (light gray text on a white background, a veritable crime against accessibility). And even when you read the small print, you have to know that Apple's 20W chargers say "20W" on them and their 18W chargers aren't labeled with a wattage. Seriously, Apple's 18W charger doesn't say "18W" — the only way to know it's an 18W charger is to examine the even-harder-to-read smallest-of-small print and know or calculate that its stated maximum output of "9V × 2A" is 18W. (Their 20W charger is 9V × 2.2A, so it's really a 19.8W charger.)
So on the one hand, because the HomePod Mini includes the 20W charger, it was fine that it didn't work with the old 18W charger. But on the other hand, if you ever toss the 20W charger into a bag or drawer along with an Apple 18W charger, you needed an extraordinary amount of knowledge to know which charger the HomePod Mini required. Not sure how much work Apple had to put into the 14.3 software update to make the HomePod Mini work with the 18W charger too, but I'm glad they did. It's too confusing otherwise.
---
This exact same sort of confusion — conflating two lookalike Apple-branded chargers — bit me earlier this year. In my April review of the iPad Magic Keyboard, I originally wrote that passthrough charging via the Smart Connector was slow. But other reviewers saw passthrough charging speeds that were as fast or nearly as fast as connecting the iPad directly to the charger. I checked with Apple and they confirmed that passthrough charging should not be slow, and I should make sure I was using the power adapter that came with the iPad Pro.
My mistake was using Apple's slightly older 29W USB-C power adapter, which looks exactly like Apple's more recent 30W USB-C power adapter. We've had that adapter plugged into our kitchen island for years, and it's never before mattered. But with the Magic Keyboard, it did.
Turns out Apple's 29W USB-C adapter is weird and limited. It only outputs two configurations: 14.5V × 2A = 29W (the maximum), or 5.2V × 2.4A = 12.48W.1 For high-power input, the iPad Magic Keyboard accepts 9V × 3A = 27W, but Apple's 29W adapter can't supply that. Apple's 30W USB-C adapter, on the other hand, supplies a slew of output options:
20V × 1.5A = 30W
15V × 2A = 30W
9V × 3A = 27W (bingo for the Magic Keyboard)
5V × 3A = 15W
So the 29W adapter looks exactly like the 30W adapter, and if you make the perfectly reasonable but totally wrong assumption that the stated maximum wattage is all that matters, it sounds like it's about 97% as powerful (29 ÷ 30), but what really matters when an adapter is negotiating with a device are the various voltage/amp configurations that the charger can supply as output, and the device can accept as input.
Plug the iPad Magic Keyboard into an Apple 30W adapter and the adapter can supply it with 27W (9V × 3A). Plug the Magic Keyboard into Apple's 29W adapter, however, and the best output the charger can supply that the keyboard will accept is a measly 12.48W (5.2V × 2.4A). That closely jibes with my own observed estimate back in April, that the iPad Pro only charges at about 40 percent speed via passthrough when the Magic Keyboard is plugged into Apple's 29W charger.
That 29W charger now lives in a drawer with a salty note attached. ★
---
Tuesday, 29 December 2020
Adrienne LaFrance, writing for The Atlantic, "Facebook Is a Doomsday Machine":
People tend to complain about Facebook as if something recently curdled. There's a notion that the social web was once useful, or at least that it could have been good, if only we had pulled a few levers: some moderation and fact-checking here, a bit of regulation there, perhaps a federal antitrust lawsuit. But that's far too sunny and shortsighted a view. Today's social networks, Facebook chief among them, were built to encourage the things that make them so harmful. It is in their very architecture.

I've been thinking for years about what it would take to make the social web magical in all the right ways — less extreme, less toxic, more true — and I realized only recently that I've been thinking far too narrowly about the problem. I've long wanted Mark Zuckerberg to admit that Facebook is a media company, to take responsibility for the informational environment he created in the same way that the editor of a magazine would. (I pressed him on this once and he laughed.) In recent years, as Facebook's mistakes have compounded and its reputation has tanked, it has become clear that negligence is only part of the problem. No one, not even Mark Zuckerberg, can control the product he made. I've come to realize that Facebook is not a media company. It's a Doomsday Machine.
This is a very compelling and cogent essay, and I largely agree with LaFrance. But here I disagree: Zuckerberg clearly can control it. There are dials on the algorithms that control what users see in their feeds. What can't be controlled is what happens as Facebook pursues engagement. What keeps too many people hooked to Facebook is exactly the sort of worldview-warping toxic content that is damaging society worldwide. To some degree Facebook's addictiveness and toxicity are directly correlated. This isn't conjecture or speculation, we have proof. Plus, we have eyes: in some ways the societal harm from Facebook is as easy for anyone to see as the respiratory problems caused by smoking. I honestly believe Zuckerberg would prefer to reduce the toxicity of Facebook's social media platforms, but not enough to do so if it reduces Facebook's addictiveness. Again, likewise, I'm sure tobacco company executives would have loved to invent tobacco products that didn't cause cancer.
A key insight from LaFrance:
The website that's perhaps best known for encouraging mass violence is the image board 4chan — which was followed by 8chan, which then became 8kun. These boards are infamous for being the sites where multiple mass-shooting suspects have shared manifestos before homicide sprees. The few people who are willing to defend these sites unconditionally do so from a position of free-speech absolutism. That argument is worthy of consideration. But there's something architectural about the site that merits attention, too: There are no algorithms on 8kun, only a community of users who post what they want. People use 8kun to publish abhorrent ideas, but at least the community isn't pretending to be something it's not. The biggest social platforms claim to be similarly neutral and pro–free speech when in fact no two people see the same feed. Algorithmically tweaked environments feed on user data and manipulate user experience, and not ultimately for the purpose of serving the user. Evidence of real-world violence can be easily traced back to both Facebook and 8kun. But 8kun doesn't manipulate its users or the informational environment they're in. Both sites are harmful. But Facebook might actually be worse for humanity.
This is the problem we, collectively, have not grasped. How do we regulate — via the law and/or social norms — a form of mass media with amorphous content? When you make a movie or write a book or publish a magazine, the speech that matters is the content of the movie/book/magazine. When you post something to Facebook, the "speech" that matters most isn't the content of the post but the algorithm that determines who sees it and how. 3 billion users effectively means there are 3 billion different "Facebooks". That's the "megascale" which LaFrance equates to the megadeaths of a Strangelovian doomsday device.
A mere "website" — say, Wikipedia — that reaches an audience of billions is like the surface of an ocean: enormously expansive, but visible. Facebook is like the volume of an ocean: not merely massive, but unknowable.
We instinctively think that 8kun is "worse" than Facebook because its users are free to post the worst content imaginable, and because they are terribly imaginative, do. It feels like 8kun must be "worse" because its content is worse — what is permitted, and what actually is posted. But Facebook is in fact far worse, because by its nature we, as a whole, can't even see what "Facebook" is because everyone's feed is unique. 8kun, at least, is a knowable product. You could print it out and say, "Here is what 8kun was on December 29, 2020." How could you ever say what Facebook is at any given moment, let alone for a given day, let alone as an omnipresent daily presence in billions of people's lives?
A question I've pondered these last few post-election weeks: What would have happened if Mark Zuckerberg were all-in on Trump? What if instead of flagging and tamping down Trump's utterly false but profoundly destructive "election fraud" anti-democratic power grab, Facebook had done the opposite and pushed the narrative Trump wants? What if Trump — or Rupert Murdoch — owned Facebook? What if Zuckerberg ran for president, lost, and pursued a similar "turn your supporters against democracy" strategy?
Is there any reason to believe that Facebook chose the pre- and post-election course it did because it was the right thing to do — good for the United States, good for the world, good for the principles of democracy and truth — rather than the result of a cold calculus that determined it was the optimal way to keep the most people the most engaged with Facebook?
I, for one, believe Facebook charted a course through this election primarily with Facebook's continuing addictiveness in mind. But I know that whatever the reasons, they were ultimately determined by one person. That's quite a thing. ★
---
Friday, 18 December 2020
Facebook's second full-page newspaper ad attacking Apple, helpfully transcribed (and photographed) by MacRumors:
Apple vs. the free internet

Apple plans to roll out a forced software update that will change the internet as we know it — for the worse.

Take your favorite cooking sites or sports blogs. Most are free because they show advertisements.
It's an unfortunate quirk of the English language that free as in freedom and free as in beer are very different meanings of free. But when you see an ad headlined "Apple vs. The Free Internet", most people would assume they're about to hear an argument about free as in freedom.
Not Facebook. They're arguing about free as in beer. I mean, they're alleging that Apple is taking away freedom — the freedom of small business advertisers to benefit from unrestricted tracking for ad targeting — but their argument to the public is that such privacy initiatives will cost users their free beer.
There's nothing "forced" about the software update Facebook is talking about either, which, I think, is going to be iOS 14.4. It's actually quite interesting that Apple does not force software updates, or perform them in a hard-to-disable-or-detect manner. What's "forced" isn't the software update, but Facebook's compliance with new rules that they wish they could ignore.
Apple's change will limit their ability to run personalized ads. To make ends meet, many will have to start charging you subscription fees or adding more in-app purchases, making the internet much more expensive and reducing high-quality free content.
Are we talking about apps or websites? This is a very short ad — I haven't omitted a word in my blockquoted text — but it suddenly veers from "cooking sites or sports blogs" to "in-app purchases" without explaining how it got there.
Apple clearly has no control over anything related to the advertising on websites, other than whatever privacy controls are built into Safari. Apple isn't limiting the ability of apps on iOS to show personalized ads, either. They're also not limiting the ability of ad-tracking technology to track users. What they're doing is giving users awareness of and control over that tracking. In broad terms, changing tracking from opt-out to opt-in.
This may well result in diminishing the effectiveness of personalized advertising. If so, so be it. Facebook's argument is along the lines of arguing that the police shouldn't crack down on burglaries because doing so might hurt pawn shops that have been thriving during a years-long crime spree. The information used for tracking belongs to the users whose behavior and interests is being tracked, not to Facebook and the companies, no matter how small and noble, who advertise with them.
No fair! claims the company objecting to blinds being installed on windows it had long peered through unhindered.
Beyond hurting apps and websites, many in the small business community say this change will be devastating for them too, at a time when they face enormous challenges. They need to be able to effectively reach the people most interested in their products and services to grow.
Here come the pandemic waterworks. How dare Apple institute improved privacy controls during a severe recession. Boo-fucking-hoo. I do give some credit to Facebook for putting it so plainly that they're claiming they need to invade our privacy without our awareness or permission.
Forty-four percent of small to medium businesses started or increased their usage of personalized ads on social media during the pandemic, according to a new Deloitte study. Without personalized ads, Facebook data shows that the average small business advertiser stands to see a cut of over 60% in their sales for every dollar they spend.
Well if Facebook says so, it must be true. If only anyone could remember a time when advertising wasn't based on privacy-invasive tracking, we could know whether there were any successful small businesses back then.
This whole ad reads more like an ad for Apple's privacy initiatives than against them. Apple's response to this campaign is simply to show the very simple easily-understood opt-in dialog box that Facebook is objecting to. Apple's entire statement:
We believe that this is a simple matter of standing up for our users. Users should know when their data is being collected and shared across other apps and websites — and they should have the choice to allow that or not.
It's illustrated with this example permission dialog: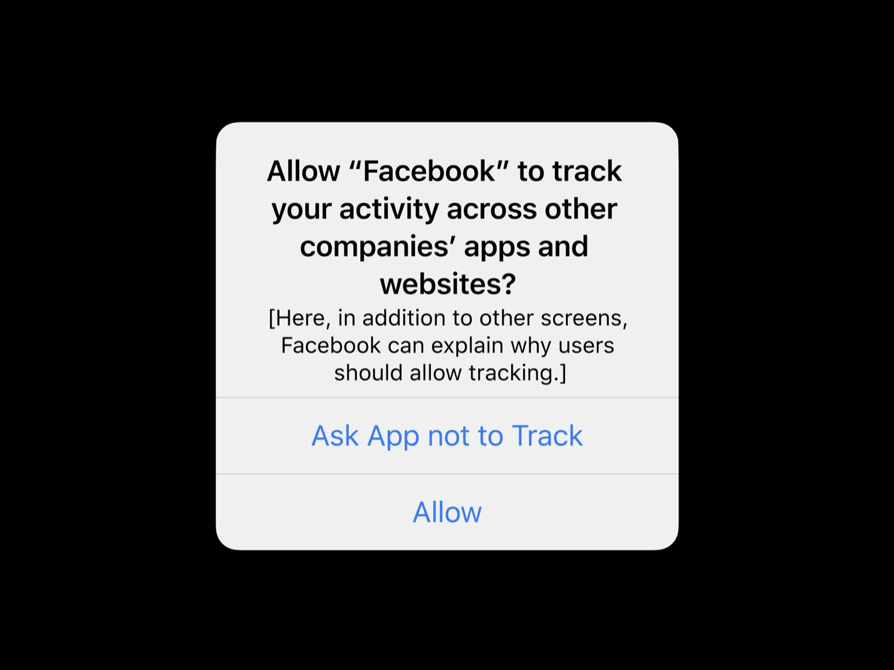 That's what Facebook is objecting to. Given that their privacy nutrition label looks like this, you can almost sympathize. ★
---