Monday, 19 November 2018
Saturday, 17 November 2018
---
Thursday, 15 November 2018
Regarding my question a few days ago about why there still aren't any third-party MFI-certified USB-C to Lighting cables, here's a report from Japanese site Macotakara, back in September (scroll down for their English translation):
Apple informed developers who participate in the MFi licensing program that they are planning to approve third-party products of "Apple USB-C to Lightning Cable".

Apple plans to move C48 Lightning connector to C89 Lightning connector, C68 Lightning connector to C78 Lightning connector, ​​C12 Lightning connector to C79 Lightning connector, the price will also be about $0.50 higher.

In order to manufacture the USB-C to Lightning cable, a new "C94 Lightning connector" is necessary, it explains that it becomes a maximum 15W power supply specification in the case of non-USB-PD and 18W charging is supported in the case of USB-PD compatible. […]

As it is in the stage of USB-C to Lightning Developer Preview, third party USB-C to Lightning cable is expected to be released in mid-2019.
A few things to unpack here. "PD" stands for Power Delivery, a protocol for providing power up to 100W by switching to higher voltage. This is an alternative to Qualcomm's Quick Charge standard in use on some Android phones. Standard USB is fixed at 5V and max current of 2.1A. 5V × 2.1A = ~10W max. Apple's fastest non-PD USB charger is the 12W charger that came with older iPad Pros. That one does 5.2V × 2.4A = 12.48W. (You can see the output volts and amps in the small print on all chargers.)
With a PD power supply, chargers support multiple output configurations, and the devices negotiate which to use via a handshake. Apple's old 29W charger supported two output configurations (photo):
14.5V × 2.0A = 29W
5.2V × 2.4 = 12.48W
Apple's new 30W charger supports four output configurations (photo):
20V × 1.5A = 30W
15V × 2A = 30W
9V × 3A = 27W
5V × 3A = 15W
The next thing to understand is that MFI certification requires vendors to source their Lightning connectors from Apple.1 The old connectors don't support PD, and the new connectors that do aren't yet available to third parties. Basically, this is why the only option for officially certified USB-C to Lightning cables remains Apple's own 1m and 2m cables.
Yes, there are some no-name brand USB-C to Lightning cables available on Amazon right now. Amazon even labels one of them "Amazon's Choice". But they aren't MFI-certified and I don't think any of them support more than 10W. Personally, I would never trust these uncertified cables. The reviews on Amazon are full of complaints that they fail after a few weeks, and honestly I wouldn't trust them in terms of safety. I get wanting to charge Lightning devices from USB-C chargers and MacBooks, but if you don't want to buy Apple's own cables (which admittedly are expensive) you might as well just use an old USB-A to Lightning cable and a USB-C to USB-A adapter, because you're still limited to the non-PD charging limits. The no-name brand USB-C to Lightning cables available today do not support PD, are not certified, and are limited to 12 watts. There's a reason they only come from no-name brands.
It's small consolation to those of us looking for high-quality third-party USB-C to Lightning cables and adapters today, but it does sound like they'll start appearing in the second quarter of 2019.
The iPhone and USB-C
This brings me to a second point, which feels at least tangentially related to this whole USB-C to Lightning situation. Now that the iPad Pros have switched to USB-C, there are a lot of people — possibly most of you reading this — who think/hope Apple is going to switch the iPhone from Lightning to USB-C next year.
I don't think that's going to happen, ever. I could be wrong — there are definitely some compelling reasons why they might. But I don't think they will for a few reasons.
First, Apple likes having complete control over the iPhone peripheral market. Consider iPhone cases that include a built-in battery pack. There aren't many of them. Apple only recently approved Mophie's battery pack for the year-old iPhone X. Battery packs are difficult — they block inductive charging and they can interfere with the phone's antennas. That's why Apple's own battery case for the iPhone 7 had such a seemingly weird hump-on-the-back design: that design kept the battery from interfering with the antennas. It's in Apple's interest to certify that third-battery cases don't interfere with antenna reception, because if they did interfere, people would naturally blame the iPhone for the poor reception, not the case.
But Apple wields its MFI control in other ways too. In a Twitter thread Wednesday, Nilay Patel pointed out there has never been an MFI-certified battery case with a headphone jack. This almost certainly is not because no one thought to make one, but rather that Apple will not approve them. Apple clearly thinks external battery packs (connected to iPhones via a cable) are a better solution than cases with integrated batteries. With Lightning, they can effectively control this. If the iPhone were to switch to USB-C, I don't think they could stop anyone from making USB-C battery cases. I do not think Apple will cede this control.
Second, the nerd world may clamor for one universal connector that charges everything from iPhones to iPads to MacBooks, but the normal world just wants their existing cables to keep working when they buy a new iPhone. Lightning is obviously better than the old 30-pin adapter — the old 30-pin connectors look ridiculous in hindsight. But people upgrading from older iPhones were outraged when Apple introduced Lightning with the iPhone 5 in 2012. They saw it as a money grab — a new port introduced so everyone would have to buy new cables. The fact that you wouldn't have to buy USB-C cables from Apple wouldn't change that perception if future iPhones switch to USB-C — nerds might rejoice but regular folks will object.
For however many iPhone users there are who are upset that iPhones continue to use the proprietary Lightning port when they could, technically, use USB-C instead, I would bet big money there are way more who just want Apple to keep using Lightning because they already have Lightning cables everywhere they need them. It's also almost certainly true that there are way more iPhone owners who do not own either an iPad or MacBook than there are iPhone users who also own an iPad or MacBook. These iPhone owners don't care that the new iPad Pro and recent MacBooks have switched to USB-C. And even those iPhone owners who do own an iPad or MacBook are very unlikely to own the brand-new $800-and-up iPad Pro, and their MacBooks are most likely models with MagSafe.
Third (and admittedly a distant third at that), Lightning connectors and ports are smaller. Sure, at 5.9mm thick, the new iPad Pros are the thinnest iOS devices ever,2 and they use USB-C. But still, it's easier to make a thinner device with a smaller connector. I also think Lightning connectors are more pleasant to use. They're easier to plug in and easier to pull out. Lightning is a simple, elegant male/female design. USB-C, like all previous USB versions, is a weird male connector with female slot / female port with a tiny little male connector inside. USB-C certainly has some technical advantages over Lightning, but iPhones don't need those features. The elegance (and I suspect durability) of Lightning probably matters more to Apple.
So:
Apple would prefer to maintain MFI control over all iPhone peripherals.
Most iPhone users would be displeased, at least in the short-term, by a switch to USB-C.
Lightning is smaller and more elegant than USB-C and Apple prefers smaller and more elegant.
I think iPhones will stick with Lightning until wireless charging is fast enough that Apple can remove all ports, Apple Watch-style.
In fact, I don't think regular (non-Pro) iPads will switch to USB-C either. Apple is pitching the iPad Pros' switch to USB-C based on actual professional features — driving external 5K displays, using PC-class peripherals, and support for very high-power charging. The only one of those that might apply to regular iPads is faster charging, which is always nice to have, but even that wouldn't matter much to most iPad users, who (a) stick with whatever charger Apple supplies in the box, and (b) choose extra chargers based on price, not output wattage. (Spec-knowledgeable nerds have trouble believing this, but many iPhone users love the wimpy 5W charger Apple includes with iPhones because it's so small.)
Lightning Gadgets
When I think of Lightning-powered devices I tend to think of iPhones and iPads. But over the last few years, Apple has put Lightning ports into a bunch of battery-powered gadgets:
AirPods charging case
Magic Keyboard, Trackpad, and Mouse
Apple TV Siri remote
Apple Pencil 1
Most of those aren't related to iPhones at all — the iPhone could switch to USB-C and it wouldn't really matter if these gadgets stayed on Lightning. Except for one: the AirPods charging case. That's the one that is intimately tied to iPhone use in daily life. You really want to be able to charge your AirPods case with the connector you're most likely to have handy, and that's your phone charger.
There were rumors that Apple might ship next-generation AirPods this year. (There still are rumors they might ship this year, in fact, even though at this date that doesn't seem very likely.) That would have been an interesting hint regarding the future of the iPhone's charging port. I really don't think Apple would launch a second generation of AirPods now, and sell them all through next year, only to change the iPhone's charging port to USB-C in September.
One supply chain leaker with a supposedly good track record published a photo purportedly showing new AirPods cases, and, for what that's worth (not much, in my opinion), the cases shown still have Lightning ports.
If Apple had announced second-generation AirPods this year, and the new cases still had Lightning ports, I'd take that as a strong sign that next year's iPhones will too. And if they had shipped without Lightning ports (using inductive charging instead, perhaps, like Apple Pencil 2), I'd be a little less willing to bet that next year's new iPhones will stick with Lightning. But Apple has not announced new AirPods (or even just new AirPod cases), nor recent updates to any of its Lightning-powered gadgets other than Pencil, so we don't have any clues to glean on this front. ★
---
Thursday, 15 November 2018
Wednesday, 14 November 2018
Tuesday, 13 November 2018
Monday, 12 November 2018
Saturday, 10 November 2018
Friday, 9 November 2018
---
Tuesday, 6 November 2018
Amidst last week's event and diving into testing the new iPad Pros and MacBook Air, I didn't find time to comment on Apple's quarterly results. Let's catch up. Here's Apple's press release, which includes links to their data summary. Long story short, compared to the same quarter last year:
iPad unit sales and revenue were down a bit.

Mac unit sales were down just under 2 percent but revenue was up over 3 percent — so mostly flat.

iPhone unit sales were flat but revenue was up a whopping 29 percent. The iPhone X (and now XS) is a hit.

Services and "Other Products" were up too, 17 and 31 percent, respectively. I take this to mean AirPods and Apple Watch are growing like crazy. Anecdotal observation everywhere I go backs this up.
Jason Snell, as usual, has over two dozen excellent charts visualizing Apple's results at Six Colors. I'll reproduce just one, the first: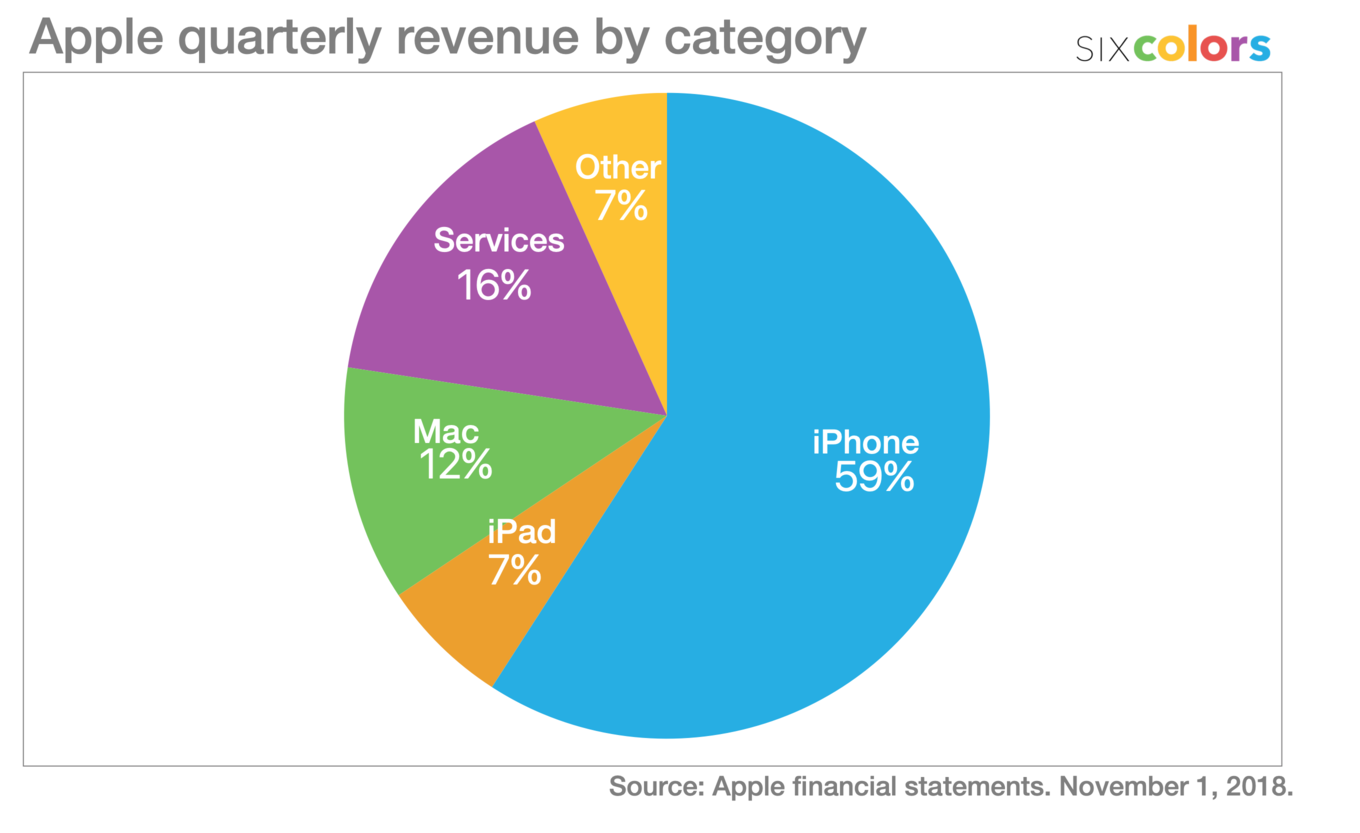 I look at this and I think one thing: Fuck yeah, Macintosh.
For all the fretting for the future of the Mac — the widely held notion that Apple wants everyone to move from the Mac to iPad, that these totally shitty Marzipan apps in Mojave are the future, that the Mac is "legacy" — here is some cold, hard, financial proof that the Mac is doing as well as ever. Not only was the Mac far ahead of the iPad in terms of revenue, it's downright amazing that it amounted to one-fifth the revenue from the iPhone.
No More Unit Sale Numbers for iPhone, Mac, and iPad
The biggest surprise was CFO Luca Maestri's announcement during his prepared remarks on the conference call that Apple would no longer be announcing unit sales for iPhone, Mac, and iPad:
Third, starting with the December quarter we will no longer be providing unit sales data for iPhone, iPad, and Mac. As we have stated many times, our objective is to make great products and services that enrich people's lives, and to provide an unparalleled customer experience so that our users are highly satisfied, loyal, and engaged. As we accomplish these objectives, strong financial results follow. As demonstrated by our financial performance in recent years, the number of units sold in any 90-day period is not necessarily representative of the underlying strength of our business. Furthermore, a unit of sale is less relevant for us today than it was in the past, given the breadth of our portfolio, and the wider sales price dispersion within any given product line.
This stinks as an observer of the company, but I don't find it at all surprising. None of Apple's competitors release unit sale numbers for phones, tablets, or PCs. I think it's more surprising that it took Apple so long to make this change. Secretive company decides to be more secretive — news at 11.
After Tim Cook announced at the outset that they were never going to reveal Apple Watch unit sale numbers, and it played out just fine, I began wondering if Apple would switch to that policy for all of their products. There's nothing special about Apple Watch in that regard.
I wish it weren't so, but I don't blame Apple for making this change. I also don't think it has anything to do with Apple expecting bad unit sale numbers in the near future. Apple doesn't make policy changes like this with the near term in mind. This change will affect what they announce in all quarters, for years to come, whether unit sales are good, bad, or middling. Apple is a long-term company, not a short-term one.
Tim Culpan at Bloomberg had this take:
HomePod was an abject failure, and the AirPower wireless charging pad is missing in action. But Apple Watch Series 4 is getting rave reviews, and the sleeper hit, the AirPods, will likely do well when that product gets updated. A refresh of its Mac lineup is nice, but it's destined to remain a niche product in a market where people are less interested in buying computers.
HomePod may well be a disappointment, but "abject failure" seems a bit harsh. A few weeks ago Strategy Analytics pegged HomePod's share of the U.S. "smart speaker" market at just 4 percent. That sounds terrible. But they also pegged HomePod's share of the $200-plus smart speaker market at 70 percent. At $350, HomePod is nearly double $200. Maybe Apple ought to make a $100 HomePod Mini or something, but given what HomePod is and what it costs, it seems like a typical Apple product: dominating the high end of the market, overall market share be damned.
And to revisit a sentiment from above, I don't get Culpan's argument that the Mac constitutes a "niche". $7.4 billion in revenue — in a quarter during which the most popular Macs were all overdue for updates — is one hell of a niche.
Also, not to keep picking nits with one paragraph, but AirPods are "doing well" right now, without an update. Given that Apple had nothing to say about AirPods last week, it seems pretty clear that AirPods aren't getting an update this year. I still expect them to sell in record numbers as holiday gifts. ★
---
Tuesday, 6 November 2018
---
Tuesday, 6 November 2018
The elephant in the room at last week's Apple event was Intel.
Apple introduced two products based on Intel chips — the new MacBook Air and new Mac Mini — but barely mentioned the company's name. The word "Intel" appeared on a single slide during VP of hardware engineering Laura Legros's presentation of the new MacBook Air. She also spoke the word once, saying the new Airs have "the latest Intel integrated graphics". In the presentation of the new Mac Mini, "Intel" never appeared in a slide and wasn't mentioned. The CPUs in the new Mini were simply described as 4-core and 6-core "8th generation" processors.
One slide, one mention.
Apple is not going to throw Intel under the bus — they're taking an "If you don't have anything nice to say, don't say anything at all" approach, as they should. Macs are Apple's products, not Intel's, and it's ultimately Apple's responsibility that both of these products went so long between updates. But Apple's frustration with Intel as a partner is palpable at this point. Look no further than the other product introduced at the same event, the new iPad Pro. Apple spent an entire segment talking about the A12X chip in the iPad Pro and the performance it delivers. They spent almost no time talking about the performance of the CPU or GPU in the new MacBook Air. Performance is actually pretty good for the price and for the intended audience of the MacBook Air — but only when compared against other Intel-based notebooks. When compared against the iPad Pro, it doesn't look good at all.
| | Single-Core | Multi-Core | Compute |
| --- | --- | --- | --- |
| 2018 MacBook Air With Retina | 4,316 | 7,847 | 22,048 |
| $999 Old MacBook Air | 3,335 | 6,118 | 14,570 |
| 2018 iPad Pro | 5,007 | 18,051 | 42,574 |
| iPhone XS | 4,851 | 10,534 | 21,869 |
| 15" MacBook Pro w/ 2.9 GHz Core i9 | 5,653 | 21,737 | 59,010 |
What we're seeing here is a double whammy. On the one side, Apple's custom silicon team is firing on all cylinders, delivering new A-series chips year after year with ever-more-incredible performance and efficiency. On the other side, Intel has missed deadlines, and what they have shipped often isn't impressive. In fact, when Apple did spend time bragging about the performance of the new MacBook Air's chips, they were talking about the T2, the Apple-designed "security chip" that does a hell of a lot more than just manage security features. Even before they've moved away from Intel chips, Apple is boasting about the performance of their own custom silicon, not Intel's.
Behind the scenes last week in New York, I asked a few folks from Apple for any sort of hint why these two Macs — the MacBook Air and Mac Mini — went so long between updates. One thing I was told is that Apple wants to focus on "meaningful updates". The days of "speed bump" updates are largely over. The value just isn't there.
The new MacBook Air is a meaningful update. It is faster, smaller, thinner, and lighter, with a terrific retina display (finally), vastly improved speakers, Apple's terrific Force Touch trackpad, and more. If there's a blessing in the long wait for this new MacBook Air to appear, it's that it debuts with the third-generation of Apple's butterfly keyboard. The Air skipped the bad keyboards.
The iPad lineup has seen meaningful updates on a regular basis not because Apple cares more about iPads than MacBooks, but because Apple controls the system architecture of iPads and they don't control it on MacBooks — Intel does. Apple sells more iPad units than Macs, but the Mac accounts for significantly more revenue. Apple should love the Mac because it's a fantastic platform — but they should also love it because it makes the company a lot of money.
Look at the iPad's A12X compared to the iPhone's A12 and you can see how much attention Apple is paying to the iPad's system architecture. There's no reason they won't pay as much or more attention to the Mac's custom silicon when they switch from Intel to their own chip designs. It should be downright glorious.
But that's the future. In the present, we've got this new MacBook Air, and it's pretty damn sweet.
Overview
There's only one CPU option for the new MacBook Air: "1.6GHz dual‑core 8th‑generation Intel Core i5 processor, Turbo Boost up to 3.6GHz". There are no build-to-order CPU options. I could be wrong, but off the top of my head, I think this is a first for a Mac notebook in the Intel era. MacBook Pros have a slew of different CPU options. The 12-inch MacBook, surprisingly, has three CPU options. Even the base model non-retina MacBook Air has two CPU options.
Why? I hate picking a CPU. Putting cost aside, I never know what the right balance is between performance and battery life. These are the sort of decisions I want Apple to make. That's what they do with iPhones and iPads.
When you order a new MacBook Air, the only choices you make (other than color) are how much storage you want and how much RAM (8 or 16 GB). That's it, and that's how it should be.
I've been using a space gray model with 8 GB of RAM and 256 GB of SSD storage since late last week. I'm glad to be testing a model with the base 8 GB of RAM — this is the configuration that most people will actually buy and use. I use a lot of RAM because I tend to keep a lot of apps open and a lot of tabs — too many tabs — in Safari. My personal MacBook is a 13-inch MacBook Pro from 2014 with 16 GB of RAM. I've been thinking about buying a new 13-inch MacBook Pro with 32 GB of RAM. (I really need to clean up my Safari tabs more often.) Update: The problem, of course, is that currently only 15-inch MacBook Pros support more than 16 GB of RAM. My desired 13-inch MacBook Pro with 32 GB of RAM doesn't (yet) exist.
I've been using this device heavily over the last few days — as heavily as I could while simultaneously testing the new iPad Pro, at least — and performance has been great. The system is swapping, but I honestly don't notice. SSD performance is that good.
If you don't know whether you need the upgrade to 16 GB of RAM, you don't need it. I would recommend the base 8 GB configuration to just about any typical user.
The display is excellent even if it's not Apple's best. MacBook Pro displays offer 500 nits of maximum brightness; the new MacBook Air offers only 300 nits, according to Apple. MacBook Pros also offer wide color gamut (P3), and the models with the Touch Bar also offer True Tone. They also start at $1,800. Everyone who's been waiting for a retina MacBook Air should be pleased by this display — it's sharp, accurate, well-balanced, and more than bright enough.
The form factor is just about perfect. It's noticeably thinner and lighter than a 13-inch MacBook Pro and noticeably more modern-looking than the old Air. One thing that Apple doesn't get enough credit for in their latest notebooks is the quality of the display hinge. Metal now, not plastic, these hinges have just the right amount of resistance — they're easy to open, easy to close, and easy to adjust to the perfect viewing angle. It's obvious when you look at the industry and see what size notebooks are the most popular, but a 13-inch display really is perfect as the default size for most people.
These butterfly keyboards are polarizing. Some love them, some hate them. I'm in the middle. I like a laptop keyboard with a clickier feel and more travel than these keyboards, but with this third generation, the keys do snap back a bit more than they did in the first two generations. I've lost count of the number of people I've seen asking for Apple to make a MacBook keyboard with Touch ID but without the Touch Bar. Well, here it is. The only problem I've run into with Touch ID is that I just spent the last week with a new iPad Pro with Face ID, which is even better.
The Esc key works perfectly.
Battery life has been outstanding. Apple's tech specs suggest this new MacBook Air should get better battery life than any other MacBook, Pro or not. I believe it.
Here's a nice little touch: the Apple logo stickers included with the Getting Started packet are color-matched to the device. Space gray stickers for a space gray MacBook Air. Maybe this isn't new, but I hadn't noticed it before.
The Modern MacBook and the End of an Era
With this update the MacBook Air falls in line with Apple's modern MacBook design language:
Aluminum color options (space gray, silver, gold)
Butterfly keyboards
Large Force Touch trackpads
USB-C/Thunderbolt 3 ports for power and peripherals
There are some cool things about the old designs that I miss:
MagSafe. USB-C plugs are hard to pull out. MagSafe was easier to connect and disconnect. The magnetic charging of the new Apple Pencil reminds me quite a bit of MagSafe. It was just such a great idea. I miss the charging indicator light on the MagSafe connector too.

The glowing Apple logo on the back. I'm happy to trade it for a thinner display, but I do miss it. It was just such an iconic aspect of Apple's Mac notebooks, going back to the PowerBook era. I noticed a bunch of the black-and-white "Behind the Mac" images Apple showed in a short film on stage last week in Brooklyn prominently featured glowing Apple logos on MacBooks.

The new arrow key layout. I'm getting used to the feel of these butterfly keyboards in general, but I cannot get used to the new arrow key layout. I want my upside-down T layout back.
Making Sense of Where This New Air Fits in the MacBook Lineup
But the more I think about it, the more I think that something along the lines of the "just put a retina display in the MacBook Air" scenario seems the most likely. Nomenclaturally it makes no sense. The computer named just-plain "MacBook" should logically be the one that is the baseline best-selling model for the masses. The one named "Air" should be the one that is as thin and lightweight as is feasible. But today we're three years into the era when the just-plain MacBook is the radically thin and light model, and the Air is the best-selling baseline model that isn't really any thinner or lighter than the Pro models. Well, so what? We drive on parkways and park on driveways and no one is confused.
And so here we are, with a new MacBook Air that really is the MacBook for almost everyone, and a just-plain MacBook that is the MacBook for those willing to pay a premium — both in dollars and performance — for an ultra thin and light form factor.
These new MacBook Airs are terrific computers at fair prices. But the overall state of Apple's notebook lineup is a bit of a mess at the moment. Here are your options if you're looking to spend about $1,000-1,500 on a Mac notebook:
The old non-retina MacBook Air, which still starts at $1,000.
The new MacBook Air, which starts at $1,200.
The 12-inch MacBook, which starts at $1,300.
The 13-inch MacBook Pro without the Touch Bar — a.k.a. the MacBook Escape — which starts at $1,300.
The $200 difference between the $1,000 non-retina Air and new $1,200 retina Air is quite possibly the best $200 value you can spend in the Apple Store. The $1,000 MacBook Air is a machine I wouldn't recommend to anyone; the $1,200 MacBook Air is a machine I'd recommend to anyone who doesn't need more than 128 GB of storage.
The non-retina MacBook Air has a CPU upgrade for $150, but even with that upgrade it's still slower than the new MacBook Air. I understand why the $999 Air is still in the lineup — so that Apple can say they have a notebook at $999. I have no idea why the $1,150 configuration of the old Air is still there. It seems like a rotten deal next to the new MacBook Air.
The entry model of the 12-inch MacBook comes with 256 GB of storage. The other entry models — including the MacBook Pro without Touch Bar — come with 128 GB of storage. Upgrading from 128 to 256 GB of storage costs $200 for all of these devices. These prices start to make more sense when you consider that. For 256 GB of storage and 8 GB of RAM:
New MacBook Air: $1,400
12-inch MacBook: $1,300
13-inch MacBook Pro: $1,500
The 12-inch MacBook is for people who want the very thinnest and lightest MacBook they can get. It weighs 3/4 of a pound less than the new MacBook Air, which is significant.
It's not clear at all who the MacBook Pro without Touch Bar is for today, though. In principle, it's for people who want higher performance than the MacBook Air provides. In practice, it's not much faster — about the same in single-core, and about 15 percent faster in multi-core. It weighs more, costs more, and yet doesn't have Touch ID.
Both the 12-inch MacBook and the MacBook Pro without Touch Bar are overdue for updates. (Have I mentioned that Intel has been dropping the ball lately?) Presumably, updates are coming, and when they arrive, these prices should all make more sense value-wise. But right now, the new MacBook Air is the only consumer MacBook that looks like a good deal.
A lot of people are looking at the lineup as it stands today thinking they must be missing something, because it seems obvious that most people looking for a MacBook in this price range should buy the new MacBook Air. They're not missing anything. The new Air is exactly that: the MacBook most people should buy, and exactly the MacBook everyone has been asking Apple to make. ★
---
Saturday, 3 November 2018
Friday, 2 November 2018
Thursday, 1 November 2018
Wednesday, 31 October 2018
Tuesday, 30 October 2018
Monday, 29 October 2018
Sunday, 28 October 2018