Safari's Tab Dragging Modes
Wednesday, 9 April 2008
In my Firefox/Safari comparison, I praised Safari for allowing the user to tear off a tab into a new window. However, Safari's behavior with tab-dragging is a little weird, and I suspect confusing to many people. When you drag a Safari tab, there are two dragging modes: intra-window and inter-window. In the intra-window dragging mode, you are simply rearranging the order of tabs within a single window. In the inter-window dragging mode, you can both reorder tabs within a window and drag tabs between windows (and spawn new windows from a dragged tab).
The mode is determined by the initial direction in which you drag. If you first drag left or right, you enter the intra-window mode;1 if you drag up or down, you enter the inter-window mode. Once you enter one of these modes, you cannot switch to the other except by dropping the tab and starting a new drag.
The two modes look different, visually. In the intra-window (left/right) model, the dragged tab simply looks like a normal tab attached to the window:

In the inter-window (up/down) model, the dragged tab's appearance depends upon where it is currently hovering. When it's hovering within the tab bar, toolbar, or bookmark bar of a window, it looks like a translucent tab:

In this case, when dropped, the tab moves from one spot to another, perhaps between two different windows.
When the tab is hovering anywhere else, it takes on the appearance of a thumbnail of the tab's content: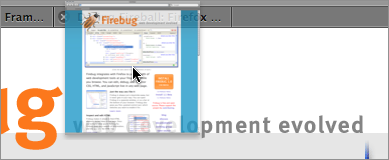 In this case, when dropped, the tab spawns a new window.
This state of affairs is irritating at best, and confusing at worst. Confusing because I can't think of any other drag operation on the Mac where you get a completely different mode based on the initial direction of the drag. [Update: Via Twitter, Peter Hosey points to one: dragging in a table view, where up/down selects multiple rows and left/right initiates a drag-and-drop with the clicked-upon row. Safari's tabs are still the only drag-and-drop implementation I know of with different directional modes.] Irritating, because even if you understand how it works (which is a big if), it's still easy to get locked in the wrong mode — if you want to drag down but move the mouse even one iota left or right first, you get locked in the intra-window mode and have to start over.
I don't see why the intra-window (left-right) mode even exists. With the inter-window mode, you can do everything: reorder a tab within a window, move a tab to another existing window, or move a tab to its own new window. The intra-window mode only allows one thing: reordering tabs within their current window. I can't think of a single reason why this mode exists.