'Which Is the Most Important Device You Use to Connect to the Internet?'
Thursday, 6 August 2015
On Twitter, Benedict Evans points to fascinating polling data indicating that the answers to this question1 are changing dramatically. In 2013, just two years ago, the results were:
Laptop 46%
Desktop 28%
Smartphone 15%
Tablet 8%
In 2015, the results were:
Smartphone 33%
Laptop 30%
Tablet 19%
Desktop 14%
Assuming the polling is valid, this suggests we've already passed the inflection point where most people consider their mobile devices (phone and tablet) central to their use of the internet.
I don't think the chart in Evans's tweet indicates these trends well. (The chart wasn't his creation.) I would prefer something like (spends 15 minutes dicking around in Numbers…) this: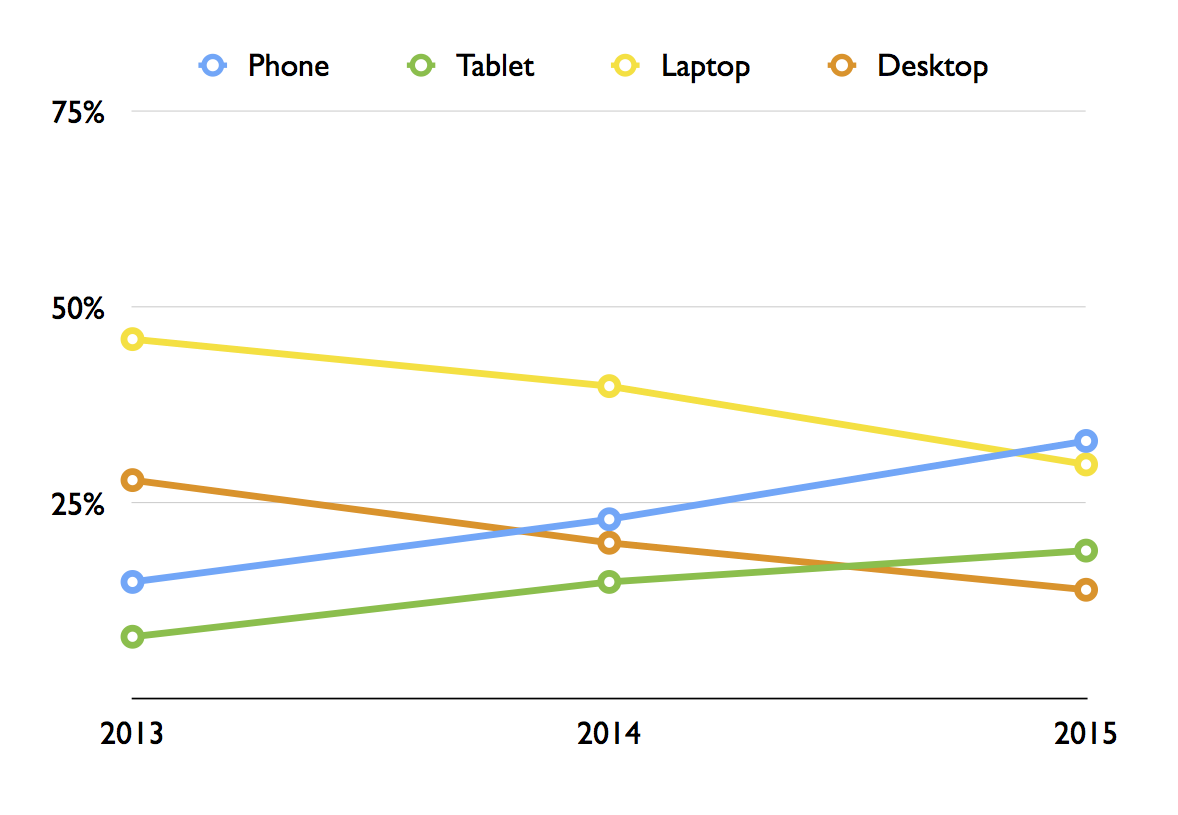 Also interesting is to compare "mobile" (phone and tablet) versus "PC" (laptop and desktop):
My "mobile" and "PC" groupings aren't entirely rigorous, because I'm conflating physical form factors with operating systems. For Apple products, that distinction is clear — their phones and tablets run iOS; their laptops and desktops run Mac OS X. And Android, as a consumer platform, runs almost solely on phones and tablets. But Microsoft's Surface devices are tablets that run Windows, and Chromebooks are laptops that run what I would consider a mobile OS.2 But the overwhelming popularity of iOS and Android compared to Surface and Chromebooks is such that I think it's a useful and fair comparison.
The bottom line: the post-PC world is here.