Apple's Q4 2018 Results
Tuesday, 6 November 2018
Amidst last week's event and diving into testing the new iPad Pros and MacBook Air, I didn't find time to comment on Apple's quarterly results. Let's catch up. Here's Apple's press release, which includes links to their data summary. Long story short, compared to the same quarter last year:
iPad unit sales and revenue were down a bit.

Mac unit sales were down just under 2 percent but revenue was up over 3 percent — so mostly flat.

iPhone unit sales were flat but revenue was up a whopping 29 percent. The iPhone X (and now XS) is a hit.

Services and "Other Products" were up too, 17 and 31 percent, respectively. I take this to mean AirPods and Apple Watch are growing like crazy. Anecdotal observation everywhere I go backs this up.
Jason Snell, as usual, has over two dozen excellent charts visualizing Apple's results at Six Colors. I'll reproduce just one, the first: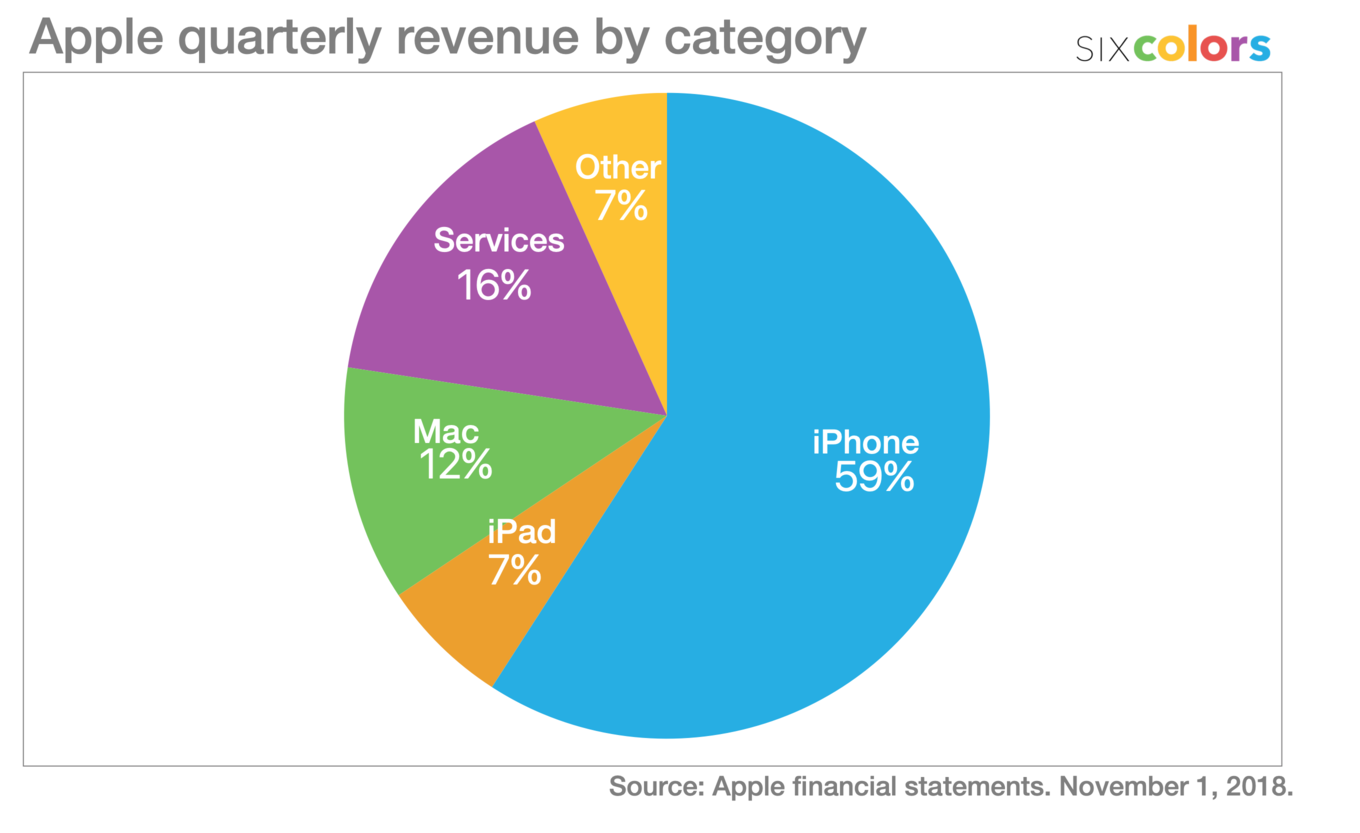 I look at this and I think one thing: Fuck yeah, Macintosh.
For all the fretting for the future of the Mac — the widely held notion that Apple wants everyone to move from the Mac to iPad, that these totally shitty Marzipan apps in Mojave are the future, that the Mac is "legacy" — here is some cold, hard, financial proof that the Mac is doing as well as ever. Not only was the Mac far ahead of the iPad in terms of revenue, it's downright amazing that it amounted to one-fifth the revenue from the iPhone.
No More Unit Sale Numbers for iPhone, Mac, and iPad
The biggest surprise was CFO Luca Maestri's announcement during his prepared remarks on the conference call that Apple would no longer be announcing unit sales for iPhone, Mac, and iPad:
Third, starting with the December quarter we will no longer be providing unit sales data for iPhone, iPad, and Mac. As we have stated many times, our objective is to make great products and services that enrich people's lives, and to provide an unparalleled customer experience so that our users are highly satisfied, loyal, and engaged. As we accomplish these objectives, strong financial results follow. As demonstrated by our financial performance in recent years, the number of units sold in any 90-day period is not necessarily representative of the underlying strength of our business. Furthermore, a unit of sale is less relevant for us today than it was in the past, given the breadth of our portfolio, and the wider sales price dispersion within any given product line.
This stinks as an observer of the company, but I don't find it at all surprising. None of Apple's competitors release unit sale numbers for phones, tablets, or PCs. I think it's more surprising that it took Apple so long to make this change. Secretive company decides to be more secretive — news at 11.
After Tim Cook announced at the outset that they were never going to reveal Apple Watch unit sale numbers, and it played out just fine, I began wondering if Apple would switch to that policy for all of their products. There's nothing special about Apple Watch in that regard.
I wish it weren't so, but I don't blame Apple for making this change. I also don't think it has anything to do with Apple expecting bad unit sale numbers in the near future. Apple doesn't make policy changes like this with the near term in mind. This change will affect what they announce in all quarters, for years to come, whether unit sales are good, bad, or middling. Apple is a long-term company, not a short-term one.
Tim Culpan at Bloomberg had this take:
HomePod was an abject failure, and the AirPower wireless charging pad is missing in action. But Apple Watch Series 4 is getting rave reviews, and the sleeper hit, the AirPods, will likely do well when that product gets updated. A refresh of its Mac lineup is nice, but it's destined to remain a niche product in a market where people are less interested in buying computers.
HomePod may well be a disappointment, but "abject failure" seems a bit harsh. A few weeks ago Strategy Analytics pegged HomePod's share of the U.S. "smart speaker" market at just 4 percent. That sounds terrible. But they also pegged HomePod's share of the $200-plus smart speaker market at 70 percent. At $350, HomePod is nearly double $200. Maybe Apple ought to make a $100 HomePod Mini or something, but given what HomePod is and what it costs, it seems like a typical Apple product: dominating the high end of the market, overall market share be damned.
And to revisit a sentiment from above, I don't get Culpan's argument that the Mac constitutes a "niche". $7.4 billion in revenue — in a quarter during which the most popular Macs were all overdue for updates — is one hell of a niche.
Also, not to keep picking nits with one paragraph, but AirPods are "doing well" right now, without an update. Given that Apple had nothing to say about AirPods last week, it seems pretty clear that AirPods aren't getting an update this year. I still expect them to sell in record numbers as holiday gifts.