Magic 8-Ball Answers Your Questions Regarding Microsoft's 'Zune'
Tuesday, 25 July 2006
Q:  So Microsoft has confirmed that Zune, the "iPod/iTunes killer" project that Engadget has been reporting on for a few weeks, is for real. It's a "music and entertainment" project that will involve portable players, an online media store, and desktop software for managing media and getting content from the store onto the players; all of it integrated and all of it produced and sold exclusively by Microsoft themselves. Does this sound familiar?
A:  YES — DEFINITELY.
Q:  Have you seen the photo of the first Zune gadget "leaked" to Engadget? Seems, uh, a bit familiar, too, what with the white plastic and scroll wheel: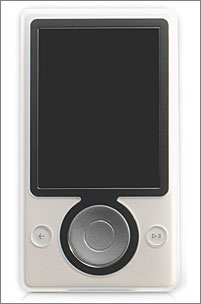 A:  AS I SEE IT, YES.
Q:  I mean, if this is even vaguely the form factor of the device they plan to ship, it's so shameless a rip-off that they might as well have called it the "xPod" or even the "Ipod" ("It's a totally different name — we have a capital 'I', see!"). The scroll wheel, the sparsity of buttons, the plain white facade. But that "Microsoft Designs the iPod Package" video be damned, you just know there are executives at Microsoft dying to slap a logo on the front of this thing, right?
A:  ASK AGAIN LATER.
Q:  Speaking of logos, what about the Zune logotype that's going around? With the magenta-to-orange gradient and weird overly-complicated Necker-cube-ish Z-shape mark? That's just temporary, right?
A:  CANNOT PREDICT NOW.
Q:  According to Engadget, the Zune service and devices won't just be separate from Microsoft's PlaysForSure platform, they'll be wholly incompatible with each other. I'll bet that's just delightful news to all of Microsoft's "PlaysForSure" partners like Creative Labs and Napster.
A:  YOU MAY RELY ON IT.
Q:  But yet Engadget reports, "Microsoft will continue to support and develop for their PlaysForSure initiative, but all things PlaysForSure are handled by [an] entirely separate division that will not have any crossover." Is that not the epitome of metastatic corporate bureaucracy? One division within Microsoft spending $100 million or more to launch their own closed media player system; another division charged with lining up "partners" for the PlaysForSure platform that Microsoft's own media player division deems not good enough.
A:  YES.
Q:  Isn't that like inviting guests to your home for dinner and serving them hot dogs while you yourself eat a steak?
A:  AS I SEE IT, YES.
Q:  And so now that Microsoft is abandoning the licensing model (or at least deprecating it) in favor of a closed model that they completely control, will all those pundits who've been predicting doom for the iPod for the last four years declare that Microsoft, like Apple, is now making the same mistake with Zune that Apple made with the Macintosh in the 1980s?
A:  DON'T COUNT ON IT.
Q:  Jackasses.
A:  WITHOUT A DOUBT.
Q:  The "leaks" about Zune strike me as rather comically transparent. The gist of their origin seems to be that Microsoft has been making the rounds to various "partners" — which in this case means the entertainment industry and iPod peripheral makers — to line up content and peripheral support for the Zune, and that it's these "partners who've been briefed by Microsoft" who are leaking the details. My guess is that it went something like this: some guy from Microsoft showed up, delivered his spiel, and then gave a big wink and said something like "This is all top-secret stuff, so whatever you do, don't go and blab about all these details to Engadget and Gizmodo! And for god's sake don't send them this photograph which I'm emailing a copy of to each of you right now! Can you see that I'm winking? Winking is a social cue that you use when you say one thing but mean the opposite!"
A:  IT IS DECIDEDLY SO.
Q:  So in other words, this has all the hallmarks of a good old-fashioned Microsoft vaporware campaign: wildly optimistic ship date ("this November") and a laundry list of features missing from the iPod and iTunes (Wi-Fi, social networking, a video game mode, adjustable faceplates, and maybe even Sirius and/or XM satellite radio). I'll bet it will ship on schedule, with all those features, and will be lightweight, thin, and get great battery life.
A:  VERY DOUBTFUL.
Q:  I was being sarcastic. My point is that it's now late July, and despite the fact that there are leaked photos and a features list the length of your arm, no one has claimed to have actually seen a working prototype. And some of these proposed features, like peer-to-peer file sharing and proximity-based recommendations, sound rather like a lot of work. Do they honestly expect to have this on the shelves in time for Christmas?
A:  MY REPLY IS NO.
Q:  So what they've done is leak a November release date and a fantastic feature list — a feature list that the next batch of new iPods, no matter how cool, are unlikely to match — and hope that people will wait for the Zune. And then even when it misses the holiday season and slips into 2007, and won't include all of the previously-promised features, they'll say it wasn't their fault (despite the fact that the whole point of the Zune platform model is that Microsoft controls the entire system) but that it'll be worth the wait anyway. That sound right?
A:  SIGNS POINT TO YES.
Q:  Seems funny to think that Microsoft went around to the entertainment companies with a message that, if you think about it, boils down to, "So we hear that you're worried about the growing leverage that Apple is accumulating in the digital media space, and that you're looking for a partner who can be trusted not to use such an advantage unfairly or to bludgeon competitors. How about Microsoft?"
A:  YES — DEFINITELY.
Q:  As for "Coming Zune", Microsoft's ostensibly "viral" teaser site featuring an animated guy stroking a bunny rabbit while a six-inch-tall man moves in for a hug — well, the less said the better.
A:  MOST LIKELY.
Q:  Back to the form factor. Again, presuming this is really what the thing looks like, it seems almost comical that Microsoft is so clearly mimicking the look of the current iPods. The best they can do with such a design strategy is to approach the coolness of the current iPods; whereas Apple itself is always at work on new designs that make their own current ones look dated. Sure, there are all sorts of innovative new features supposedly slated for the Zune, but if people look at it and their initial reaction is "Oh, it's an iPod rip-off," that's a pretty crummy first impression. Does anyone at Microsoft realize that rip-offs aren't considered cool?
A:  MY SOURCES SAY NO.
Q:  Then again, Pablo Picasso said, "Good artists copy. Great artists steal." By that standard the people on the Zune team must be a bunch of Michelangelos, eh?
A:  CONCENTRATE AND ASK AGAIN.
Q:  As for Apple, well, Steve Jobs is a big fan of that Picasso quote. My guess is they've been expecting this, that Apple expects their competitors, especially Microsoft, to copy everything they do, and that thus the only thing they find surprising about Zune is that it's taken this long for Microsoft to attempt to copy the entire iPod/iTunes/ITMS troika. Agree?
A:  WITHOUT A DOUBT.
Q:  But Microsoft does have one genuine ace in the hole: their mountain of cash. They can't buy taste, but they can burn money. One of their rumored features is an ITMS converter, where the Zune desktop app will go through your iTunes music library and look for songs purchased through the ITMS, and they'll give you "free" versions of those same songs from the Zune music store, and Microsoft will just pick up the tab with the record labels. That's actually a pretty clever idea, isn't it?
A:  REPLY HAZY, TRY AGAIN.
Q:  Microsoft's rumored "we'll just buy them another copy of every song they bought from ITMS" feature — pretty clever, isn't it?
A:  IT IS CERTAIN.
Q:  And hardware-wise, if they're really serious about this, they'll do what they've done with the Xbox: cram $800 worth of components into a $400 box and lose hundreds of dollars on each unit sold. There's something perverse about the fact that the only recent brand-new product from Microsoft that's considered a success is the Xbox, which according to Forbes lost $4 billion from 2001-2005. That's enough money to sink most companies, but it was just a small slice of Microsoft's cash hoard. A similar strategy with the Zune would prove difficult for Apple to follow, would it not?
A:  MOST LIKELY.
Q:  On the other hand, although the Xbox 360 is slicker than the original Xbox, it's still bigger, clunkier, hotter, and louder (fan-wise) than the PS2 and GameCube. Those traits are OK for a game console that goes in your entertainment center, but they're not OK for a portable media player that goes in your pocket. If their $60 billion bank account hasn't yet helped Microsoft develop a penchant for the simplicity/clarity/elegance thing, it never will, will it?
A:  OUTLOOK NOT SO GOOD.
Q:  Should I even bother asking whether Zune will work on the Mac?
A:  BETTER NOT TELL YOU NOW.
---
Peruse previous episodes with the Magic 8-Ball: