The iPhones 13
Tuesday, 21 September 2021
I wish I had something more clever to say about the new iPhone 13 lineup. But the practical reality is simple and obvious. The two ways that Apple could best improve the day-to-day utility of using an iPhone are improving the camera system and improving battery life. And those are exactly where Apple focused its attention for this year's new iPhones.
In theory, another practical improvement would be to make phones that are thinner and lighter. But designing phones that are thinner and lighter would be in direct conflict with improving the cameras and battery life. You can't have your cake and eat it too.
All four new iPhones — the 13 Mini, the regular 13, the 13 Pro, and the 13 Pro Max — are the exact same height and width as the corresponding models from last year's iPhone 12 lineup. But all four of the new iPhones are slightly thicker and heavier. The increase in thickness is very slight — from 7.4 mm to 7.65 mm. The increase in weight varies from around 5 to 7 percent. Not a lot, but you can feel it.
The model with the biggest physical change year-over-year is the 6.1-inch 13 Pro. (Apple provided me with all four for testing, but I've spent most of my time over the last six days using the 13 Pro.) Last year, the 12 Pro Max had a much bigger camera module on the back — bigger lenses that protrude more, and a bigger "platform" ("plateau"?) in which the lenses sit. This year, the 13 Pro and 13 Pro Max share the same camera module. You can both see and feel the difference on the 13 Pro compared to last year's 12 Pro, or to any other previous iPhone in the "regular" size class.
It is comical to look back at the minor controversy surrounding the iPhone 6 back in 2014. That was the first year the iPhone camera had a "bump", which at the time seemed weird and obtrusive, even if the reason for the bump was obvious: improved optics. The controversy was that Apple's promotional photography for the iPhone 6 seemed to go out of its way to hide that camera bump — in a bunch of Apple's profile shots, the back of the iPhone 6 looked perfectly flat. Apple deliberately chose angles and perspectives that did not show the camera bump, and headlines described the camera — that tiny little iPhone 6 camera — as an "embarrassing bulge".
Fast forward to today, and Apple is using photographs for the iPhone 13 Pro and Pro Max, that, if anything, emphasize the camera system's size and prominence. Here's a screenshot from Apple's iPhone 13 Pro product page: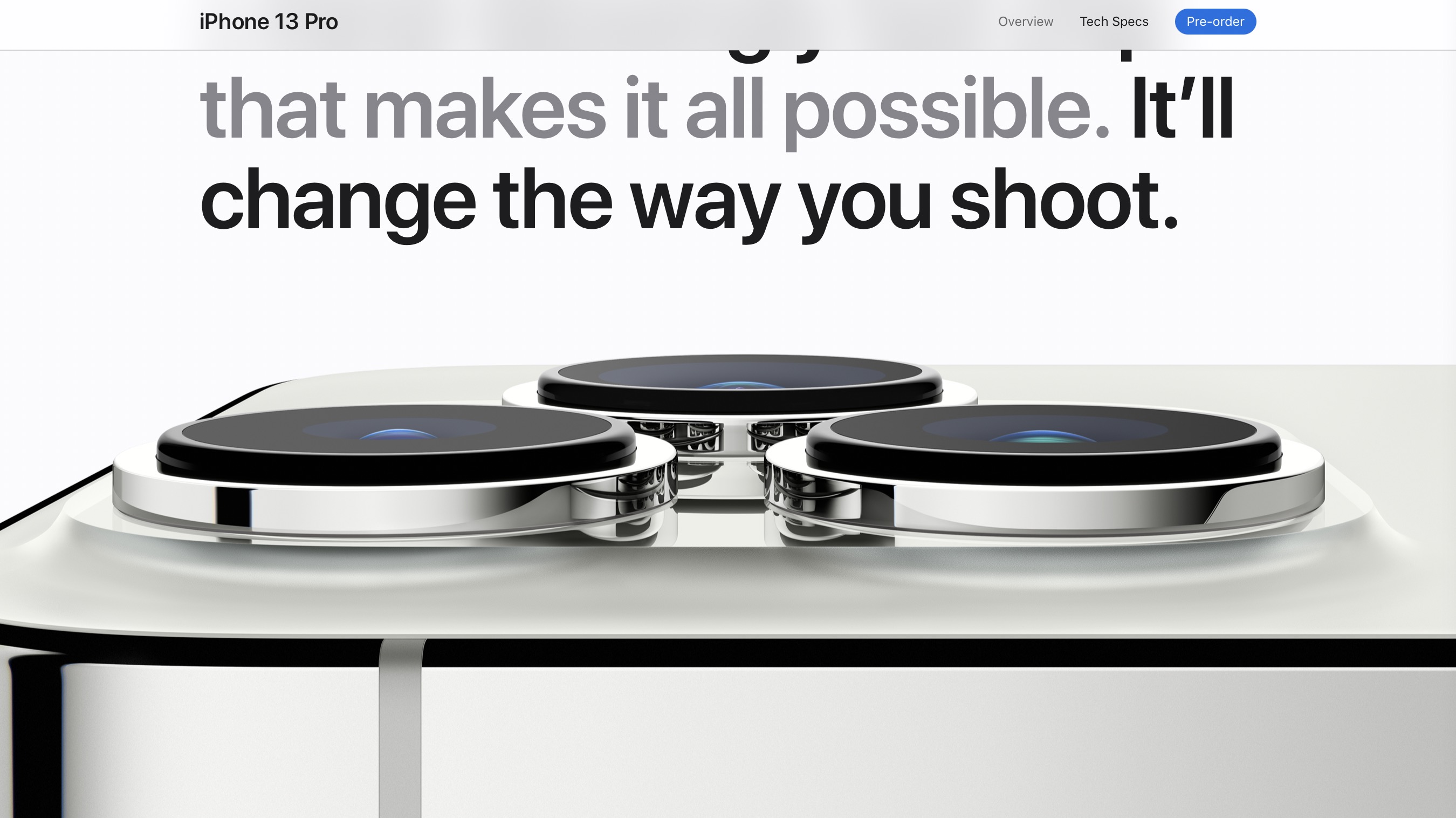 Nobody can claim Apple is hiding this "bump". As with the 12 Pro Max last year, the camera systems on the 13 Pro and 13 Pro Max protrude so far that Apple's cases for the devices have a prominent protective plastic lip around the camera cutout, such that even in a case, the iPhone wobbles when lying on a flat surface. (The cases for the iPhone 13 and 13 Mini have lips around the camera now, too, but they're much smaller.)
I've been arguing for years that iPhones are evolving such that they're better thought of as cameras than "phones". Now, there's no need to argue about it. That's especially true for the Pro models. What's "pro" about the iPhone 13 Pro and Pro Max? The cameras. The "pro" prefix is right there in the name of camera features exclusive to the Pro devices: ProRAW and ProRes. I think it's fair to say that the iPhone 13 and 13 Mini are phones with very good cameras; the 13 Pro and Pro Max are excellent cameras with phones.
Computational photography is upending the entire camera world. It's hard to beat the physics of good glass and large sensors, but math is doing pretty good — and gaining fast.
Performance, Efficiency, and ProMotion
During Apple's keynote last week, the company didn't mention year-over-year performance numbers for the A15 chip. This led to some speculation that maybe the A15 isn't much faster than the A14. But when benchmarks started leaking last week after phones got into reviewers' hands, they showed performance improvements roughly in line with the improvements from the last few years: about 10 percent faster in single-threaded benchmarks, and about 20 percent faster in multi-threaded. That jibes with the numbers I saw using GeekBench 5 and the web-based Speedometer benchmark.
Apple doesn't like to explain itself, but I think they decided against emphasizing traditional benchmark-type figures ("20 percent faster CPU performance, 40 percent faster machine learning", etc.) not because the A15 fares poorly in such comparisons, but because numbers like that don't really tell the story of what the A15 is about. The more impressive year-over-year improvements are in battery life, and I think that's largely about the efficiency of the A15. It is faster than the A14, by reasonable margins, but what's more impressive is how much longer battery life is, with only a modest increase in device thickness.
On the iPhone model comparison page, Apple cites separate battery figures for "Video playback" and "Video playback (streamed)". That's something almost everyone does with their phones — stream video. A practical, real-world measure of battery life. Here are the year-over-year streaming video improvements for each of the four iPhones 12 and 13:
iPhone 13 Mini: 13 hours, up from 10 hours last year on the 12 Mini.
iPhone 13: 15 hours, up from 11 hours last year on the regular 12.
iPhone 13 Pro: 20 hours, up from 11 hours last year on the 12 Pro.
iPhone 13 Pro Max: 25 hours, up from 12 hours last year on the 12 Pro Max.
Those are very big improvements for the non-pro iPhone 13 and 13 Mini. But the numbers for the 13 Pro and Pro Max are bananas. The Pro Max more than doubled its battery life for streaming video playback in a year. (!) All four iPhone 13 models are seeing benefits here from the A15 chip. But the Pro models are benefiting from a surprising direction: ProMotion. That's Apple's name for adaptive screen refresh rates. With the iPhone 13 Pro and Pro Max, the screen refresh rate ranges from as low as 10 Hz to as high as 120 Hz, and the system just manages it automatically based on what's on screen. It's the high refresh rates that garner attention — it's a feature that makes scrolling look noticeably smoother. It just looks nicer.1 But, of course, updating the display at twice the refresh rate — 120 Hz instead of 60 — obviously consumes more power.
This led to some speculation that the iPhone 13 Pro might get worse battery life than the regular iPhone 13, because ProMotion is exclusive to the 13 Pro and Pro Max. That speculation was based on the fact that high-end Android phones with high refresh rates — 90 or 120 Hz — take noticeable hits to battery life. What makes ProMotion different is that it's adaptive. The showy-offy aspect of ProMotion is the high refresh rates, but the undeniable practical benefits are the adaptive lower refresh rates. That's why the streaming video playback numbers for the 13 Pro and 13 Pro Max effectively doubled year-over-year: stream a video at 30 frames per second, and ProMotion will adapt the display refresh rate to 30 Hz. The adaptive nature of ProMotion means that not only does it not hurt battery life, like the less sophisticated high refresh rate features on Android phones, but it actually helps extend battery life for common tasks like watching video or reading text. Yes, the iPhone is late to the high refresh rate game, but as is often the case with Apple, it was worth waiting for.
Miscellaneous
Cinematic video mode is a lot of fun. It's a gimmick, yes, but I don't mean that pejoratively. Gimmicks can be fun. Fun is good. I think people are going to use this feature to make videos that really will look more cinematic. It's also nice that it's not a feature exclusive to the Pro models. But like Portrait mode for stills, edge detection around subjects' hair and eyeglasses can be hit or miss in Cinematic mode. Also, I find it a bit curious that Cinematic mode only shoots in one format: 1080p at 30 FPS. The 1080p limitation I understand — the ML-driven automatic subject detection and dynamically-created "bokeh" depth of field effect are clearly computationally expensive. But why not offer 24 FPS too? For reasons that have never been clear to me, Apple's Camera app has only ever offered 24 FPS at 4K resolution, not at 1080p or 720p. The camera is certainly capable of it — plenty of third-party camera apps let you shoot 24 FPS video at 1080p and 720p, in addition to 4K. But only the system's Camera app can shoot in Cinematic mode, a mode whose very name suggests "film style", which is exactly the term Apple itself uses in the Settings app to describe 4K 24 FPS.

Macro photography on the iPhone 13 Pro models is also a lot of fun. It's almost like gaining a super power — the ability to see small objects and details far more clearly than with the naked eye. The way that macro mode kicks in automatically, though, can be a little jarring. How it works is, with a 1× field of view in the regular still photo mode, when you bring the camera very close to a subject or surface, the Camera app switches to the 0.5× ultra wide camera. But it's not an ultra-wide field of view. You get a roughly 1× field of view but a very close focal distance. The jarring part is when the viewfinder switches between cameras — it's like a jump cut. It's understandable, and doesn't dampen the utility or fun of the feature, but it's a little weird every time you see it happen. It makes it feel not quite as automatic or modeless as Apple intends it to feel. Also, the built-in Magnifier app (Settings → Accessibility → Accessibility Shortcut) doesn't seem to use the camera's macro capability. For reading really tiny text — like, say, some of the hidden fine print on U.S. currency — it's far easier and more effective to use the Camera app than the Magnifier app.

I bought a regular iPhone 12 last year for my personal use, but I've already ordered a 13 Pro this year. (Graphite, of course, because I'm boring that way.) The camera is just too good. Maybe the new 3× telephoto lens just feels like a lot of zoom to me, personally, because I've spent the last year mostly using an iPhone 12 that doesn't have a telephoto lens of any sort, but it really feels like a lot of extra zoom compared even to a 2× iPhone camera from previous years.

Polished stainless steel still feels like an odd material for a phone with flat sides. Somehow, to me, polished steel worked better for the round-sided iPhones (X, XS, 11). With the flat-sided iPhones 12 Pro and now 13 Pro, it's a fingerprint magnet when used without a case. The aluminum iPhones 13 have better hand-feel to my taste, including the buttons.

Colors: my review units are gold (13 Pro), sierra blue (13 Pro Max), midnight (13 Mini), and blue (regular 13). The gold once again is a very C-3PO gold. Sierra blue is very nice, and quite distinctive from any previous iPhone — I can see why Apple is using it a lot in their advertising. It plays as silver-y at times, but very clearly blue at others. Midnight plays as black or very dark gray, until you put it next to something truly black — it's then apparent that midnight has a small touch of blue. It makes last year's black iPhone 12 models look a little drab side-by-side. The non-pro iPhone 13 in just plain blue is nice. It's a rich, vibrant blue. But once again, the screws on the bottom edge are not color matched. The midnight iPhone 13 Mini has nearly-matching black screws, but the blue iPhone 13 has silver screws. I don't know why that bugs me.

Battery life was outstanding. As usual, I've been using the phone extensively, including power-hungry features like Cinematic mode, and I ended each day with plenty of charge left in the tank.