Questions Regarding the Shirts and Membership
Friday, 18 June 2004
How's It Going?
It's going pretty well. Definitely something, but also definitely not yet capital-S Something.
I'll do some more self-promotion during the remainder of the funding drive, but for now I'll simply state this: your support during this drive can make this a better site. It's that simple.
My thanks to everyone who's already signed up.
International Shipping
By far the most frequent question thus far is from readers outside North America asking how they can pay for shipping for T-shirts.
Admittedly, I failed to make this clear in the funding drive announcement, but it is my intention to ship shirts anywhere in the world for the flat price of $30.72 (USD). When notified of this policy via email, several inordinately generous European and Australian readers insisted upon donating an extra $5 to cover the shipping. Such friendliness and generosity is remarkable.
But to be clear, extra shipping charges are not required for overseas orders. If you would like to chip in an extra couple of bucks to cover it, that'd be grand, but it isn't necessary. (Just use the PayPal donation field after placing your shirt order.)
Payment Alternative to PayPal
A number of readers have written regarding problems incurred with PayPal. The most common problem involves long-dormant PayPal accounts creating using email addresses which are no longer active, but which prevent you from using the same credit card that's assigned to the now-dormant (and thus unusable) account. Others have reported browser incompatibilities, including one reader who was gracious enough to go through the entire ordering process three times, only to have it fail at the end of each attempt.
Overall, I'm quite happy with the services provided by PayPal. Their "Instant Payment Notification" API is the hook that allows me to automate the creating and emailing of membership keys, using my own script. And, earlier this year, PayPal removed their long-standing restriction that required you to sign up for a PayPal account just to make a payment. It's also the case that PayPal's transaction fees are remarkably low. (They really do operate on a "make it up on volume" business model.)
That said, I certainly don't want anyone to miss out on all the membership fun simply because they can't/won't/would prefer not to use PayPal. Thus, I'm happy to announce the Daring Fireball web store at eSellerate.
If you tried using PayPal to place an order and it failed, I'd be very much appreciative if you were willing to try again using eSellerate.
T-Shirt Specs
Cat Pictures
Lastly, this segment of the funding drive announcement prompted several questions:
No, one way or another, Daring Fireball will continue. But if the income I derive here remains at the hobbyist level, I'm only going to be able to devote a hobbyist amount of time to it, which is significantly less time than what I've poured into it to date. In short, a hobby-level Daring Fireball will resemble much more a typical weblog — blurb-length posts, often only to link to articles elsewhere. No cat pictures, but still.
Including Do you even own a cat? (No.)
And, also, If not cats, what about Jonas?
Unfortunately, as the below example illustrates, posting a photo of the boy would leave me open to accusations of shameless manipulation.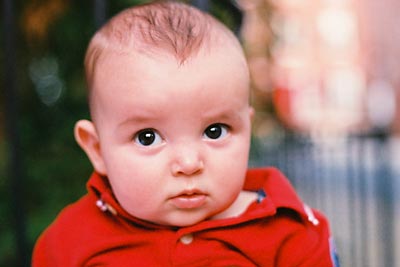 Thus, alas, no pictures of the boy, either.