Friday, 18 November 2022
If you had told me three weeks ago that Twitter, as a company, would today be embroiled in turmoil — perhaps outright existential crisis — over a company-wide email from Elon Musk centered around the phrase "extremely hardcore", this is not the scenario I'd have imagined.
It's as though Musk has taken Facebook's "Move fast and break things" motto and reduced it to "Break everything fast." Last night, reports of mass resignations inside Twitter seemed so dire that Twitter itself seemed to be documenting its own demise, like HAL 9000 singing "Daisy", ever more degenerately slurred, near the end of 2001: A Space Odyssey. I lost count of how many of the people I follow were seemingly posting what they expected, last night, to be their last-ever tweets.
Hours before a Thursday deadline that Elon Musk gave Twitter employees to decide whether to stay or leave their jobs, the social media company appeared to be in disarray.

Mr. Musk and his advisers held meetings with some Twitter workers whom they deemed "critical" to stop them from leaving, four people with knowledge of the conversations said. He sent confusing messages about the company's remote work policy, appearing to soften his stance on not allowing people to work from home before warning their managers, according to those people and internal emails viewed by The New York Times.

All the while, two people said, resignations started to roll in. By the deadline, 5 p.m. Eastern time, hundreds of Twitter employees appeared to have decided to depart with three months of severance pay, the people said. Twitter later announced via email that it would close "our office buildings" and disable employee badge access until Monday.
Email from Elon to the engineering team: "Anyone who can actually write software, please report to the 10th floor at 2pm today. Before doing so, please email me a bullet point summary of what your code commits have achieved in the past 6 months."

Elon Musk is also asking for up 10 screenshots of the "most salient lines of code" from Twitter engineers.
This latest edict is bananas in several ways, not the least of which is that the company claimed just 12 hours earlier that its offices would be closed today. As I quipped (on Twitter, which, as I publish this, is still seemingly fully operational), either (a) the offices aren't closed until next week; or (b) getting to the 10th floor is an interview puzzle to keep your job?
But at a deeper level, the idea that counting lines of code or looking at "up to 10 screenshots" of code can give any effective measure of a programmer is absurdly wrong. Some of the most elite programmers I've ever known have an uncanny knack for reducing lines of code. Programmers working on security issues necessarily code with painstaking care. And, of course, there are dozens of essential roles at Twitter — some highly technical — that don't involve "code commits" at all.
Alex Heath and Mia Sato, reporting for The Verge:
Twitter had roughly 2,900 remaining employees before the deadline Thursday, thanks to Musk unceremoniously laying off about half of the 7,500-person workforce when he took over and the resignations that followed. Remaining and departing Twitter employees told The Verge that, given the scale of the resignations this week, they expect the platform to start breaking soon. One said that they've watched "legendary engineers" and others they look up to leave one by one.

"It feels like all the people who made this place incredible are leaving," the Twitter staffer said. "It will be extremely hard for Twitter to recover from here, no matter how hardcore the people who remain try to be."

Multiple "critical" teams inside Twitter have now either completely or near-completely resigned, said other employees who requested anonymity to speak without Musk's permission. That includes Twitter's traffic and front end teams that route engineering requests to the correct backend services. The team that maintains Twitter's core system libraries that every engineer at the company uses is also gone. "You cannot run Twitter without this team," a departing employee said.
It's a fact that there have been mass resignations — on top of last week's mass layoff — in the face of Musk's fealty demand. Whether these resignations spell doom for the company remains to be seen.
My apparently wrongheaded optimism for Twitter under Musk's leadership was rooted in the idea that while he might — and almost surely would — make mistakes with product decisions (including content moderation), product decisions can be reversed.
Losing essential talent and destroying employee morale, not so much.
This thoughtful, measured thread from departing Twitter engineer Peter Clowes sums it up:
I didn't leave because I hate @elonmusk. I definitely didn't agree with many of his decisions or how they were carried out but I also understood and respected others.

I don't know him and if someone tells me to hate a stranger I say "no thanks".

I didn't leave because of the 50% company wide layoff that missed me. We all knew a layoff was coming. Prior management would likely have cut too shallow at first and then had to do multiple rounds. I think that would have sucked regardless.

I left because I no longer knew what I was staying for. Previously I was staying for the people, the vision, and of course the money (lets all be honest). All of those were radically changed or uncertain. [...]

If I stayed I would have been on-call constantly with little support for an indeterminate amount of time on several additional complex systems I had no experience in. Maybe for the right vision I could have dug deep and done mind numbing work for awhile. But that's the thing…

There was no vision shared with us. No 5 year plan like at Tesla. Nothing more than what anyone can see on Twitter. It allegedly is coming for those who stayed but the ask was blind faith and required signing away the severance offer before seeing it. Pure loyalty test.
I've been struggling to express it succinctly but my shock has been, basically: Layoffs are inherently deeply traumatic, both personally and institutionally, and for a company still trying to do great things and compete in a tight marketplace — and Twitter's marketplace is the most competitive in the world: attention — the highest post-layoff priority for any company's leader should be to restore, maintain, and if possible, boost morale.
Yet all of Musk's actions to date can only be seen as destroying morale. I do not think he's secretly trying to destroy his own $44 billion acquisition, but if he were, as though in a real-life Brewster's Millions scenario, this path seems like the surest way. He's shooting holes into his own sinking ship. ★
Monday, 31 October 2022
Apple Search Ads makes it easy to promote your app on the App Store. And now with new Today tab and product page ad placements, you can drive discovery of your app in more moments across the App Store — when customers first arrive, search for something specific, and browse apps to download.
Upon launching, feedback from the developers of various popular apps and Apple observers shared a common theme. Simon B. Støvring:
With Apple's recent changes to ads on the App Store, your product pages may now show ads for gambling apps. One of my product pages just did that 😞
Now my app's product page shows gambling ads, which I'm really not OK with.

Apple shouldn't be OK with it, either.

The App Store has corrupted such a great company so deeply. They make so much from gambling and manipulative IAPs that they don't even see the problem anymore.
It is really sad to me that Apple needs to start taking Casino Game Ad Money in order to make their line go up for the shareholders. When Steve introduced iAds and the whole pitch was, "These ads aren't garbage, you'll like these ads." This department shouldn't exist at all, imho.
I know it's not as easily quantifiable, but Apple is utterly annihilating brand value, trust and goodwill with these ads. How is the revenue possibly worth it?

As a developer, this sucks. As a user, it sucks. As someone who cares about Apple products it's just profoundly sad.
Can you imagine having $48.2 billion cash on hand and YET still thinking "ah yes, those House of Fun Casino ads will grow our bottom line, let's do it".
Dan Frommer, quoting Steve Jobs:
@cabel And then, a year later, while introducing iCloud/MobileMe Mail:

"No ads. We build products that we want for ourselves, too, and we just don't want ads."
The gambling/casino-related ads were so dominating the auctions for these new ad slots that they were even being presented at the bottom of the product pages for apps intended to help people with gambling addiction. Other scumminess included ads for "psychic" apps on the product page for Disney+ and ads for hookup dating apps on the pages for marriage counseling apps. You really couldn't make this stuff up.
Within one day of the new ad slots going live, Apple issued a terse statement:
We have paused ads related to gambling and a few other categories on App Store product pages.
It's now nearly a week later, and the gambling/hookup/psychic-type ads still don't seem to be showing up (well, mostly), but it's also just as hard to see why Apple is selling these spots in the first place. Well, duh, for the money, yes — that's obviously the only plausible answer. But how much money can these ads be generating? How much can Apple hope they eventually generate? It can't possibly be enough money to justify the damage it's doing to Apple's brand. These App Store ads are like the "Intel Inside" stickers on PC laptops — they're worth money, but the money's not worth it. Who's laughing about those stickers now?
"No ads in the App Store, period" would have been a powerful, appealing message. One that Apple could have used to justify its control over all software on the platform and its much-debated mandatory cut of all app and game transactions. "We sell ads in the App Store, but they're OK because they don't track you" seems to be the message Apple is going for, but that's neither powerful nor appealing. It boils down to "Hey, it could be worse."
Last month The Information published a piece by Wayne Ma on Phil Schiller's leadership of the App Store. It contained this bit regarding the Today tab, which is effectively the front page of the store (italic emphasis added):
In 2015, App Store employees pitched a redesign of the store to Cue that required hiring and paying for a large editorial staff to write stories about apps and their developers. The redesign was meant to encourage users to visit the App Store every day to discover new apps, rather than having the store act like a vending machine that existed merely to peddle software. Cue wasn't receptive to the pitch as he didn't believe it was worth the money, given that the App Store was already performing well, according to a person with direct knowledge of the discussions.

Schiller, however, approved the redesign in his first days on the job, this person said. He believed the App Store had lost a lot of the spontaneity and fun associated with discovering new apps. He thought an editorial team could help bring those qualities back, according to a second person with direct knowledge of the project.

In 2017, Apple launched the redesign, which included new tabs on the App Store called Today, Games and Apps, highlighting various apps and developers. While the general perception among users Apple surveyed after the redesign was that developers had to pay to be featured on the App Store, that wasn't the case, according to people familiar with the matter. Schiller gave the editorial team the power to select which games and apps to promote or feature on these tabs, without pressuring them to base those decisions on business and partnership goals, those people said.
I was reminded of that last week, when I saw this exchange on Reddit in a thread about these new App Store ad units:
sisco98: "Today tab, which until now has only displayed content handpicked from the App Store's editorial staff, without any paid placement." Up to now, I was pretty sure these picks were paid by developers.

spack12: Yeah I always figured those were ads too.

rotates-potatoes: Probably why they created the ad unit. If everyone's going to assume it's paid ads, might as well collect revenue from it. Many years ago I had an app featured in the app store. Was awesome, like 10× sales overnight. Was a complete surprise to me when it happened.
Apple is actually scrupulous about labeling paid placements as "ads", and using different background colors for them. One can certainly argue that ads should be even more clearly demarcated, but if you look for it, it's always clear. But people don't look. If the message were clear — that there are no ads or paid placements in the App Store, period — people might learn. But if the message is that there are ads, but not many, but now there are more than there used to be, and but if you look closely you'll see that the ads have a blue background and a small "ad" label — almost everyone is going to assume that anything that might be an ad is an ad and the whole App Store is pay-for-play all the way down.
---
Back in 2014, the front page of the Privacy section on Apple's website was an open letter, signed simply by "Tim". Here's an archived version from The Internet Archive; here's one from Archive.today. Cook's letter read in part:
A few years ago, users of Internet services began to realize that when an online service is free, you're not the customer. You're the product. But at Apple, we believe a great customer experience shouldn't come at the expense of your privacy.

Our business model is very straightforward: We sell great products. We don't build a profile based on your email content or web browsing habits to sell to advertisers. We don't "monetize" the information you store on your iPhone or in iCloud. And we don't read your email or your messages to get information to market to you. Our software and services are designed to make our devices better. Plain and simple.
Apple's commitment to privacy is no less today than it was then. One can well argue that it's even stronger. But there are aspects of Apple's position on advertising eight years ago, unrelated to privacy, that don't square with Apple's position today. Cook has repeated variations of that "you're not the customer, you're the product" mantra umpteen times since 2014. But how are these ads in the App Store not making users the product, and advertisers the customers?
It remains true that Apple is not monetizing the information we store on our devices or in iCloud, but they're clearly monetizing our attention and their exclusive hold on that attention for all apps and games for iOS. Apple's business model is no longer the straightforward selling of great products, and these new ads in the App Store are not designed to make anything better other than Apple's Services bottom line. ★
Wednesday, 26 October 2022
If you've used an iPad Air from the last two years — either the 4th-gen Air from October 2020 or the 5th-gen model introduced earlier this year — the new 10th-generation iPad (no adjective) is remarkably familiar. Same size (well, almost — see below), and the same basic design: no home button, round display corners, all-screen, no Face ID, and Touch ID on the side button.
They're even offered in the same two storage tiers: 64 and 256 GB. I'll throw in the brand-new 11-inch iPad Pro and the 9th-gen iPad to boot for a price comparison of all the 11-ish-inch iPads in the lineup today:
Storage
2021 iPad
(9th-gen)
2022 iPad
(10th-gen)
2022
iPad Air
2022
iPad Pro 11″
64 GB
$330
$450
$600
—
128 GB
—
—
—
$800
256 GB
$480
$600
$750
$900
512 GB
—
—
—
$1100
1 TB
—
—
—
$1500
2 TB
—
—
—
$1900
Cellular
+130
+150
+150
+200
A lot of people are now complaining that the iPad lineup is "confusing". I disagree. There are specific aspects of the iPads in the lineup that are confusing, or at least disappointing. These aspects are mostly related to peripherals — which Pencils and which keyboard covers work with which iPads — and I wrote about these issues last week. But in terms of the fundamental question facing would-be buyers — "Which iPad should I get?" — I don't think this lineup is confusing. I'd argue, in fact, that it's less confusing, because the lineup is more complete. Prior to last week, there was a significant gap between the 9th-generation iPad (which remains in the lineup, unchanged in price) and the iPad Air. The 10th-gen iPad fills that gap.
With the exception of the $120 difference between the 9th- and 10th-gen iPads, there's now a $150 difference in price between each 11-inch-ish iPad model. So what are the differences between the 10th-gen iPad and the 2022 iPad Air? Here's what stands out to me looking at the differences using Apple's handy Compare tool:
The Air's display is fully-laminated and has an anti-reflective coating, and offers a P3 wide color gamut. The iPad 10 display is not laminated and only covers the sRGB color gamut. The iPad 10's display looks good, but side-by-side, the iPad Air's looks better. (Lamination puts the actual display closer to the surface of the glass — more like pixels on glass than pixels under glass.)

The iPad Air has the M1 chip with 8 GB of RAM; the iPad 10 uses the A14 chip that debuted with the iPhones 12 in 2020 and has only 4 GB of RAM. One reason to prefer the Air's M1 chip: the iPad Air supports Stage Manager in iPadOS 16; the iPad 10 does not. There are all sorts of other silicon advantages to the M1, of course, including a "Media Engine" for hardware accelerated video encoding and decoding. But anyone who is concerned about hardware-accelerated video encoding and decoding is not shopping for the consumer-priced iPad 10. Stage Manager, to me, is the difference that might matter most to non-pro iPad users on the fence regarding which model to buy.

The iPad Air uses the superior Apple Pencil 2; the iPad 10 — seemingly inexplicably, but in fact for understandable but esoteric reasons (see below) — pairs only with the Pencil 1, for which it requires a new $9 USB-C-to-Lightning adapter.

Apple makes one keyboard cover for the new iPad 10: the new $250 two-piece kickstand-propped Magic Keyboard Folio. Apple makes two keyboard covers for the iPad Air (and the same two keyboards also work with the iPad Pro): the $300 turn-your-iPad-into-a-laptop Magic Keyboard, and the no-trackpad thinner and lighter $180 Smart Keyboard Folio. The new Magic Keyboard Folio only works with the new iPad 10, and the Magic Keyboard and Smart Keyboard Folio only work with the iPads Air and Pro.
There are other subtle differences — the Air supports more Wi-Fi 6 bands, but the iPad 10 supports Bluetooth 5.2 while the Air only 5.0. But the above list is really it for practical differences. Do you think any of those bullet points are worth an extra $150? Then buy the iPad Air. If not, congrats, you can save $150 (and perhaps put it toward the pricey Magic Keyboard Folio).
Pencil It In
I've been testing the iPad 10 since the end of last week.1 2 It occurred to me soon after setting it up that I haven't used a Pencil 1 in years. Putting aside the issue of the USB-C-to-Lightning adapter, it's striking how much less I like the original Pencil compared to the Pencil 2. When the Pencil 2 debuted in 2018 alongside that year's iPad Pros, I wrote:
The new Apple Pencil is one of the best "2.0" products I've ever seen. The original Apple Pencil is a terrific product, but the new one nears perfection for the concept. New and improved:

Matte finish. I never really thought to complain about the glossy texture of the original Pencil, but the moment I laid hands on the new one I realized matte is better for this product.

Magnetic charging and pairing. When rumors surfaced that the new iPad Pros were moving from Lightning to USB-C, there was a lot of speculation that Apple would need to make a new Pencil with USB-C. This is so much better. As a nice touch, when you first connect the Pencil to your iPad, iOS shows you a Pencil on screen and it's the exact size of the actual Pencil. It's adorable. With the original Pencil, Apple didn't provide a good answer for where you were supposed to keep it when it wasn't in your hand. The magnetic connection answers that. It's strong enough that I wouldn't hesitate to keep the Pencil connected magnetically when putting the iPad in a backpack.

No cap, no dongle. It took me almost two years, but last month I finally lost the cap to my original Pencil on a train. The new Pencil has no pieces to lose.

Flat side. The old Pencil was weighted to keep it from rolling, but a flat side works better. There's a reason why most pens and pencil either have clips or at least one flat side.

Optional engraving. I wonder how much of this is a "Why not?" thing and how much is fueled by the real-world scenario of coworkers or family members losing track of whose Pencil is whose.

Double-tap. Seems like a such a small thing, but it really does make accessing the eraser easier.

The new Apple Pencil is so good I have no complaints and can only think of one suggestion for the future: it'd be nice if there were haptic feedback when you double-tap.
Four years later, that entire passage holds up. Now, though, I like the Pencil 1 even less. I don't like the glossy/slippery surface material, I don't like how it rolls around on a tabletop, and I find the cap downright silly. If the original Pencil had to have an integrated Lightning plug, it should have been retractible instead of permanently protruding and thus requiring a cap. Also, I'd forgotten that double-tapping (which, by default, switches between pen and eraser while drawing) was a new feature for Pencil 2. I spent a few minutes thinking the Pencil 1 Apple provided me with the iPad for testing was broken because double-tapping didn't work.
As for the new adapter, once you've used it to pair a Pencil with your iPad 10, you can set it aside for occasionally charging the Pencil when needed. And if you misplace it, or leave it at home and find yourself needing to charge the Pencil 1 without it, you can in fact charge a Pencil 1 by plugging it into any iPhone. It of course doesn't work as a stylus with an iPhone, and doesn't even trigger an "Accessory Not Supported" alert (which is what you get if you try pairing a Pencil 1 with an iPad Pro or iPad Air using the USB-C adapter), but it does charge. If I owned an iPad 10 and Pencil 1, I'd probably just throw the Pencil's cap away and keep the adapter attached to the Pencil. It even keeps the Pencil from rolling while attached.
If I didn't already own a Pencil 1, though, I'd buy a Logitech Crayon instead. Objective advantages of the Crayon:
Price ($70 vs. $100).
Logitech's new 2nd-gen Crayon charges by USB-C. It's a female port, so you can simply charge it with any USB-C cable.
No pairing. I'm not sure how it works, but with Logitech's Crayons, there's no need to pair them with individual iPads. There's a simple on/off switch on the barrel, and when on, it just works with any iPad from 2018 onward.
No cap or dongle to lose.
Objective disadvantage of the Crayon:
Unlike Apple's Pencils, Logitech's Crayon is not pressure sensitive. It does detect the angle of the stroke, but not pressure. If you're an illustrator, that's probably a dealbreaker. If — like me — you just use a stylus on your iPad to jot notes, make highlights, and make artistically challenged napkin sketches, you might not even notice or care about the lack of pressure sensitivity.
Subjective differences between the Crayon and Pencil 1:
Feel. Logitech's Crayons are flat, like a carpenter's pencil. I don't mind that at all. They also have a matte finish that I much prefer to the slick glossy finish of the Pencil 1.
Because the Crayons don't pair with your iPad, you can't track the battery life of the Crayon in iPadOS. With an Apple Pencil, the Pencil's battery life shows up in Settings → Apple Pencil and in the Battery widget. But the Crayon has three LEDs right on its barrel that show its battery life, which I consider as good or better than observing battery life through iPadOS for Apple Pencils.
The Crayons have an on/off switch. Apple Pencils manage their power state automatically. This is not a big deal to me at all — and leaving the Crayon switched on, but unused, for an extended period doesn't seem to drain the battery quickly.
Unless you need pressure sensitivity or dislike the feel of a carpenter's pencil in your hand, Logitech's new 2nd-gen Crayon is a clear winner compared to Apple's Pencil 1. Even Logitech's old 1st-gen Crayon is a better option — if I have to charge via Lightning, I'd rather my stylus have a simple female port and not require an adapter.
Magic Keyboard Folio
Let's just get this out of the way: I'm not a kickstand guy. I much prefer the cantilevered hinge of the Magic Keyboard, with its laptop-style footprint and the ability to just pick up the iPad while attached to the keyboard and not have the keyboard half flop around. The two-piece design makes for twice as much work to attach and detach.
But I can see why some people dig a keyboard design like this. Attached to the kickstand back but detached from the keyboard, you have a nice stand for watching movies or just reading. While both pieces are attached, if you fold the keyboard behind the iPad, it somehow detects this and ignores key presses. That's really clever. You can also attach the keyboard half "backwards" and key presses will always be ignored.
One disappointment is that the keyboard is not backlit. Apple's Magic Keyboard has backlighting. So too does Logitech's $160 Combo Touch, which is a fundamentally similar design. The key difference between the Combo Touch and Magic Keyboard Folio is how the kickstand back attaches — with the Combo Touch, it's a case you snap the iPad into; the Magic Keyboard Folio back attaches magnetically. In addition to my general dislike for kickstands, I dislike that aspect of the Combo Touch — it's clearly designed with the idea that you'll keep your iPad in the case even while not attached to the keyboard. When I detach an iPad from a keyboard, I just want to hold it naked. (The iPad, that is.)
The keyboard itself feels great — with keys that feel identical or nearly so to those of the Magic Keyboard, and the same goes for the trackpad. My biggest gripe is that the key layout mimics a baffling design decision from the 11-inch Magic Keyboard and Smart Keyboard Folio: the left bracket key is full-width, but the right bracket key is half-width.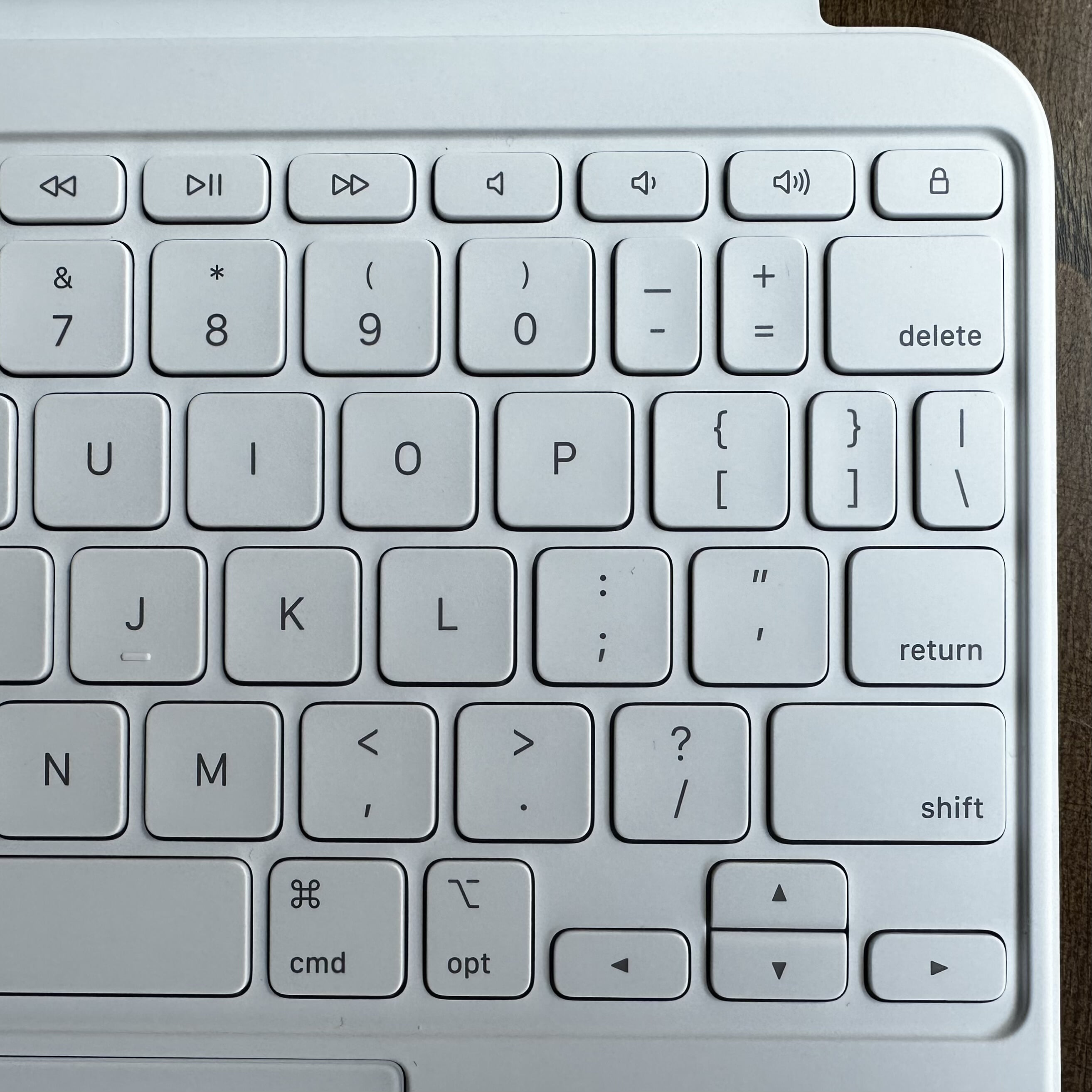 These keyboards are much narrower than MacBook keyboards or the almost-MacBook-width 12.9-inch Magic Keyboard. Widths, by my ruler:
MacBooks: 273 mm
12.9″ Magic Keyboard: 268 mm
11″ Magic Keyboard and Magic Keyboard Folio: 236 mm
32 mm is about 1.25 inches. That's quite a bit of width to reduce. All the keys are smaller than on a standard-sized keyboard. Measuring from the left edge of the A key to the right edge of the semicolon key (the home row):
MacBooks and 12.9″ Magic Keyboard: 187 mm
11″ Magic Keyboard and Magic Keyboard Folio: 177 mm
Even with smaller standard keys, though, these keyboards need to make additional concessions, with some punctuation and modifier keys reduced to partial widths. Apple made good decisions on these key cap widths, with the glaring exception of the bracket keys. Clearly these two keys are siblings or peers, and ought to be the same width. That there is not room to make both of them full-width is fine. But rather than make one full-width and the other half, clearly they should both be three-quarters width, like the Tab key or right Option key. Or just make them both half-width. Anything so long as they're the same size. It makes no more sense for the left and right bracket keys to be different sizes than it would for the left and right arrow keys. Why Apple chose to do this with the 11-inch Magic Keyboard layout back in 2020 is beyond me; why they're sticking with it is even more baffling.3
All of Apple's iPad keyboard covers are somewhat expensive. The Smart Keyboard Folio for the iPad Air and 11-inch iPad Pro costs $180; the Magic Keyboard for the same two iPads costs $300. But given that the $250 Magic Keyboard Folio pairs only with the lower-priced iPad 10, it feels particularly expensive. It's more than half the price of the $450 64 GB iPad 10, and paired with the $600 256 GB iPad 10, the combo costs a not-so-low-priced $850. And for $250 it feels wrong that it doesn't offer backlighting. I can see omitting backlighting if it were, say, $150. But $250 is undeniably a premium price for a keyboard and trackpad.
Weight-wise, the new Magic Keyboard Folio is effectively a wash compared with the Magic Keyboard for the iPad Pro and Air. The Magic Keyboard Folio weighs 589 grams; the Magic Keyboard 598 grams. (Roughly 1.3 pounds.)
It's a bit disappointing that the Magic Keyboard Folio is only available in white. I'd think Apple would at least offer white and black, like it does with the Magic Keyboard. (But the Smart Keyboard Folio is only available in one color, black.)
As for why the new Magic Keyboard Folio only pairs with the iPad 10, and why the iPad 10 doesn't pair with either the Magic Keyboard or Smart Keyboard Folio, if you look at the specs, you'll notice that the iPad 10 is not the same size as the iPad Air. It's exactly 1 mm larger in all three dimensions: height, width, and most noticeably, depth. 1 mm is not a lot, but it's enough to spoil any chance at case/cover compatibility, at least for a precision-fit-minded company like Apple.
Miscellaneous
You can't use a Pencil while charging it. This is true whether the Pencil is charging from the iPad itself or from a wall charger. For me this is merely a curiosity — it only takes 10-20 minutes to fully charge a fully depleted Pencil, and it only takes a few seconds to give it a charge to last 15 minutes. But it's also just a curiosity to me that Apple's Magic Mouse is designed to be unusable while charging, and people complain about that endlessly.

The very best new design element of the iPad 10 is the placement of the front-facing camera along the long "landscape" side, which puts it top center when propped laptop-style with a keyboard. I'm so used to my iPad Pro's down-and-to-left camera placement in landscape that using this iPad with the camera in the "correct" location takes some getting used to. But this is clearly where all future iPad front-facing cameras should go (with the possible exception of the Mini).

Speaking of that camera placement, last week I speculated in a footnote that it might be difficult for Apple to move the front camera to the landscape side for the iPads Pro and iPad Air:

Here's a spitball: Maybe my front-facing-camera-placement and all-iPads-should-support-Pencil-2 gripes are in conflict. The long side where the new iPad has the front-facing camera is the same long side where the iPad Pros, iPad Air, and iPad Mini have the magnetic attachment point for the Pencil 2. Maybe they both can't fit in the middle of the same side?

A little birdie confirmed to me that this is in fact exactly the case. The internal mechanism for magnetically attaching, charging, and pairing Pencil 2 is both expensive and somewhat large. And cameras are surprisingly large internally once you count the flex connectors and everything else. You can actually see this for yourself by looking at a teardown of a Pencil-2-compatible iPad. It's going to require significant new engineering to make future iPads that support Pencil 2 with the front camera on the landscape side. My guess — and this is truly a guess, with zero hints from any sources — is that Apple will swap the positions of the Pencil 2 connector and the front camera. But on current iPads Pro and Air, only the 12.9-inch Pro has room for a Pencil 2 on that side. On the 11-inch Pro and the Air, the side button gets in the way. Also: attaching a Pencil on that side, with the current iPad Pro and Air designs, might obstruct the speakers. Fun time to be an iPad hardware designer.

The Apple Pencil 1 has always shipped with a small adapter with female Lightning ports on both sides, to allow you to charge the Pencil by connecting it to a Lightning cable. If you use that adapter and a USB-C Lighting cable to connect the Pencil to the iPad 10, it charges, but it doesn't pair. The only way to pair a Pencil with the iPad 10 is using the new USB-C adapter.
Conclusion
The new 10th-generation iPad is a solid and welcome addition. It looks good, feels good, comes in a selection of fun colors (Apple sent me yellow), and brings the just-plain-no-adjective iPad to the modern all-screen era. It's a shame it only supports the new Magic Keyboard Folio and not also the Magic Keyboard and Smart Keyboard Folio, and a bit frustrating that it pairs only with the first-gen Apple Pencil. But it's an outstanding iPad for anyone looking to spend less than the price of an iPad Air or Pro, and feels designed for the future. ★