Friday, 20 September 2019
---
Friday, 20 September 2019
You asked, I'm answering.
iPhone 11 and 11 Pro
If I'm upgrading to an iPhone 11 this weekend, before iOS 13.1 comes out next week, do I need to upgrade my current iPhone to iOS 13.0 to do the new direct iPhone-to-iPhone data transfer when setting up a new iPhone?
No — iOS 12.4.1 fully supports this new feature, which Apple calls Quick Start. I recommend leaving your old phone on iOS 12.4.1. I tried Quick Start with my review units, and it worked great transferring data from my iPhone XS still running 12.4.1. And it's a very cool feature.
I'm upgrading to an iPhone 11 from an iPhone 6/7/8 — how long will it take to get used to the lack of a home button and Face ID?
Three days. Trust me.
What's the difference between Deep Fusion and Night Mode?
It's pretty simple — Night Mode is for truly dark environments — under 10 lux. Deep Fusion — when it ships "later this year" (I'm guessing iOS 13.2) — is intended to improve photos in mid-level lighting, in the range of around 600-10 lux.
What's the deal with Night Mode and tripods?
If you mount any iPhone 11 on a tripod, after the phone notices (thanks to the gyroscope), Night Mode will, if needed, offer longer exposure times than it does when handheld. Handheld it seems to max out at 3 seconds. With a tripod I've seen it go up to 5 seconds, but apparently it can go up to 30 seconds.
Any improvement with Face ID and sunglasses?
Face ID still doesn't work with my Ray-Bans with G-15 lenses. (If you have sunglasses that don't work with Face ID, you can turn off "Require Attention for Face ID" in Settings to allow Face ID to work while you're wearing them — convenience at the expense of some security.)
Which lens does Panorama Mode use?
Pano mode lets you choose from all three lenses (or two lenses on the regular 11) — very cool.
Is the new SF Camera typeface exclusive to the new iPhone 11 phones?
Yes, the entire new Camera app UI is exclusive to the new phones — including the SF Camera font and the new QuickTake shutter button.
Do the camera lenses protrude when using an Apple case?
No, as always with Apple's first-party cases, the case is just thick enough that the lenses do not protrude.
I take most photos with the volume button, and also take lots of bursts. Does QuickTake affect holding down the volume button?
Yes, the volume buttons work just like the on-screen shutter button — if you hold them down, you shoot a video, not a burst.
Bummer. Follow-up: Is there a setting to make holding down the shutter shoot a burst instead of video?
No, there is no setting for this. There should be, though.
Can you show the feature where you can edit a photo shot using the wide angle lens and it uses imagery captured outside the frame from the ultra-wide lens to allow you to rotate the photo a few degrees without cropping?
Sure, here's a screenshot. The frame you see in that screenshot is the full size of the original image from the wide angle lens — everything you see outside that frame is from the ultra-wide. This feature can seem like magic with certain slightly crooked photos.
Second camera lens on iPhone 11: upgrade, downgrade, or push vs. if it had been 2x instead of 0.5x?
Good question. In other words, what would have been better for the regular iPhone 11 — the ultra-wide 0.5x lens that Apple did add, or a telephoto 2x lens like the second lenses on the iPhone X and XS? Obviously it depends what type of photos you shoot more. If you shoot a lot of landscapes, the ultra-wide is more useful. If you shoot a lot of portraits of people — using Portrait Mode or not — the telephoto lens is more useful. I think for typical users, though, the ultra-wide lens is a better choice.
Apple Watch Series 5
Is there any chance the always-on display feature will come to older Apple Watches?
Zero chance. The power efficiency comes from a new (hardware) display driver that supports variable refresh rates down to 1Hz (one update per second). Only Series 5 watches have this hardware.
Does Theater Mode turn the display off completely even with always-on enabled?
Yes, Theater Mode works exactly the same as before — it turns the display completely off.
Do any apps other than Workouts have support for the always-on display?
No, only Workouts. And third-party apps don't have access to the APIs either.
Does the screen stay on all night in Nightstand Mode?
No, Nightstand Mode seems to work the same — the display turns off for most of the night, and slowly comes back on as it nears the time when the watch thinks you want to wake up.
If you go to sleep wearing your watch, does the screen stay on all night?
Yes — but in a dark room, the always-on display remains just bright enough to be legible, but it's so dim that it doesn't glow. It's great for checking the time when you wake up in the middle of the night.
Can people read my notifications in always-on low-power mode?
I mentioned this in my review but it's worth emphasizing again: notifications do not appear on screen in low-power mode.
With always-on, does the Apple Watch "smother it with your hand" gesture only ever return the screen to the 1 Hz dimmed view, unless you're already in theater mode? Also, does turning the crown in either theater mode or low-power mode still slowly ramp up brightness?
Yes and yes. The smother gesture (covering the entire watch display with your other hand) just dims the screen when always-on is enabled. And in both lower-power mode (dim) and theater more (display completely off), you can still rotate the crown slowly to slowly increase the brightness. ★
---
Thursday, 19 September 2019
---
Thursday, 19 September 2019
Brian X. Chen's review of the iPhones 11 for The New York Times is bizarre:
So here's what I ultimately suggest: You should definitely upgrade if your current device is at least five years old. The iPhone 11 models are all a significant step up from those introduced in 2014. But for everyone else with smartphones from 2015 or later, there is no rush to buy. Instead, there is more mileage and value to be had out of the excellent smartphone you already own.
It's a fine idea to remind people that if they're happy with their current phone, they should just keep using it. "Is this new phone really worth an upgrade?" is perhaps the most important question a review should help the reader answer. But Chen's premise is to tell the reader not to even look at the new iPhones. And 2015? Really? If you bought a top of the line iPhone in 2015, that's an iPhone 6S. That's not excellent by any measure today. If you're still using one that's great, but it's it severely outdated in every important regard: photography, performance, battery life. And if you bought a less-than-top of the line iPhone in 2015, it's even worse.
I look forward to Chen telling Android users to keep using 2015 phones, too. I see people every day raving about the performance of their Galaxy S6 and Google Nexus 6.
Photos taken with the iPhone 11 and 11 Pro looked crisp and clear, and their colors were accurate. But after I finished these tests, I looked back at my archived photos taken with an iPhone X.

Those pictures, especially the ones shot with portrait mode, still looked impressive. Some of the low-light ones looked crummy in comparison with the ones taken by the iPhone 11s, but I wouldn't recommend that you buy a new phone just to get better night photos. You could always just use flash.
This is madness. Just use flash? The New York Times's institutional crusade against big tech has brought us to this: their personal technology columnist is advising readers to use the flash rather than buy a new phone. I don't think I've shot a single photo using the flash in three or four years — flash makes for terrible-looking photos and it hurts the eyes of the subjects. As Nilay Patel quipped, Chen's advice here boils down to "You could upgrade your phone for better photos, or you could make all of your memories look like 2008 TMZ".
A mainstream technology columnist should be explaining to readers why they should not use flash, and how best to capture low-light photographs without it. "You could always just use flash" is technology malpractice.
Chen:
All the iPhone 11 models have a new ultra-wide-angle lens in their cameras, which provides a wider field of view than traditional phone cameras. This makes them handy for shooting landscapes or large group gatherings. The iPhone X lacks the ultra-wide-angle lens, but its dual-lens camera is capable of shooting portrait-mode photos, which puts the picture's main subject in sharp focus while softly blurring the background.
This paragraph makes it obvious that Chen started with his conclusion — that you shouldn't upgrade unless your phone is five years old — and wrote his review backwards from that conclusion. Think about the logic of this paragraph. It's presented as a trade-off — the iPhone X doesn't have an ultra-wide lens, but it does have portrait mode. But he's comparing it to the iPhone 11 and 11 Pro, in what is ostensibly a review of the iPhones 11. The iPhone 11 and 11 Pro both have portrait mode too, and their portrait photos — particularly from the 11 Pro — are way better than those shot with the iPhone X. He might as well have written: The iPhone X doesn't have an ultra-wide lens, but, on the other hand, it does have a crappier version of the telephoto lens.
For those with younger iPhones, there are ways to get more mileage out of your current device. While the newest iPhones have superb battery life — several hours longer than the last generation — a fresh battery in your existing gadget costs only $50 to $70 and will greatly extend its life.
So instead of better battery life you can spend a little money to get the same battery life as before. Again, if you can't afford an iPhone 11, or if you just don't care, it's a great idea for a column to offer tips on how to get the most out of an older phone. But this is supposed to be a review of the new iPhones. The whole piece reads like Soviet propaganda, explaining why Soviet-built cars are just fine, they're great even.
The Times is treating the tech industry the way Pravda treated the West. Big tech deserves scrutiny — including Apple. But it's starting to come across as a mindless dogmatic crusade. ★
---
Wednesday, 18 September 2019
---
Wednesday, 18 September 2019
Deciding when to ship a new product is a balancing act. Ship too early and you'll get off to a rocky start you might never recover from. (E.g. the Newton and the whole "Eat up Martha" / "Egg Freckles" handwriting recognition debacle.) Wait too long, though, and the world will pass you by.
The original iPhone was a sensation, but it had several profound flaws: it was exclusive to one carrier in one country; its cellular networking was painfully slow; you needed to tether it to a Mac or PC to sync just about anything other than email; the new UI paradigm, brilliant though it was, was missing rudimentary features like copy and paste; etc. The original iPad was a bit more fully formed at its debut — owing largely to the fact that it was quite obviously an offshoot of the iPhone.
The right time to ship a new product is when its utility and appeal outweigh its obvious flaws. The iPhone hit that mark. But then what do you do? You prioritize those obvious flaws, and start knocking them down, one by one.
A new product really hits its stride when those obvious, glaring faults are mostly solved. For the iPhone that was probably the iPhone 4S. For the iPod, I'd say the finally-hit-its-stride marker was the iPod Nano in 2005, four years after the original iPod.
Apple Watch, in hindsight, perhaps shipped a little too soon. The original models — "Series 0" — were slow, third-party apps were heavily promoted but profoundly unusable, and Apple wasn't quite sure what the whole thing was meant for. Perhaps worst of all, it struggled to get through the day on a charge. But even in hindsight it's a close call. Apple was under intense pressure from Wall Street, the media, and probably themselves to prove they could launch a great new product in the post-Jobs era.
And then they did what Apple does: iterate, iterate, iterate. They started knocking down Apple Watch's glaring flaws one by one. Battery life improved significantly. They identified what Apple Watch is meant for: health and fitness tracking, and notifications. They added optional cellular networking, so your watch could remain utterly useful while out of the range of your iPhone.
The iPhone was a hit product before the iPhone 4S. The iPod was a hit before the Nano. And without question, the Apple Watch is already a massive hit — a mere four years in and it's already more successful than the iPod ever was. When I talk about a product hitting its stride, I don't mean that's when it became popular — I mean that's when the big missing pieces are mostly filled in.
For me at least, Series 5 marks the Apple Watch hitting its stride.
I spent an inordinate number of words in my original Apple Watch review complaining about the fact that the display was not always on. As a lifelong watch wearer, I just could not get used to it. Four years later, I'm still not used to it. Part of that is that I've never been, and likely never will be, a monogamous Apple Watch wearer. My collection of traditional watches is small, but the ones I own, I adore, and when I do wear one, it serves as a constant reminder that when I'm wearing my Apple Watch, I can't always glance at it for the most basic purpose a watch serves: telling the goddamn time.
And even if I were to wear my Apple Watch exclusively, there are too many scenarios in daily life where I glance at my wrist to check the time but can't raise my wrist to wake the Apple Watch display. A common one: walking home carrying a full cup of coffee in each hand — one for me, one for my wife.
Series 5's always-on display solves my single biggest complaint about Apple Watch since day one. It's not perfect, but it's more than good enough. No other feature or improvement to Apple Watch to date has ever made me this happy. The watch face doesn't really stay on on all the time — instead, when on previous Apple Watch generations the display would turn completely off, the watch face goes into a low-power mode. The display dims (but remains bright enough to be legible in most conditions), second hands go away, and you pretty much just see the hour and minutes. Raise your wrist and it fades in to full brightness. Notifications do not appear on screen while the watch is in its low-power state.
The obvious reason why Series 0 through 4 didn't offer an always-on display is battery life. I've been wearing a black stainless steel Series 5 since last Wednesday, on loan from Apple, and battery life has been more than fine. I even turn the brightness on my watch display to the maximum setting. If you charge it overnight you'll have nothing to worry about. If, like me, you wear it to sleep, it takes a little over an hour to charge in the morning or at some other point during the day. There's a setting to turn the always-on display off, which presumably will extend battery life, but I'll never know because I wouldn't want to spend a single day wearing this watch with the always-on display turned off.
To me, the always-on display is the Apple Watch's retina display moment — once you see it, you can't go back.
Series 5 brings other new features, but they're mostly minor. There's a compass now, and while it's fun to play with, I don't recall ever needing a compass in my entire life. It's a huge boon to walking directions, though. (Apple did show me a clever feature of the compass, though. Traditional compasses spin randomly when you bring a magnet near them. Series 5's compass won't do this, because it uses the gyroscope to see if you're actually moving. The compass won't be fooled by a magnet because it can tell the watch itself isn't spinning around. Smart.)
I'd have placed an order for a Series 5 watch even if Apple had put up a slide that said "Just one new feature: Always-on display." ★
---
Tuesday, 17 September 2019
---
Tuesday, 17 September 2019
A few weeks ago on my podcast, speculating on the tentpole features for this year's new iPhones, I said that "iCamera" would be a far more apt name than "iPhone". MG Siegler, writing about Apple's event last week, had the same thought:
The iPhone is now officially a camera. I mean, it has been a camera for a long time. The most popular camera in the world, as Apple is quick to point out each and every year, a decade on. But now it's really a camera, as today's keynote made clear. The key parts of the presentations for both the iPhone 11 and the iPhone 11 Pro were all about the camera. As Phil Schiller said in his portion: "I know what you're waiting for, and I am too. Let's talk about the cameras. Without question, my favorite part about iPhone."

It feels like if Apple wasn't so wedded to their own legacy branding — more on that in a bit — they would rename this thing the iCamera.
Apple's not really going to do that, of course. But Apple spent the vast majority of the stage time for the iPhone 11 and iPhone 11 Pro talking about their cameras. They spent no time — not a word — talking about phone calls. It would have been weird if they did talk about phone calls. That's probably the single biggest change in the landscape from 2007 to today. Back then, introducing the original iPhone, Steve Jobs spent a lot of time talking about phone calls and voicemail, and almost no time on the camera. It never ceases to amaze me that the original iPhone camera couldn't even shoot video — at all — and within 10 years Steven Soderbergh was using iPhones to shoot feature films.
Driven by the iPhone, the word phone has simply taken on a new definition — a pocket-sized touchscreen personal computer with wireless networking and one or more cameras. Try convincing a six-year-old that a landline telephone is a "phone" — they won't believe you.
If you want to know Apple's top priority with the iPhones 11, just look at the back of the new iPhones. Remember when we thought the iPhone 6 camera bump was prominent? That it was something Apple might be trying to hide in marketing photos? With the iPhones 11, the camera system takes up an entire corner. It's so large Apple had to move the Apple logo down to the center of the back. I'm not sure if it's related to the lower position of the Apple logo, but for the first time, the iPhones 11 no longer say "iPhone". The only two things on the back are the logo and a big camera system. They don't have to rename it "iCamera" — these phones scream this is a camera just by looking at them. And if you insist upon judging Apple's focus — no pun intended, I swear — for these new iPhones by what they talked about during last week's event, this 24-second highlight reel says it all.
I have been using an iPhone 11, iPhone 11 Pro, and iPhone 11 Pro Max since last Wednesday. Most of what I have to say — and I think most of what one needs to know to understand them — is about the cameras. My biggest problem is that I wrote this review last year. I re-read my review of last year's iPhones XS (regular and Max) and at almost every single paragraph I found myself wanting to say the exact same thing again this year. Not that these phones are the same as last year's phones, but that the year-over-year improvements are equally impressive and at times mind-boggling.
Take this bit from last year's XS review:
I've focused nearly the entirety of my testing on taking photos and videos side-by-side against my 10-month old iPhone X. Overall, I'm simply blown away by the iPhone XS's results. Sometimes the difference is subtle but noticeable; sometimes the difference is between unusable and pretty good. The iPhone XS can capture still images and video that the iPhone X cannot.
That's exactly the case again, this time with the XS in the "last year's phone" spot and the 11 Pro in the "this year's phone" spot. It's an impressive year-over-year camera improvement one year after an impressive year-over-year camera improvement.
I'll also crib this bit from last year's XS review1:
It's worth emphasizing — as I do every year — that normal people do not upgrade their phones after a single year. Most don't upgrade after two years. They upgrade when their old phone breaks or gets too slow. Anyone upgrading to the iPhone XS from an iPhone 7 or older is getting a great upgrade in dozens of ways, and the camera system is just one of them. I've concentrated on comparing the iPhone XS's camera to the iPhone X's for two reasons. First, even though most people don't buy iPhones annually, Apple releases a new generation of iPhones annually, so that year-over-year comparison feels like the natural way to measure their progress. Second, a fair number of people do upgrade annually, or at least consider it (enough people that Apple deemed it worthwhile to create an annual upgrade program), and for the people who own an iPhone X who are considering an upgrade to the XS, to my mind, the camera system is the one and only reason to do it.
Word for word, that holds up again this year, with one notable exception: there is a second reason iPhone XS owners might want to consider upgrading to an iPhone 11 or 11 Pro this year: battery life. It really is better. There's my review of all three iPhone 11 models in a nut: the camera systems are remarkably improved year-over-year and battery life is noticeably longer.
Understanding the Relationship Between the iPhone 11 and 11 Pro
Just like last year with the XS and XS Max, the 11 Pro and 11 Pro Max are best thought of as two sizes of the same phone, pretty much like the two sizes of iPad Pro. Same A13 chip, same amount of RAM, exact same cameras. There are some minor software differences — the 11 Pro Max offers the choice between standard and zoomed display modes, whereas the 11 Pro offers only standard; on the Max, apps like Mail and Notes show their source lists of mailboxes/folders in an iPad-like two-column layout when the phone is in landscape orientation — but if you simply think of them as two sizes of the same phone, you won't be wrong. I prefer the smaller 11 Pro size, and that's the model I spent the most time with over the last six days. But henceforth in this review, when I write about the iPhone 11 Pro, I mean both the 11 Pro and the 11 Pro Max.
Second, also just like last year with the XR and XS, the regular iPhone 11 and iPhone 11 Pro are far more alike than they are different. The regular iPhone 11 is so much less expensive that it seems like there ought to be a catch (or multiple catches), but there is no catch. The two primary differences are right there on the outside. On the front, the iPhone 11 has an LCD "Liquid Retina" display with @2x retina resolution; the iPhones 11 Pro have OLED "Super Retina XDR" displays with @3x retina resolution and slightly smaller bezels — the edges of the 11 Pro displays are a bit closer to the edges of the device. Flip them around and you can see the other primary difference: the regular iPhone 11 has a two-camera system (wide and ultra-wide lenses) and the 11 Pro models have three-camera systems (wide, ultra-wide, and telephoto).
Apple claims the 11 Pro models can get faster LTE performance than the iPhone 11. I didn't see anything notable running Speedtest here in Philadelphia, but I'm sure there are places where the 11 Pro gets faster LTE. And in my testing, the 11 Pro models scored about 5 percent higher than the regular iPhone 11 in the GeekBench 5 multi-threaded benchmark (single-threaded was equivalent). I ran the benchmarks five times and averaged the results, but that 5 percent difference could be within the margin for error. Bottom line, you can't go wrong thinking that the only technical differences between the iPhone 11 and iPhone 11 Pro are the displays and the Pro's telephoto camera. The wide angle and ultra-wide angle cameras are exactly the same.
Personally, I like that the bezels around the iPhone 11 Pro display are smaller, but even as a professional nit-picker I can't say the slightly larger bezels around the iPhone 11 display are a big deal. As for the displays, my eyes simply aren't good enough to see the difference in typical lighting conditions. Your mileage may vary on that front — my eyes are not great.
Apple has to manage a delicate product marketing balance. At last week's introduction event and in their advertising, they present the iPhone 11 and iPhone 11 Pro as two distinct phones. But putting aside the material differences — the 11's aluminum vs. the 11 Pro's stainless steel; the 11's glossy back vs. the 11 Pro's matte back — it really just comes down to the display technology and the 11 Pro's telephoto camera.
Here's the pricing matrix:
| | 64 GB | 128 GB | 256 GB | 512 GB |
| --- | --- | --- | --- | --- |
| iPhone 11 Pro Max | $1,100 | — | $1,250 | $1,450 |
| iPhone 11 Pro | 1,000 | — | 1,150 | 1,350 |
| iPhone 11 | 700 | 750 | 850 | — |
| | | | | |
| Δ from 64 GB | | $50 | $150 | $350 |
This year's 11 Pro models are the same prices as last year's XS models. The regular iPhone 11, however, is $50 cheaper at each storage capacity than the equivalent XR model last year. Thus, the price gap between the 11 and 11 Pro is $50 higher than the gap last year between XR and XS.
Last year I called the iPhone XR the iPhone most people should buy. Its successor is the iPhone 11 and the same thing is more true this year than last, if only because the equivalent models are $50 cheaper. The iPhone 11 is the best phone for most people. And once again, to my mind, the sweet spot in the whole lineup is the 128 GB iPhone 11 — for $50 you get double the storage of the base model, and 128 GB is more than enough for typical users.
3D Touch Is Gone; Battery Life Is Better
These might seem like two unrelated items, but they're not.
3D Touch was introduced with the iPhone 6S. Every new iPhone after the 6S, with the exception of the SE, had 3D Touch — until the iPhone XR last year. Instead of 3D Touch, the XR offered "Haptic Touch". Haptic Touch is like 3D Touch except it doesn't really detect the force of your finger press. It seems to me the heuristic is more complicated than just a long press, but it's more like a long press with a bit of pressure applied.
3D Touch was a great idea, but it never really took off for a few reasons. First, it was undiscoverable — the iOS interface never indicated what objects could be 3D Touched. Haptic Touch isn't much better in this regard. Second, it always seemed to me that 3D Touch should have been a shortcut for a long press, and only a shortcut for a long press — a way to perform a long press without having to wait for the "long" part. Third, with the iPhone 6, SE, and XR, there were iPhones that didn't even have 3D Touch, and no iPad has ever had it. So neither Apple nor third-party developers could design interfaces that assumed 3D Touch was universally available.
Imagine if only some iOS devices had touchscreens. If that were the case we'd see half-hearted, inconsistent support for multitouch across the system and in third-party apps. That's what happened to 3D Touch.
So the good news is that switching from 3D Touch to Haptic Touch — along with changes in iOS 13 (and its sibling, iPadOS 13) — makes the whole thing more consistent across all iOS/iPadOS devices. Most iPhone users upgrading from a 3D Touch iPhone to an iPhone 11 or 11 Pro won't even notice that Haptic Touch and 3D Touch are different.
The bad news is, Haptic Touch is a bit slower. With 3D Touch, when you pressed, the action was instantaneous. With Haptic Touch, because it's sort of a long press with pressure, there's a very brief pause before it fires. One shortcut I use all the time, every day, is the camera button on the lock screen. On the iPhone 11 models, it feels just a bit less responsive than on the XS I'm used to. When you upgrade to a new iPhone, even year-over-year, everything usually feels faster or at least the same. Not so with Haptic Touch. It's just the slightest of delays — a wee bit of latency — but I notice it.
There's also a shortcut that not many people know about, but when you show it to them, their minds are blown: with 3D Touch iPhones, you can 3D Touch and hold anywhere on the keyboard (that is to say, keep your thumb or finger pressed on the keyboard) and the keyboard turns into a virtual trackpad for moving the insertion point around any text editing field, exactly like moving a mouse pointer. With non-3D Touch devices (including iPads), you can still do this, but you can't press anywhere on the keyboard to initiate it — you have to press-and-hold on the spacebar. I picked up this shortcut years ago and it long ago became second nature to me. It took me a few days to get used to having to start by pressing on the space bar. It's a small regression in the user experience.
So why did Apple get rid of 3D Touch? As I wrote above, one reason is to bring a far more consistent experience across all iOS 13 devices. But another reason is that 3D Touch required an entire layer under the display. Removing the 3D Touch sensors freed up space that Apple could use for something else — and it seems as though they've put it to use by including bigger, higher capacity batteries. Apple has never advertised the capacity of iPhone batteries, and even off the record, they don't want to talk about it. We'll find out when iFixit does their teardowns later this week, but I'll be very surprised if the iPhone 11 Pro batteries aren't significantly bigger than their iPhone XS counterparts, and I suspect the biggest reason why is that 3D Touch is gone.
This theory — that removing 3D Touch made room for bigger batteries — fits with Apple's advertised battery life improvements. The regular iPhone 11 "only" gets 1 additional hour of battery life compared to the iPhone XR. (I put "only" in dick quotes there because the iPhone XR had the longest battery life of any iPhone ever made — a 1-hour improvement over the previous champ is not bad.) But the iPhone 11 Pro and Pro Max are advertised as getting 4 and 5 more hours of battery life than the XS and XS Max, respectively. With so much of the internals shared between the 11 and 11 Pro models, I just don't see how only the Pro models could gain so much more battery life unless the batteries are bigger in the iPhones 11 Pro than they were in the iPhones XS.
So to recap, here's my theory. Last year's iPhone XR didn't have 3D Touch, so it had a bigger battery than it would have if it did, and that's why it got noticeably better battery life than the XS models. The regular iPhone 11 gained one hour of additional battery life compared to the XR via various small efficiencies in the A13 chip and other components. The iPhone 11 Pro and Pro Max have bigger batteries than their XS counterparts, using the space freed up by omitting 3D Touch. They benefit from the same small efficiencies that give the regular iPhone 11 one additional hour of battery life, plus a few more hours from bigger batteries. (The new 11 Pros are also about 0.4mm thicker than the XS models, and about 10-18 grams heavier. The thickness is negligible, but they're about 7-8 percent heavier. Good chance that's all battery.)
Again, I miss 3D Touch's instantaneity, but this is a good trade-off for longer battery life.
I haven't run any sort of battery testing with these review units, but anecdotally, I definitely seem to get more battery life from the iPhone 11 Pro than I do with my iPhone XS. (According to Settings → Battery → Battery Health, my one-year-old, much-used iPhone XS's maximum battery capacity is still 92 percent.)
Camera Performance
I keep mentioning that the iPhone 11 Pro has a three-camera system and the iPhone 11 a dual-camera system. And I'll mention that again. But what's essential to understand is that you don't need to know that the iPhone 11 camera systems consist of two or three discrete cameras. From the user's perspective, they look and feel like a single camera with multiple zoom levels.
At times the seamlessness of this experience feels like magic.
For example, when shooting video, you can zoom in and out while shooting, and when you cross the 1x and 2x zoom thresholds, the camera system will automatically switch lenses on the fly. So far as I can see, there is no discernable sign of this in the resulting video. So using the iPhone 11 Pro, you can start filming using the ultra-wide lens at 0.5x, then zoom in and when you reach 1x, the camera system will switch to the regular wide lens. Keep zooming in and when you reach 2x it will switch to the telephoto lens. There's no hiccup in the footage, and no difference in lighting or color. This works for 720p and 1080p at frame rates up to 60 FPS, and for 4K at 24 and 30 FPS. The exception is 4K 60 FPS — when shooting 4K 60 FPS, once you start recording, you're stuck with the lens you started with.
Google garnered much deserved praise last year for the Night Sight mode on its Pixel phones. The iPhones 11 now offer a similar feature Apple is calling Night Mode. Nomenclaturally, this is a bit weird, because on Pixels, Night Sight is a separate mode, and on iPhone 11, Night Mode is not a separate mode — it's a feature that kicks in automatically in extreme low light conditions — about 10 or fewer lux. (If you don't want Night Mode, you can turn it off by tapping a button, much like you can manually control the flash.)
When Night Mode is engaged, it simulates a long exposure of 1, 2, or 3 seconds. You hold the phone still and when it's done, you get an image that effectively makes the camera seem like it can see in the dark. With traditional photography, handheld exposures of more than 1/30th of a second start to get blurry. You just can't keep your hands still for that long. Two- or three-second exposures handheld just aren't feasible in traditional photography. Night Mode, on the other hand, doesn't require anything more than casually steady hands. It's like being able to hold your hands as steady as a tripod.
Some comparison shots, between an iPhone XS and iPhone 11 Pro with Night Mode. These photos were shot at Hop Sing Laundromat — Philadelphia's finest North Korean cocktail bar — lit by nothing but candlelight. No editing was performed on any of the files, other than to allow Photos to export HEIC originals as JPEGs.
iPhone XS (original image file):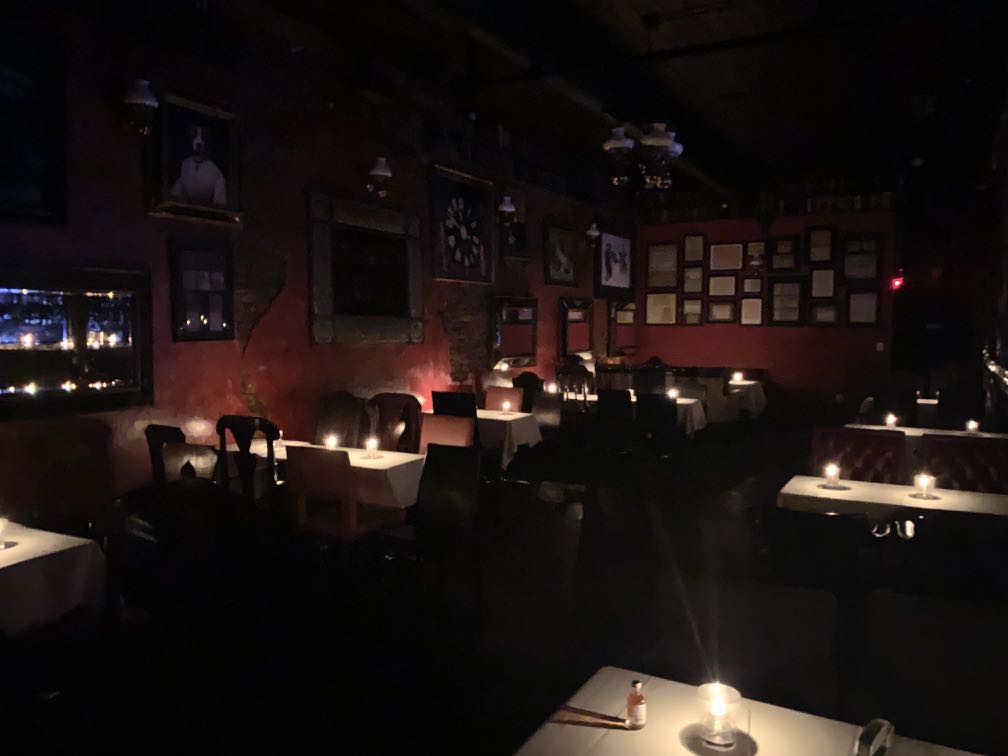 iPhone 11 Pro (original image file):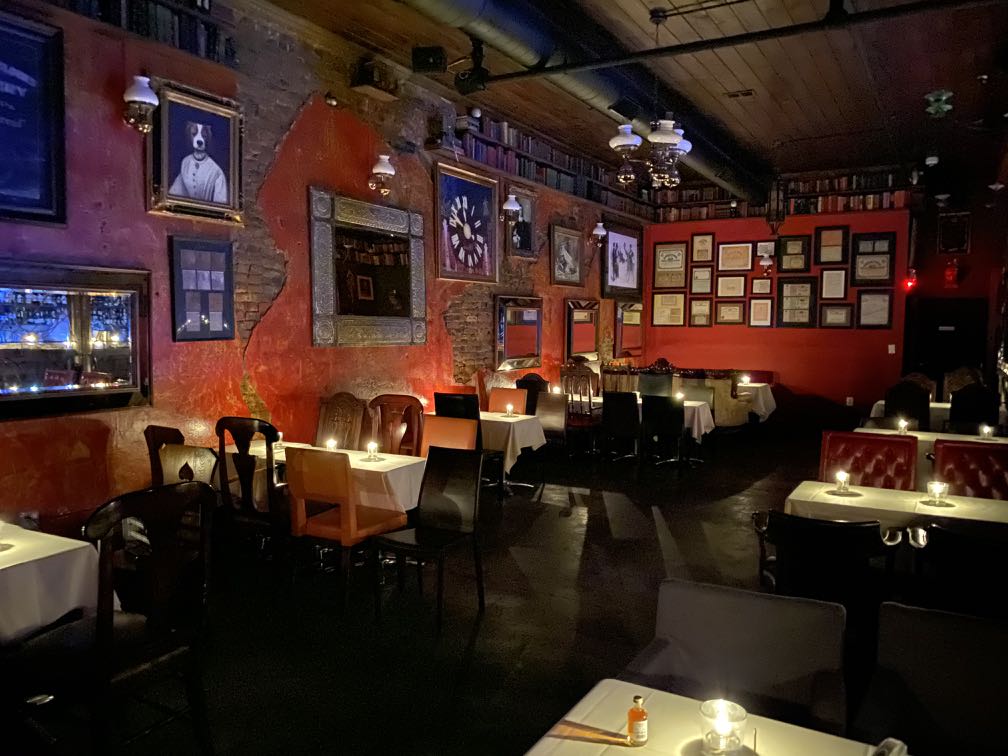 iPhone XS (original image file):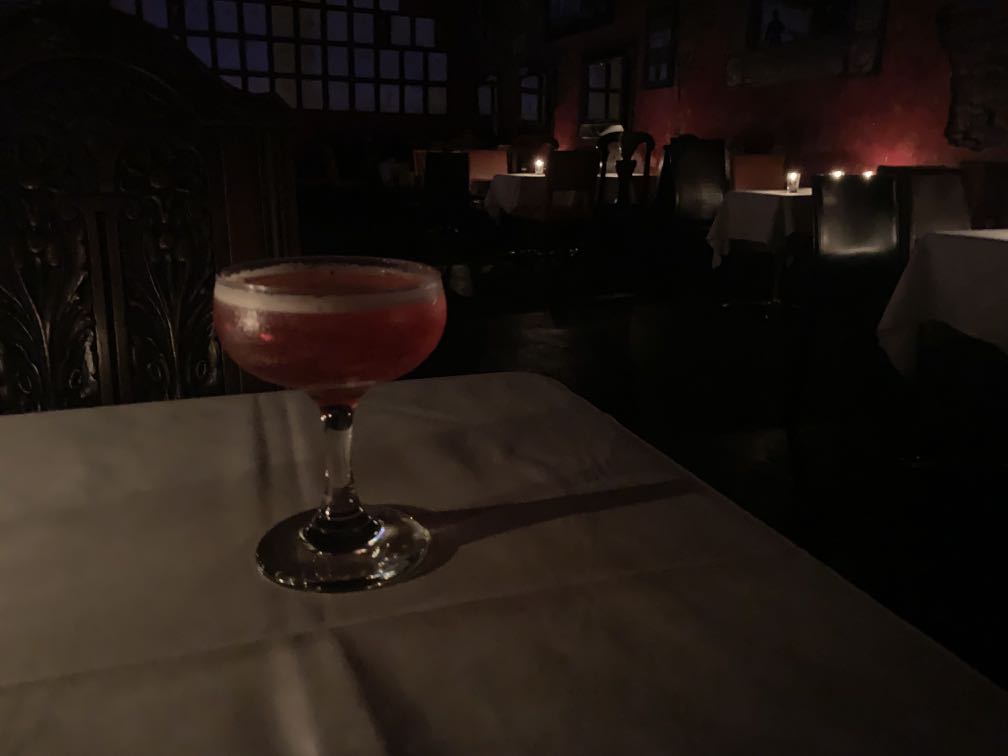 iPhone 11 Pro (original image file):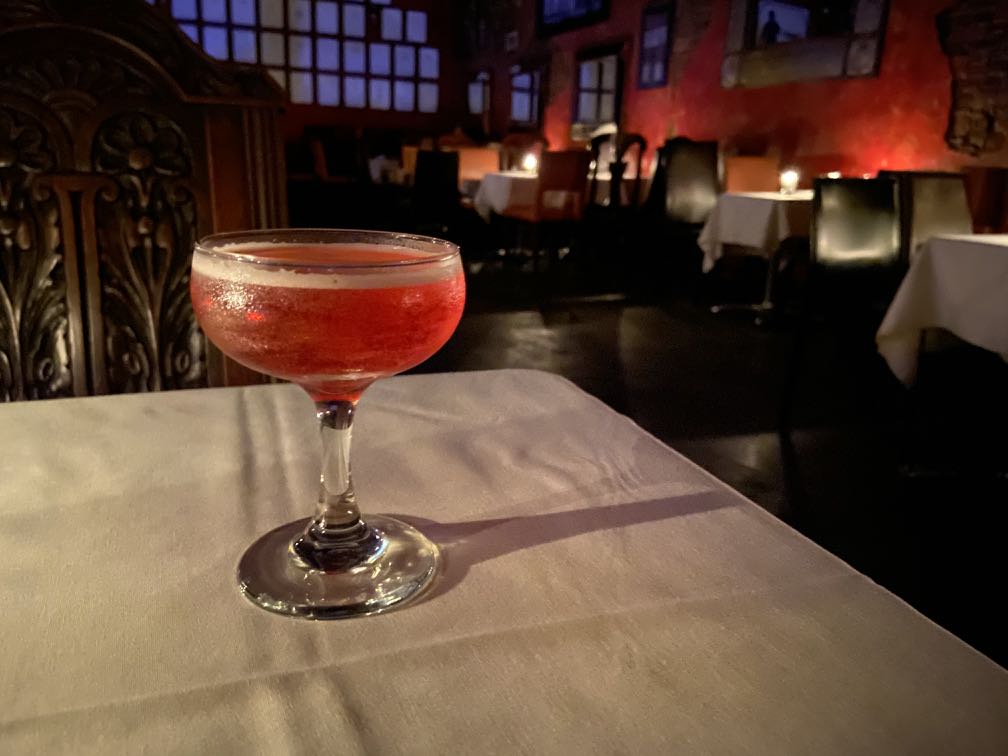 Portrait mode on the iPhone 11 Pro now has two lens options: 1x and 2x, for the wide and telephoto lenses, respectively. When using Portrait Mode, you must snap to one of these focal lengths — there's no way to pinch-to-zoom to something in between like 1.5x. The iPhone 11 Pro's telephoto lens has an aperture of f/2.0; the telephoto lens on the XS (and X before it) was f/2.4. A lower number for the f-stop means a wider aperture, which means more light reaches the sensor, which means it works better in low light conditions. If you ever tried using Portrait Mode in dim lighting with an iPhone X or XS, you were probably disappointed. You can't use Night Mode while in Portrait Mode, but the iPhone 11 Pro's faster 2x lens allows you to take Portrait Mode shots that the iPhone XS can't. Example:
iPhone XS (original image file):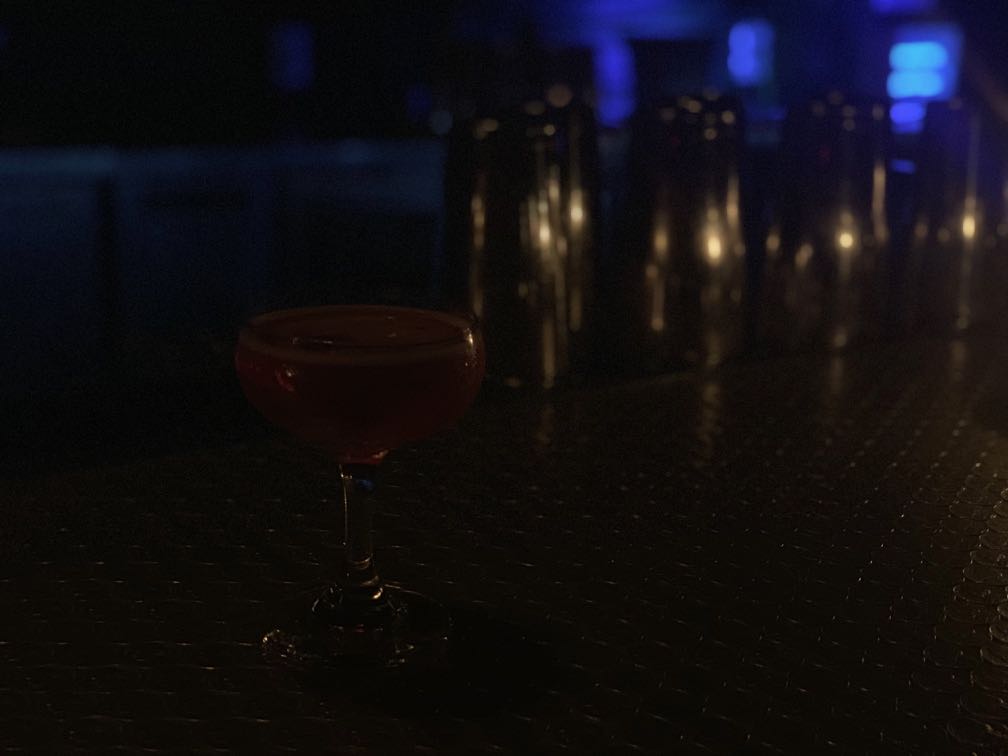 iPhone 11 Pro (original image file):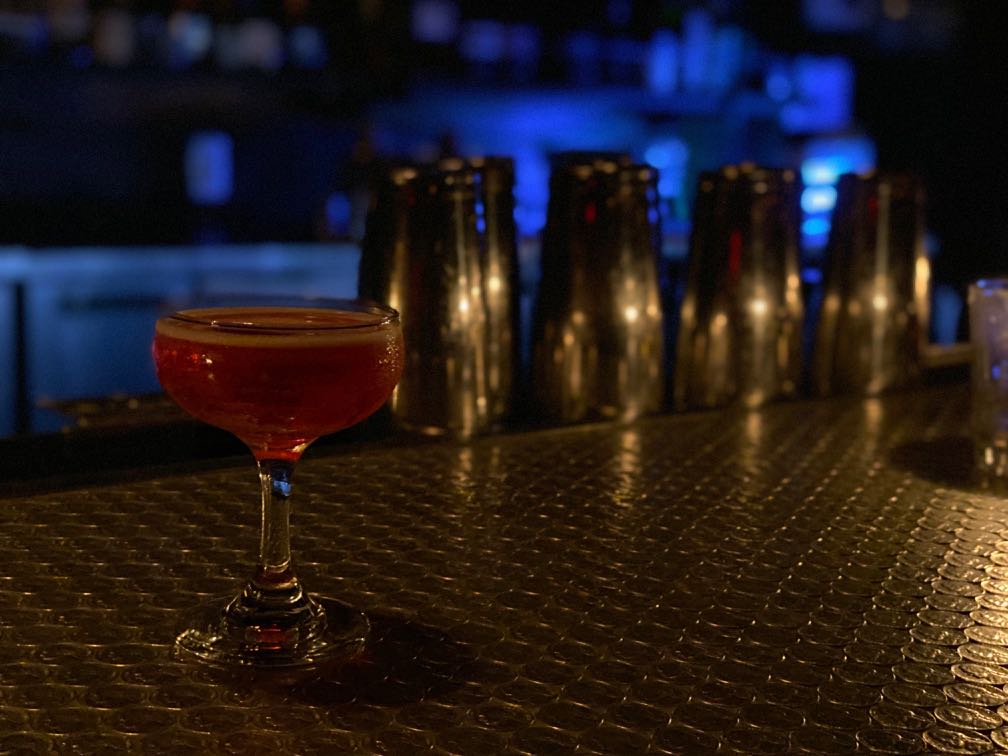 The iPhone 11 Pro's Portrait Mode in low light is far from perfect — if you look closely, it loses the back of the rim of the cocktail glass. But the iPhone XS portrait shot of the same scene is unusable.
Another bit of magic. There are two new options in Settings → Camera: "Photos Capture Outside the Frame" (off by default) and "Videos Capture Outside the Frame" (on by default). When these options are turned on, when you shoot with the 1x or 2x lenses (wide or telephoto), the Camera app will use the next widest lens to capture additional footage outside the frame of the lens you're shooting with. In post, this allows you to rotate the photo or video — typically, to fix a crooked horizon — without cropping. This seems to be, unfortunately, a bit buggy in iOS 13.0, but when it works, it's amazing. At some point when Apple has more confidence in this feature, I expect it to be on by default for both video and photos.
Last examples — both taken with the iPhone 11 Pro in Portrait Mode. I'm finding Portrait Mode with the 1x focal length to be a lot of fun. The 2x lens is better for capturing a flattering photo of a person willing to pose for you, but the 1x lens is better for small objects and pets. This is Mochi. Mochi looks good in both of these shots, but I think the 1x shot works better. It's more fun to get closer.
iPhone 11 Pro Portrait Mode, 1x (original image file):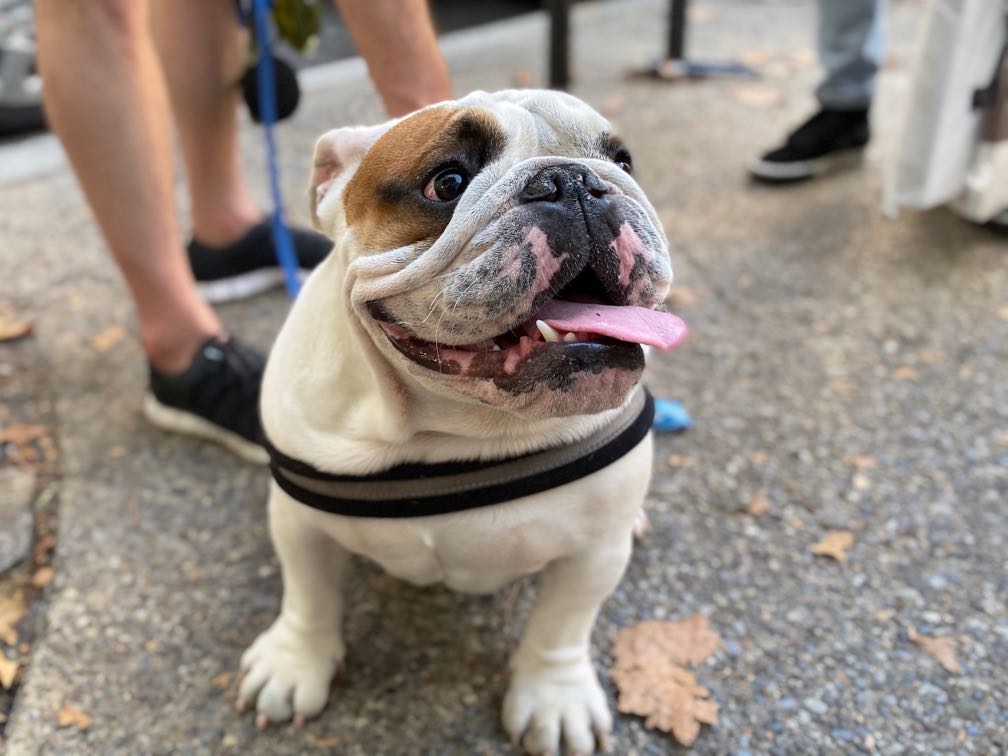 iPhone 11 Pro Portrait Mode, 2x (original image file):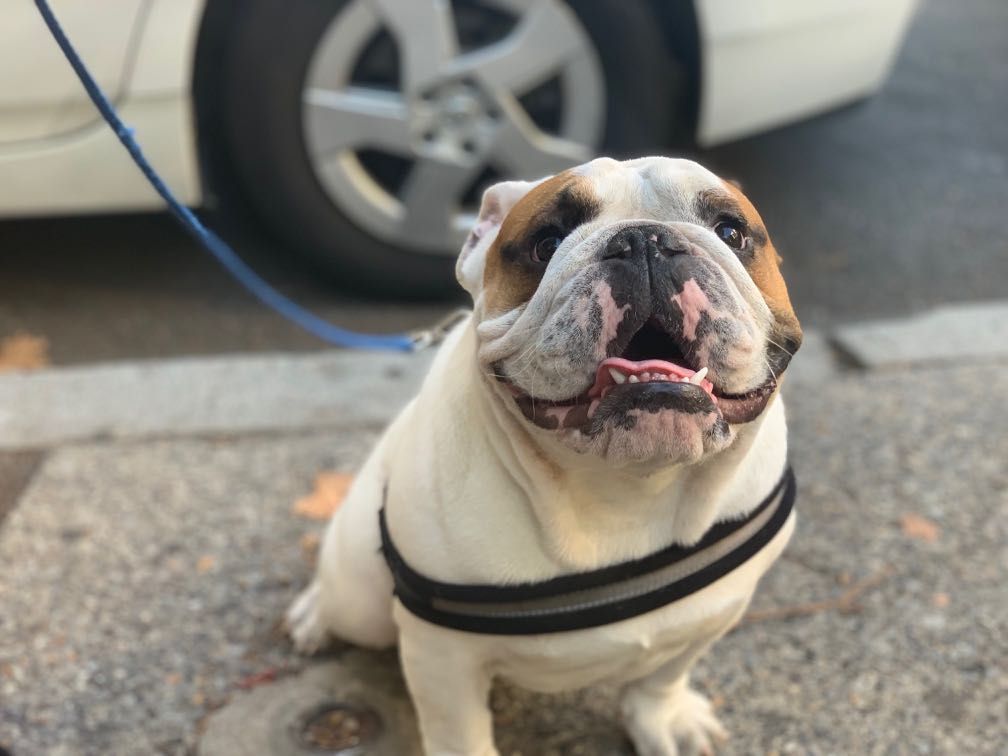 A few other observations about the iPhone 11 and 11 Pro camera systems:
Night Mode is not available for the ultra-wide 11 Pro lens — it doesn't have focus pixels like the other two lenses do. Only the wide angle lens has 100 percent focus pixels, but the wide angle lens covers the entire area of the telephoto lens.

The ultra-wide lens is fantastic, though, for action video.

The ultra-wide lens is so insanely wide that I need to learn a new phone grip while shooting photos. I caught my finger in the frame several times while shooting ultra-wide photos. Here's a picture of me holding the phone in a way that feels very natural, but which puts the middle knuckle of my middle finger in the lower left of the field of view of the ultra-wide lens.

The entire Camera app UI has been redone for the iPhone 11 and 11 Pro. Among a host of changes, square photography is no longer a separate mode, which never really made sense. Instead there's a row of controls that slide out of the shutter button area, and one of these controls gives you three aspect ratio options for still photos: 1:1 (square), 4:3, and 16:9. When you choose 1:1 or 16:9, you can later re-crop the photo in editing to get the full 4:3 frame. These aspect ratios are non-destructive, for lack of a better word.

The iPhone 11 Camera app is very different, but I took to it right away. It feels less like an app and more like a camera. It's just great software.

There are two ways to access this new row of options (including flash, timer, and live filters). There's a chevron button at the top of the iPhone display; tap it to hide/show the option buttons. What I find myself doing, though, is just sliding the controls out from the shutter area, sort of like pulling Control Center down from the top of the display.

The Photos app now lets you edit video in most, if not all, of the ways you can edit photos. Cropping, applying filters, adjusting brightness and contrast, etc. A lot of these features are computationally impressive. Applying filters to 4K video with no render time? On a phone? But my favorite new feature is so simple: you can trim video now without saving the trimmed version as a new video. So if you just want to trim a few seconds from the end of a clip, you don't wind up with two videos in your library.

The new SF Camera font is delightful. Literally no one is going to buy an iPhone 11 just to get a slightly more industrial-looking font in the Camera app, but it's a nice bonus. Update: OK, OK, we all know there's at least one person who might buy an iPhone 11 just to get the new SF Camera font.

QuickTake seems the closest to marketing spite, by which I mean this is such a great idea that I really think it ought to be part of the Camera app for all iPhones running iOS 13. This is the feature where you can just tap-and-hold the shutter button in Photo Mode to shoot video instead. Previously, pressing and holding the shutter button shot a burst of stills. I want to shoot video way more often than I want to shoot a burst of stills. If you do want to shoot a burst of stills, slide the shutter button to the left. Slide the shutter to the right to lock it into video recording, so you don't have to keep your thumb down on the shutter button. (Also: nice name.)
Colors and Textures
The review units loaned to me by Apple are all green: green iPhone 11, "midnight green" iPhone 11 Pro and Pro Max.
The pastel green of the iPhone 11 is not my style, but it's an intriguing color. Depending on the lighting, it sometimes looks almost like Tiffany blue. I feel like Apple is really trying to make this clear case thing happen, because they continue to put a lot of work into the new colors for iPhones.
Last week I described the 11 Pro's midnight green as having "a bit of a Boba Fett feel to it". I stand by that. It's a very cool-looking green. It looks quite different depending on the lighting conditions, though. In sunlight, it clearly looks green. Indoors, however, it looks more neutral, and sometimes even look like dark gray. I pre-ordered a space gray iPhone 11 Pro for my personal use, not so much because I dislike the midnight green as that I'm boring that way. If Apple had replaced space gray with midnight green, I'd have ordered midnight green and wouldn't have complained. It really is a neat look, different from any phone finish I've seen before. It's no surprise that Apple's first two iPhone 11 Pro TV commercials exclusively feature the midnight green finish. (Both spots also look like they take place in a spaceship corridor where Boba Fett would feel right at home.)
The glass backs of the iPhone 8, X, XS, and XR have all been glossy. So is the back of the iPhone 11. The 11 Pro back has a matte finish, though. I like it. I won't say it adds a lot of grippiness, but it adds some, and it definitely makes it possible to tell which side of the phone is which by feel. The texture feels very similar to — if not identical to — the matte glass trackpads on recent MacBooks.
iOS 13.0
I ran into a handful of bugs over the last week. One time Messages completely froze, and the phone started getting very warm. Force quitting Messages didn't help — I had to power-cycle the phone to get Messages working again. Several times the keyboard in Messages went entirely white. I could actually still type, but I couldn't see the keys I was pressing. With iOS 13.1 coming just 10 days after iPhone 11 units get into customer hands, I don't see the point in belaboring this, but 13.1 needs to be a lot more stable than 13.0. 13.0 feels like a late stage beta.
Conclusion
Here I am, 5,000+ words into this review of these three phones, and my gut feeling is that the best way to review them is simply to show dozens of photos and videos shot with them, compared to the same photos and videos shot with older iPhones and competing Android phones. "Show, don't tell", is probably the best way to tell the story of the iPhones 11.
The battery life gains should be of interest to everyone, even those who don't care about the camera, but if you're not interested in the camera systems, I don't see how there's any way to get you excited about the iPhones 11.
Several times over the past few years, I've had conversations along the lines of, "I know they're never going to do this, but wouldn't it be cool if Apple made a real camera?" As the iPhone camera system evolves, I'm starting to think Apple is making a real camera, right under our noses — or perhaps better said, right in our pockets. ★
---
Monday, 16 September 2019
---
Monday, 16 September 2019
Charlie Warzel, in his column for The New York Times last Wednesday, "The Last Apple Keynote (Let's Hope)":
But what started as a Steve Jobs TED talk has become a parody — a decadent pageant of Palo Alto executives, clothed in their finest Dad Casual, reading ad copy as lead-ins for vaguely sexual jump-cut videos of brushed aluminum under nightclub lighting. The events are exhausting love letters to consumerism complete with rounds of applause from the laptop-lit faces of the tech blogging audience when executives mention that you (yes you!) can hold the future in your hands for just $24.95 per month or $599 with trade-in.
There was a long thread on Twitter in response, mostly either mocking Warzel or rationally objecting to the slew of things he got wrong about these events. That second link will open a long conversation thread on Twitter, which Warzel himself joined, and is well worth reading. I'll leave the point-by-point critique to that Twitter thread, but I must point out that the "tech bloggers" with "laptop-lit faces" generally don't applaud during Apple keynotes — journalistic stoicism aside, the reason their faces are laptop-lit is that they're busy live-blogging and typing notes. The raucous applause you hear throughout Apple keynotes comes from Apple employees and VIP invitees. There are a lot fewer media attendees at these events than most people think, especially at smaller venues like Steve Jobs Theater.
The entire event is at odds with our current moment — one in which inequality, economic precarity and populist frustration have infiltrated our politics and reshaped our relationships with once-adored tech companies. But it's not just the tech backlash. When the world feels increasingly volatile and fragile, it feels a little obscene to gather to worship a $1,000 phone. […]
Nobody is there to "worship" a phone. But the main point Warzel misses is that the people invited to attend Apple's events are not the point, and are not really the audience. These are not press events. They are "Apple events" and Apple invites a limited number of media to attend. The millions of people out in the world who watch via video are the real audience. Apple wants to pitch them directly, and millions of people want to see it. And I do mean millions — tens of millions. I'm going to be lazy and just quote here from last week's issue of Dan Frommer's excellent subscription newsletter The New Consumer1:
Apple generally doesn't share information about how popular its keynote livestreams are, even after it has spent the last several years stoking the audience with Twitter-based reminder campaigns.

But yesterday the company also streamed its iPhone 11 event on YouTube for the first time. And there alone, almost 2 million people were watching concurrently. That's on top of however many were watching Apple's official stream — potentially an equal or greater number. That's a lot!

The full archived video also now has 2 million views on YouTube, an Apple Event in a flash highlight reel has 13 million, an iPhone 11 video has 14 million, and an iPhone 11 Pro video has 10 million. Pity the Apple Watch Series 5, with just 1.5 million views.

I think of this whenever I hear dated thinking about "normal users" versus "geeks," or some other similarly phrased dichotomy.
Frommer wrote that Wednesday, the day after Apple's event. Today, almost a week after the event, those YouTube view numbers are up to:
Whole event: 4 million
"Apple Event in a Flash": 17.4 million
"Introducing iPhone 11": 27.4 million
"Introducing iPhone 11 Pro: 23.4 million
"Introducing Apple Watch Series 5": 2.8 million
And again, those numbers don't include however many million people watch Apple's own hosted version of the event video.
There are plenty of things one could criticize about Apple's events, last week's included, but the basic idea of them is not "at odds with our current moment". If anything, people look to them as relief from the current moment. Gadgets are fun. Apple, of course, loves the massive publicity these events — especially iPhone events — generate. Apple enthusiasts love watching the events. Everyone else is free to ignore them. These events aren't like the Super Bowl, where the whole country either shuts down or holds a viewing party.2 Apple events are ridiculously easy to ignore if you don't care.
Back to Warzel:
The company's flagship product — the iPhone — no longer feels like a piece of the future dropped from into the hands of mere mortals. It feels like, well, a phone, a commodity. And so the whole thing seems gratuitous, self-serving and, most importantly, quite removed from the very fraught relationship most of us have with our phones.
People love their phones, iPhone owners in particular, and millions of them are happy to watch Apple introduce new ones. There's no question that "Hey, maybe we all spend too much time and attention on our phones" is on our minds, but that's secondary to the fact that we love our phones.
That's part of why the keynotes need to end. Losing them doesn't mean that the new technology isn't impressively engineered (machine learning cameras!) or that Apple has failed. It's probably the opposite. The iPhone set out to change everything, and it did. Mr. Jobs famously pitched Apple products with the line, "It just works." He's right. It does. And we live with the effects — the good and the very bad — every day. There's no more need for the song and dance — or Lewis and Clarking a digital frog across a bathroom floor.
"Need" is a strawman word. Of course we don't need to see Apple introduce new phones. And Apple doesn't need to hold an event to introduce them. But should Apple continue to hold these events? Of course they should. Jiminy.
The whole thing is a bluff. If there's even a whiff of seriousness to Warzel's proposal, it's that — what? — the tens of millions of people interested in learning about Apple's new products would be better served reading about it in publications like, oh, say, The New York Times? Filtered by writers like Warzel, who is so jaded he's already deemed the new phones "a commodity", and his colleague Jack Nicas, who mocked a woman wearing a media badge at the event for crying "during an Apple Watch ad". That was good for a we're above any sense of emotion laugh until the woman in question, Ellen Cushing of The Atlantic, piped into the thread with this unguarded and honest response.
There's no reason to write a column unless you have an objective. Could be you just want to make the reader laugh. Usually, it's to make a point. You don't have to make your point literally. Many times, it's more effective not to make your point literally. Arguably the most famous essay in the English language is Jonathan Swift's 1729 "A Modest Proposal", wherein Swift proposed that poor Irish people sell their children as food to wealthy Englishmen. Swift's point was made through satire: British callousness toward the plight of the Irish was deeply immoral. Absurdity made the point painfully clear.
Warzel's column isn't satirical in the least. But it's not literal, either. Imagine Warzel's own discomfort if Phil Schiller were to call him and invite him to Cupertino to help Schiller make the case to Tim Cook that Apple should stop holding events. Seriously, imagine if Tim Cook went to the Apple board and told them Apple would no longer be holding product introduction events, because he was persuaded by Charlie Warzel's column in The New York Times. Imagine the scene. The board members would start looking around the room for hidden cameras. They'd check for booze on Cook's breath.
This gets to the heart of the utter vacuousness of Warzel's column. What Warzel has written — not on his personal blog, mind you, but in a column in the goddamn New York Times — has nothing to do with Apple, nothing to do with iPhone users, and nothing to do with society or culture at large. It is not an honest attempt to persuade anyone about anything.
It's all about Charlie Warzel.
Warzel wrote an entire column in The New York Times to let the world know that even though he writes about technology, he's so far above getting excited about any of it that he thinks Apple should stop holding events to introduce new products. To quote my favorite spiritual leader, "Well, isn't that special?" ★
---
Sunday, 15 September 2019
Saturday, 14 September 2019
Friday, 13 September 2019
---
Friday, 13 September 2019
As referenced in today's letter to Apple from the House Judiciary Committee, Reed Albergotti writing for The Washington Post last week ("How Apple Uses Its App Store to Copy the Best Ideas"):
Clue, a popular app women use to track their periods, has risen to near the top of Apple's Health and Fitness category.

It could be downhill from here.

Apple plans this month to incorporate some of Clue's core functionality such as fertility and period prediction into its own Health app that comes pre-installed in every iPhone and is free — unlike Clue, which is free to download but earns money by selling subscriptions and services within its app. Apple's past incorporation of functionality included in other third-party apps has often led to their demise. […]

When Apple made a flashlight part of its operating system in 2013, it rendered instantly redundant myriad apps that offered that functionality. Everything from the iPhone's included "Measure" app to its built-in animated emoji were originally apps in the App Store.
The thrust of the Post's story is clear from its headline. But I don't think it holds any water. What's the alternative? For Apple never to add any features to the OS that exist in third-party apps? Of course fertility and period-tracking should be features in Apple's Health app. If anything they should have been there sooner. Apple didn't need to look at Clue's popularity to know this. One of the factors every successful developer considers is whether or not an idea might be something Apple (or Google, or Microsoft, or whoever the platform vendor is) might incorporate as a feature in the system. The more basic the feature, the more likely that is. The flashlight is a perfect example. It's so obviously a good feature for the system that it's a button on the lock screen — one of only two, right next to the camera.
When Apple implements a feature or app idea, they do it in a way that has the broadest possible appeal (or at least try to). The key to competing with Apple as a third-party developer is to focus on segments of the audience that want more than the basics. Apple's Mail, Podcasts, Notes, and Calendar apps (to name just a few) are well-done and much-used. And all of those categories have very successful third-party alternatives. Apple improved Reminders significantly this year, but I don't think Things or OmniFocus (or any of the other popular to-do/task managers) have anything to worry about.
The misfortune of having an idea copied by Apple even has an industry term. "Getting Sherlocked" harks back to the time Apple's desktop search tool called "Sherlock" borrowed many of the features of a third-party companion tool called "Watson," which no longer exists.
Two points here. First, Sherlock doesn't exist any more either — the entire concept wasn't long for this world. Second, and more importantly, the Sherlock/Watson thing happened in 2002 — 6 years before the iOS App Store and 8 years before the Mac App Store. The debate over what's fair game for Apple (or Google, or Microsoft) to copy from third-party developers has nothing to do with app stores. A popular app is a popular app, and the platform vendors have always known all the popular apps.
Back in October 2003, I wrote about a controversy in which a third-party developer accused Apple of stealing their Command-Tab switcher, even though the features Apple was adding dated back to Microsoft Windows 3 a decade earlier. Ideas are cheap. My concluding sentence in that piece works just as well today:
When a utility is designed to compensate for a hole in Mac OS X, the developer should not expect the hole to remain unfilled by Apple forever. ★
---
Friday, 13 September 2019
Thursday, 12 September 2019
Wednesday, 11 September 2019
Tuesday, 10 September 2019
Monday, 9 September 2019
Sunday, 8 September 2019
Friday, 6 September 2019
Thursday, 5 September 2019