Friday, 24 September 2021
Thursday, 23 September 2021
---
Wednesday, 22 September 2021
Tim Sweeney, today on Twitter:
Late last night, Apple informed Epic that Fortnite will be blacklisted from the Apple ecosystem until the exhaustion of all court appeals, which could be as long as a 5-year process.
Sweeney posted a letter from Apple's attorneys to Epic's. It reads:
September 21, 2021

VIA ELECTRONIC MAIL

Gary Bornstein
Cravath, Swaine & Moore LLP
Worldwide Plaza
825 Eighth Avenue
New York, NY 10019-7475

Re: Developer Program Account No. 8XJ6WJ8Z84

Dear Gary,

I am responding to your recent request that Apple reinstate Epic's developer program account, which was terminated for cause last year. Epic committed an intentional breach of contract, and breach of trust, by concealing code from Apple and making related misrepresentations and omissions. In its decision, the court recognized that "Apple had contractual rights to act as It did. It merely enforced those rights as [Epic's] own internal documents show Epic Games expected." ECF No. 812 at 178-79. The court further found that "Apple's termination of the [Developer Program License Agreement] and the related agreements between Epic Games and Apple was valid, lawful, and enforceable." Id. at 179. Following that decision, Mr. Sweeney has publicly said that Epic "[w]ouldn't trade [an alternative payment system] away to get Fortnite back on iOS." In light of this and other statements since the court's decision, coupled with Epic's duplicitous conduct in the past, Apple has exercised its discretion not to reinstate Epic's developer program account at this time. Furthermore, Apple will not consider any further requests for reinstatement until the district court's judgment becomes final and nonappealable.

Sincerely,

/s/ Mark A. Perry
Mark A. Perry
That's lawyer-speak, I believe, for "go fuck yourselves".1
Sweeney is crying foul, arguing that this contradicts Apple's repeated public statements that Fortnite would be welcomed back to the App Store if they came into full compliance with App Store rules. Here's a version of Apple's statement from two weeks ago, via Protocol:
"As we've said all along, we would welcome Epic's return to the App Store if they agree to play by the same rules as everyone else. Epic has admitted to breach of contract and as of now, there's no legitimate basis for the reinstatement of their developer account."
Apple's lawyers' characterization of Sweeney's statement about being unwilling to trade something away "to get Fortnite back on iOS" does seem like a bit of a hatchet-job, quote-editing-wise. Sweeney tweeted the following on September 11, one day after the Epic-v.-Apple decision was delivered:
Thinking much more about whether we're going to live in a world where two platform megacorps dictate software and world commerce to everyone or whether the digital world and the future metaverse will be a free world. Wouldn't trade that away to get Fortnite back on iOS.
That doesn't sound like the words of a man poised to comply with the App Store rules around in-app purchases. But, it doesn't mean Epic wasn't going to submit a Fortnite build that fully complies with the rules, either. Really does seem like Sweeney just thinking out loud in a tweet.
Sweeney also tweeted an email he sent to Phil Schiller on September 16. It reads:
From: Tim Sweeney
Date: Thu, Sep 16, 2021 at 5:01 PM
Subject: Fortnite and the App Store
To: Phil Schiller

Hi Phil,

I'm writing to provide clarity on where we stand.

Epic has appealed the court's decision in our suit over Apple's policies on In-App Purchase and competing stores. Though we can't update the Fortnite version that users still have on their iOS devices, we've disabled Epic payments server-side, and have paid Apple $6,000,000 as ordered by the court.

Epic has asked Apple to reactivate our Fortnite development account. Epic promises that it will adhere to Apple's guidelines whenever and wherever we release products on Apple platforms. If we get the account back, we'll bring Fortnite back to Mac as soon as possible, and we'll reincorporate Fortnite for iOS in our Unreal Engine development and testing process, which will benefit all of our mutual developers.

Whether Epic chooses to bring Fortnite back to iOS consumers depends on whether and where Apple updates its guidelines to provide for a level playing field between Apple In-App Purchase and other methods of payment.

Epic will resubmit Fortnite to the App Store if you adhere to the plain language of the court order and allow apps to include buttons and external links that direct customers to other purchasing mechanisms without onerous terms or impediments to a good user experience. In that case, our remaining dispute will be about competing stores, and I genuinely believe we could find common ground on the topic if Apple's position were based solely on user security and privacy rather than commercial interests.

As a provider of developer tools, Epic continues to support Apple platforms and our mutual developers wholeheartedly.

If you have any questions or thoughts, I'm happy to talk.

Tim Sweeney
Epic Games
A few comments:
Epic promises that it will adhere to Apple's guidelines whenever and wherever we release products on Apple platforms.
Epic, of course, had previously promised the same thing, in a legally binding fashion, when they agreed to Apple's developer account terms and conditions. But agreeing not to break Apple's guidelines again seems in the spirit of what Apple had been asking for, regarding reinstating Fortnite.
Epic will resubmit Fortnite to the App Store if you adhere to the plain language of the court order and allow apps to include buttons and external links that direct customers to other purchasing mechanisms without onerous terms or impediments to a good user experience.
Here's where I think Sweeney garnered the legal "go fuck yourself". Sweeney is arguing that Apple, which won the lawsuit, should interpret the court's anti-steering injunction in a way that pleases Epic, which lost the lawsuit. That's not how things work.
In that case, our remaining dispute will be about competing stores, and I genuinely believe we could find common ground on the topic if Apple's position were based solely on user security and privacy rather than commercial interests.
Tim Sweeney is high as a kite.
---
So here's the thing to keep in mind, and that I think Sweeney purposefully muddled in the way he announced this news: Epic is a conglomerate with multiple subsidiaries, and those subsidiaries have their own Apple Developer Program accounts. The only developer account Apple ever disabled in this dispute was the one held by Epic Games, Inc. — the Fortnite account. It was disabled on 28 August, 2020 and has been disabled ever since.
Accounts that have never been disabled include the accounts for Rocket League (a game whose Mac support Epic discontinued in January 2020, exemplifying Epic's "wholehearted" support for "Apple platforms"), and separately and importantly, Unreal Engine. It is true that Apple moved to block the Unreal Engine account back in August 2020, but Judge Yvonne Gonzalez Rogers ordered Apple not to pending a decision in the case, while allowing the Fortnite account to be blocked. In her ruling this month, however, Gonzalez Rogers stated that Apple would now be within its rights to disable any and all of Epic's Apple developer accounts for breaching the license agreement. (See p. 179 of the ruling.)
My understanding is that none of those accounts are affected by Apple's decision not to reinstate the Fortnite developer account. Those accounts have been operational throughout this legal dispute, and I believe will continue to be — by Apple's choice. ★
---
Wednesday, 22 September 2021
---
Wednesday, 22 September 2021
I don't generally lead with benchmarks or pricing, but here's a thought about the new iPad Mini, which comes equipped with a version of the same A15 chip as the new iPhone 13 and 13 Pro models: For $500, you can buy an iPad that's more or less as fast, if not faster, at single-threaded CPU performance as an M1 Mac.
That's a tremendous value. The iPad Mini even has an A15 with an extra (fifth) GPU core, like the iPhone 13 Pro.
Upgrading from 64 to 256 GB of storage costs $150; upgrading to add cellular support costs $150. So a maxed out iPad Mini — 256 GB of storage plus cellular support — costs $800. (There are only two storage options, 64 and 256 GB.) It'd be nice if — like all the new iPhone 13 models — the base storage were 128 GB instead of 64. But, still, the new iPad Mini is a terrific little tablet, and has performance that should keep it very useful for many years to come.
It is, effectively, an iPad Air Mini. Just like the iPad Air, the new Mini sports a round-cornered display, no home button, and Touch ID on the power button. The new no-adjective entry-level iPad still has a square-cornered display, and Touch ID on a traditional home button on the front face. Also like the current iPad Air, the new iPad Mini uses a USB-C port instead of Lightning, and thus uses the superior magnetic second-generation Apple Pencil.
Because the Mini is brand new and the current Air came out last October, the Mini was able to pull ahead in certain respects: A15 instead of A14, 5G support on cellular models, and a better front-facing camera (12 MP vs. 7 MP) — including support for Center Stage, Apple's recent feature that dynamically adjusts the front-facing camera's field of view depending on how many people are in the frame and where they are. The rear cameras of the Air and Mini are similarly specced, and to my eyes shoot equivalent quality photos and video, but the new iPad Mini includes True Tone LED flash. The big win to me is the upgraded front-facing camera with Center Stage support. I'm not sure if you've heard, but video calls have become a big deal over the last two years.
I think most iPad Mini fans would have been delighted if the new model were specced exactly like the current iPad Air, at these same prices. (The iPad Air costs $100 more than the equivalent Mini for the same amount of storage — $600 for 64 GB, $750 for 256 GB — but it only costs $130 to add cellular support to the Air. I suspect the difference in cellular model pricing is a 5G thing.) That the iPad Mini offers several technical advantages over last year's iPad Air is pure gravy.
I've been using the new iPad Mini for a week. As is my tradition for reviews of and first looks at new iPad models, I'm writing this piece on the iPad Mini itself, using a bluetooth keyboard and Magic Trackpad. It's a nice small-footprint setup. The smaller text on the Mini's smaller display is a little hard on my aging and somewhat problematic eyes while sitting at hardware keyboard distance, but my biggest annoyance is the lack of Face ID. I'm spoiled by my 2018 iPad Pro — while using a keyboard with an iPad, I expect to both wake it up and unlock it by just pressing the space bar or any other key. Having to reach over and touch the Touch ID button on the iPad is, simply, an inferior experience compared to Face ID. And it's especially hard for me, right now, after a few years of expecting Face ID to just work with an iPad connected to a keyboard. I felt the same way writing last year's piece on the iPad Air.
If you don't already have a Face ID habit using your iPad, however, this should be no big deal at all. Perhaps it's even unfair for me to complain about, given that I do the vast majority of my writing on an M1 MacBook Pro — which also uses Touch ID, not Face ID. But maybe it is fair to complain about, because on a MacBook the Touch ID button is right on the keyboard — much more convenient to reach — and Macs support unlocking via the proximity of your Apple Watch. I think it'd be very cool if iPadOS supported unlocking via Apple Watch, much like MacOS does.
All that said, if you're the sort of person who'd like to do a lot of writing on an iPad Mini, you'll be fine.
One interesting change is that the hardware volume buttons have moved to the same side of the device as the power/Touch ID button. That means the volume buttons are on top when the iPad is in vertical orientation, and on the left side of the device when horizontal. The reason for this is obvious when you think about it, and consider the size of an Apple Pencil. Speaking in vertical (a.k.a. portrait) orientation terms, the Pencil, when attached, doesn't leave any room for volume buttons on the right side of the device. But the volume buttons can't go on the left side, because they'd get covered up when you connect a cover (like Apple's own Smart Folio, which is very nice — the English lavender Smart Folio that Apple provided me with pairs nicely with the purple iPad Mini.) So, the volume buttons moved.
One quibble: there are a few aspects of iPadOS that to me feel optimized only for larger iPads. The home screen Dock, for example, accepts up to 16 apps and folders. In vertical orientation, those icons are really tiny. Almost comically so. Yet in the same orientation, iPadOS will only display 5 apps in the Command-Tab switcher when you have a keyboard connected. I'm more annoyed by having just 5 apps in the Command-Tab switcher than by having super-small icons in my Dock, because I can adjust the number of apps in my Dock (by dragging a few lesser-used ones out) but I can't adjust the maximum number of apps in the Command-Tab switcher. Here's a screenshot, but viewing it on another device won't do justice to the feeling of just how small those Dock icons are, and just how comfortably a few more apps could fit in the switcher. It's hard to put a finger on it,1 but there are just certain visual elements in iPadOS that feel inconsiderately shrunken on the iPad Mini, in a way that is not true for iOS on an iPhone Mini.
A corresponding anti-quibble: After a fairly long stretch of not using an iPad Mini, I'm reminded how much nicer I find this size for typing with the on-screen keyboard compared to my 11-inch iPad Pro, because I can type with my thumbs, iPhone-style. I have never taken to typing on-screen on an iPad with my fingers, touch-typing-style, and at this point — over a decade into the iPad era — I doubt I ever will. As with the iPhone, I wouldn't want to write anything long-form using just my thumbs on the on-screen keyboard, but it's fine for dashing off text messages, tweets, and short emails. And, even better: the iPad Mini still supports splitting the keyboard in two, to make thumb-typing even easier. (It continues to baffle me that the iPad Pros do not support split keyboard mode.) If you like the idea of using an iPad as a sort of big-ass iPhone, the iPad Mini is obviously the iPad for you. ★
---
Wednesday, 22 September 2021
Tuesday, 21 September 2021
---
Tuesday, 21 September 2021
I wish I had something more clever to say about the new iPhone 13 lineup. But the practical reality is simple and obvious. The two ways that Apple could best improve the day-to-day utility of using an iPhone are improving the camera system and improving battery life. And those are exactly where Apple focused its attention for this year's new iPhones.
In theory, another practical improvement would be to make phones that are thinner and lighter. But designing phones that are thinner and lighter would be in direct conflict with improving the cameras and battery life. You can't have your cake and eat it too.
All four new iPhones — the 13 Mini, the regular 13, the 13 Pro, and the 13 Pro Max — are the exact same height and width as the corresponding models from last year's iPhone 12 lineup. But all four of the new iPhones are slightly thicker and heavier. The increase in thickness is very slight — from 7.4 mm to 7.65 mm. The increase in weight varies from around 5 to 7 percent. Not a lot, but you can feel it.
The model with the biggest physical change year-over-year is the 6.1-inch 13 Pro. (Apple provided me with all four for testing, but I've spent most of my time over the last six days using the 13 Pro.) Last year, the 12 Pro Max had a much bigger camera module on the back — bigger lenses that protrude more, and a bigger "platform" ("plateau"?) in which the lenses sit. This year, the 13 Pro and 13 Pro Max share the same camera module. You can both see and feel the difference on the 13 Pro compared to last year's 12 Pro, or to any other previous iPhone in the "regular" size class.
It is comical to look back at the minor controversy surrounding the iPhone 6 back in 2014. That was the first year the iPhone camera had a "bump", which at the time seemed weird and obtrusive, even if the reason for the bump was obvious: improved optics. The controversy was that Apple's promotional photography for the iPhone 6 seemed to go out of its way to hide that camera bump — in a bunch of Apple's profile shots, the back of the iPhone 6 looked perfectly flat. Apple deliberately chose angles and perspectives that did not show the camera bump, and headlines described the camera — that tiny little iPhone 6 camera — as an "embarrassing bulge".
Fast forward to today, and Apple is using photographs for the iPhone 13 Pro and Pro Max, that, if anything, emphasize the camera system's size and prominence. Here's a screenshot from Apple's iPhone 13 Pro product page: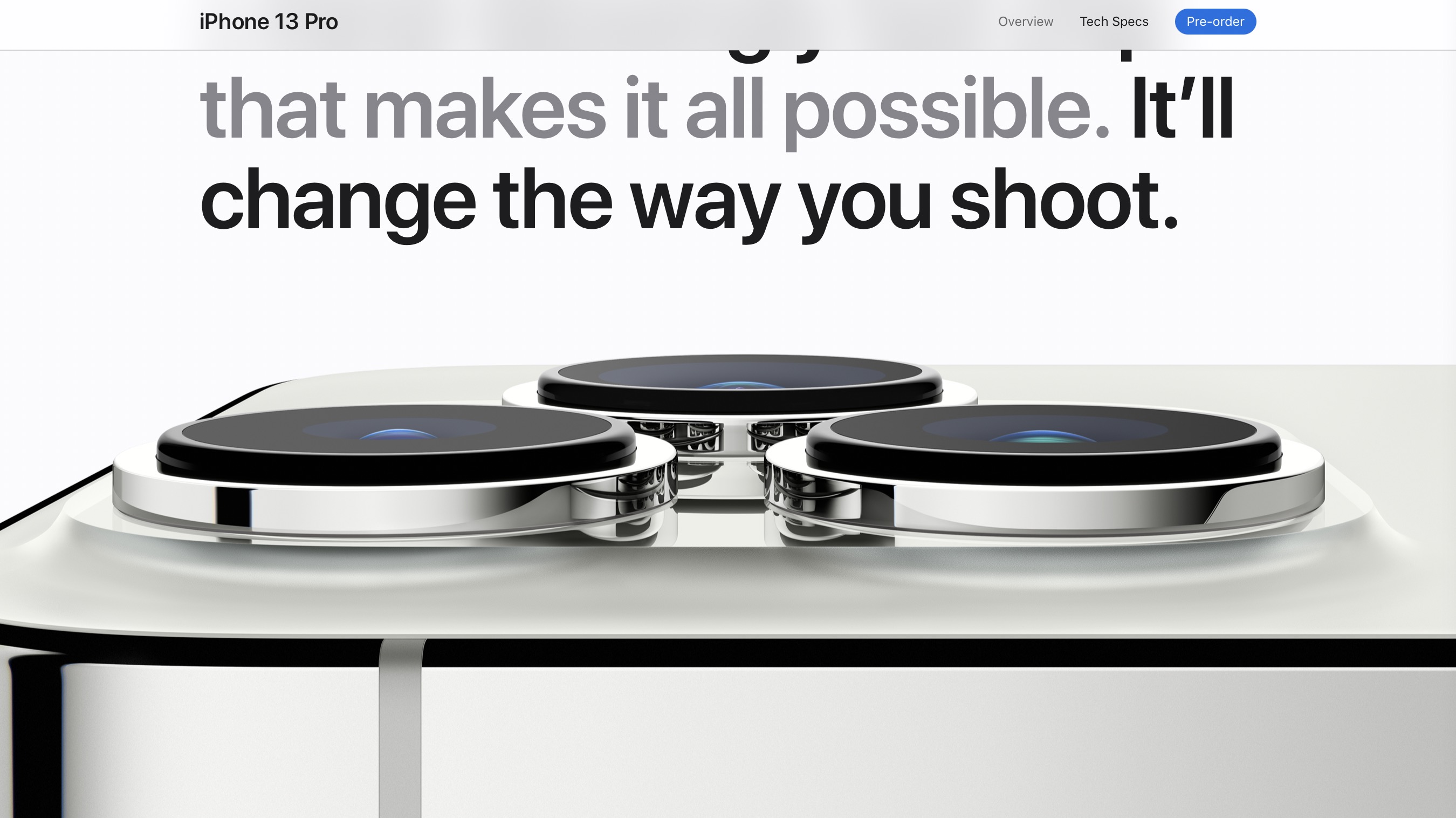 Nobody can claim Apple is hiding this "bump". As with the 12 Pro Max last year, the camera systems on the 13 Pro and 13 Pro Max protrude so far that Apple's cases for the devices have a prominent protective plastic lip around the camera cutout, such that even in a case, the iPhone wobbles when lying on a flat surface. (The cases for the iPhone 13 and 13 Mini have lips around the camera now, too, but they're much smaller.)
I've been arguing for years that iPhones are evolving such that they're better thought of as cameras than "phones". Now, there's no need to argue about it. That's especially true for the Pro models. What's "pro" about the iPhone 13 Pro and Pro Max? The cameras. The "pro" prefix is right there in the name of camera features exclusive to the Pro devices: ProRAW and ProRes. I think it's fair to say that the iPhone 13 and 13 Mini are phones with very good cameras; the 13 Pro and Pro Max are excellent cameras with phones.
Computational photography is upending the entire camera world. It's hard to beat the physics of good glass and large sensors, but math is doing pretty good — and gaining fast.
Performance, Efficiency, and ProMotion
During Apple's keynote last week, the company didn't mention year-over-year performance numbers for the A15 chip. This led to some speculation that maybe the A15 isn't much faster than the A14. But when benchmarks started leaking last week after phones got into reviewers' hands, they showed performance improvements roughly in line with the improvements from the last few years: about 10 percent faster in single-threaded benchmarks, and about 20 percent faster in multi-threaded. That jibes with the numbers I saw using GeekBench 5 and the web-based Speedometer benchmark.
Apple doesn't like to explain itself, but I think they decided against emphasizing traditional benchmark-type figures ("20 percent faster CPU performance, 40 percent faster machine learning", etc.) not because the A15 fares poorly in such comparisons, but because numbers like that don't really tell the story of what the A15 is about. The more impressive year-over-year improvements are in battery life, and I think that's largely about the efficiency of the A15. It is faster than the A14, by reasonable margins, but what's more impressive is how much longer battery life is, with only a modest increase in device thickness.
On the iPhone model comparison page, Apple cites separate battery figures for "Video playback" and "Video playback (streamed)". That's something almost everyone does with their phones — stream video. A practical, real-world measure of battery life. Here are the year-over-year streaming video improvements for each of the four iPhones 12 and 13:
iPhone 13 Mini: 13 hours, up from 10 hours last year on the 12 Mini.
iPhone 13: 15 hours, up from 11 hours last year on the regular 12.
iPhone 13 Pro: 20 hours, up from 11 hours last year on the 12 Pro.
iPhone 13 Pro Max: 25 hours, up from 12 hours last year on the 12 Pro Max.
Those are very big improvements for the non-pro iPhone 13 and 13 Mini. But the numbers for the 13 Pro and Pro Max are bananas. The Pro Max more than doubled its battery life for streaming video playback in a year. (!) All four iPhone 13 models are seeing benefits here from the A15 chip. But the Pro models are benefiting from a surprising direction: ProMotion. That's Apple's name for adaptive screen refresh rates. With the iPhone 13 Pro and Pro Max, the screen refresh rate ranges from as low as 10 Hz to as high as 120 Hz, and the system just manages it automatically based on what's on screen. It's the high refresh rates that garner attention — it's a feature that makes scrolling look noticeably smoother. It just looks nicer.1 But, of course, updating the display at twice the refresh rate — 120 Hz instead of 60 — obviously consumes more power.
This led to some speculation that the iPhone 13 Pro might get worse battery life than the regular iPhone 13, because ProMotion is exclusive to the 13 Pro and Pro Max. That speculation was based on the fact that high-end Android phones with high refresh rates — 90 or 120 Hz — take noticeable hits to battery life. What makes ProMotion different is that it's adaptive. The showy-offy aspect of ProMotion is the high refresh rates, but the undeniable practical benefits are the adaptive lower refresh rates. That's why the streaming video playback numbers for the 13 Pro and 13 Pro Max effectively doubled year-over-year: stream a video at 30 frames per second, and ProMotion will adapt the display refresh rate to 30 Hz. The adaptive nature of ProMotion means that not only does it not hurt battery life, like the less sophisticated high refresh rate features on Android phones, but it actually helps extend battery life for common tasks like watching video or reading text. Yes, the iPhone is late to the high refresh rate game, but as is often the case with Apple, it was worth waiting for.
Miscellaneous
Cinematic video mode is a lot of fun. It's a gimmick, yes, but I don't mean that pejoratively. Gimmicks can be fun. Fun is good. I think people are going to use this feature to make videos that really will look more cinematic. It's also nice that it's not a feature exclusive to the Pro models. But like Portrait mode for stills, edge detection around subjects' hair and eyeglasses can be hit or miss in Cinematic mode. Also, I find it a bit curious that Cinematic mode only shoots in one format: 1080p at 30 FPS. The 1080p limitation I understand — the ML-driven automatic subject detection and dynamically-created "bokeh" depth of field effect are clearly computationally expensive. But why not offer 24 FPS too? For reasons that have never been clear to me, Apple's Camera app has only ever offered 24 FPS at 4K resolution, not at 1080p or 720p. The camera is certainly capable of it — plenty of third-party camera apps let you shoot 24 FPS video at 1080p and 720p, in addition to 4K. But only the system's Camera app can shoot in Cinematic mode, a mode whose very name suggests "film style", which is exactly the term Apple itself uses in the Settings app to describe 4K 24 FPS.

Macro photography on the iPhone 13 Pro models is also a lot of fun. It's almost like gaining a super power — the ability to see small objects and details far more clearly than with the naked eye. The way that macro mode kicks in automatically, though, can be a little jarring. How it works is, with a 1× field of view in the regular still photo mode, when you bring the camera very close to a subject or surface, the Camera app switches to the 0.5× ultra wide camera. But it's not an ultra-wide field of view. You get a roughly 1× field of view but a very close focal distance. The jarring part is when the viewfinder switches between cameras — it's like a jump cut. It's understandable, and doesn't dampen the utility or fun of the feature, but it's a little weird every time you see it happen. It makes it feel not quite as automatic or modeless as Apple intends it to feel. Also, the built-in Magnifier app (Settings → Accessibility → Accessibility Shortcut) doesn't seem to use the camera's macro capability. For reading really tiny text — like, say, some of the hidden fine print on U.S. currency — it's far easier and more effective to use the Camera app than the Magnifier app.

I bought a regular iPhone 12 last year for my personal use, but I've already ordered a 13 Pro this year. (Graphite, of course, because I'm boring that way.) The camera is just too good. Maybe the new 3× telephoto lens just feels like a lot of zoom to me, personally, because I've spent the last year mostly using an iPhone 12 that doesn't have a telephoto lens of any sort, but it really feels like a lot of extra zoom compared even to a 2× iPhone camera from previous years.

Polished stainless steel still feels like an odd material for a phone with flat sides. Somehow, to me, polished steel worked better for the round-sided iPhones (X, XS, 11). With the flat-sided iPhones 12 Pro and now 13 Pro, it's a fingerprint magnet when used without a case. The aluminum iPhones 13 have better hand-feel to my taste, including the buttons.

Colors: my review units are gold (13 Pro), sierra blue (13 Pro Max), midnight (13 Mini), and blue (regular 13). The gold once again is a very C-3PO gold. Sierra blue is very nice, and quite distinctive from any previous iPhone — I can see why Apple is using it a lot in their advertising. It plays as silver-y at times, but very clearly blue at others. Midnight plays as black or very dark gray, until you put it next to something truly black — it's then apparent that midnight has a small touch of blue. It makes last year's black iPhone 12 models look a little drab side-by-side. The non-pro iPhone 13 in just plain blue is nice. It's a rich, vibrant blue. But once again, the screws on the bottom edge are not color matched. The midnight iPhone 13 Mini has nearly-matching black screws, but the blue iPhone 13 has silver screws. I don't know why that bugs me.

Battery life was outstanding. As usual, I've been using the phone extensively, including power-hungry features like Cinematic mode, and I ended each day with plenty of charge left in the tank. ★
---
Saturday, 18 September 2021
---
Wednesday, 15 September 2021
The Event
Staging-wise, I'm not sure I get Apple's "let's make this all about California" strategy. The footage from various scenic locations across the state was beautiful, but I don't get why it mattered for this particular event. Apple's always been in California, they've always been proud of being from California. My best guess is that it's as simple as needing a theme of some sort, and "California scenic beauty" was as good as any, for yet another COVID era event that couldn't be held inside with an audience. Joz presented outside at Apple Park, and Cook was on stage in the Steve Jobs theater, but I get the feeling they wanted to break away from Apple Park as the set dressing for the whole show, too.
To that point, I thought Kaiann Drance's segment introducing the iPhone 13 and 13 Mini was the most stunning. Standing on stage, alone, at the San Diego Symphony's outdoor theater, in front of all those empty seats. It was both beautiful and an instant reminder of what we're all missing.
The iPhones 13
Last year, the iPhone 12 and 12 Pro — the two "regular" sized new iPhones — shared the exact same protective cases. This year, there are different cases for the iPhone 13 and 13 Pro. I think that's because the three-lens camera module on the back of the iPhone 13 Pro is bigger than the two-lens module on the iPhone 13. The width, height, and depth of the 13 Pro and regular 13 are identical.
Last year, the 12 Pro Max had a better camera system than the 12 Pro. Only the 12 Pro Max had the sensor shift optical image stabilization, and only the 12 Pro Max had a 2.5× (as opposed to 2×) telephoto lens. This year, both Pro models have identical camera systems. (And, like last year, the regular iPhone 13 and 13 Mini share the same camera system as each other.)
The iPhone 13 Pro camera modules are entirely different from the non-Pro 13 and 13 Mini, though. Not just the existence of the new 3× telephoto, but the 1× (wide) and 0.5× (ultra wide) cameras are better on the Pro models. The 1× Pro camera has a maximum aperture of ƒ/1.5; the 1× non-Pro camera is ƒ/1.6. (Lower values for aperture let in more light; photographer lingo is that they're "faster".) The 0.5× Pro camera has a fast ƒ/1.8 aperture; the 0.5× non-Pro camera is ƒ/2.4.
Macro photography is a Pro-only feature, I believe because the 13 Pro 0.5× ultra wide camera has autofocus, and the non-Pro 0.5× camera is fixed-focus.
The front-facing camera on all iPhone 13 models appears to be the same, but only the Pro models can shoot in the ProRes format. (Not sure why anyone would want to shoot ProRes with the front-facing camera, though. But I guess why not enable it?)
The AI-driven automatic focus changes in Cinematic Mode video seem too good to be true. Very futuristic feature, if it works as promised.
I really missed having a hands-on experience with the new devices, if only to consider their colors. "Starlight" appears to be silver with a slight hint of gold. I'm tempted to say champagne, but maybe that implies too much gold. "Midnight" isn't quite neutral dark gray or near-black — it has a hint of blue or indigo. (Blue is seemingly the color of the year. Anecdotally, it seems like a lot of people I know are planning to get the Pro models in Sierra Blue.)
Apple Watch Series 7
A bigger screen, with a brighter always-on display mode, and faster charging are OK year-over-year improvements. But clearly Series 7 is a minor, not major, refresh. That's fine, and inevitable for a maturing product. You're not supposed to buy a new $500 Apple Watch every year, and while I know a lot of people who buy a new iPhone each year (including yours truly), I don't know anyone, even devout fitness enthusiasts, who buys a new Apple Watch annually. Even every other year feels pretty frequent. A Series 5 or Series 4, purchased new, should still be a really great Apple Watch. [Update: I should have known my audience better. A bunch of you buy a new Apple Watch every year. I think we can all admit it's atypical, though — and that developers who buy a new one every year for testing are an edge case.]
Quinn "Snazzy Labs" Nelson flagged Apple for an unfair comparison, regarding just how much more text the larger Series 7 displays can show at a time. The font was the same size, but the line spacing was quite a bit tighter in the Series 7 screenshot. I would also argue that Apple chose text that line-wrapped inefficiently on the Series 6 display, but the difference in line heights is clearly unfair. Apple doesn't usually play games like that in comparisons. Yellow card issued.
The entry model $199 Apple Watch remains the now-kinda-long-in-the-tooth Series 3. I was really hoping for the Series 4 to take that spot in the lineup. I know developers of WatchOS apps were too. The Series 3 has an outdated screen size that developers are going to have to support for years to come.
New iPad Mini and 9th-Generation Just-Plain iPad
The iPad Mini has always been on a unique upgrade cycle. It goes years between refreshes, but when Apple does update it, they tend to bring it up to current specs. The new iPad Mini has the same A15 SoC as the iPhones 13 — in fact, it has the 5-core GPU like the iPhone 13 Pro models, not the 4-core GPU like the iPhone 13 and 13 Mini. The previous iPad Mini had the A12.
The iPad Mini is really more like an iPad Air Mini. The new regular "iPad" still has a home button and sharp-cornered display. The Mini has the modern round-cornered display, no home button, and a Touch ID sensor on the power button — just like the current iPad Air. Also like the iPad Air, the new Mini has a USB-C port instead of Lightning. The volume buttons for the Mini are on the top of the device — a first for iPad. I'm guessing that decision was mainly about supporting the magnetic Pencil 2 along the long side of the device where the volume buttons traditionally go for iPads.
TV+ and Fitness+
One thought that occurred to me is that it's good to see Apple pushing forward on their own original service products. Even putting aside the legal and legislative attention regarding the App Store — big things to put aside, at the moment — I just don't think it's healthy for Apple to depend on rent-seeking to grow Services revenue. Getting 30 percent of the revenue from subscriptions to other company's services is a fine business, financially, but it's like junk food for any company's culture. Apple is a great company because they make great original things that people want to pay for. TV+ and Fitness+ are exactly that. Collecting 30 percent of another company's in-app subscription revenue is not. ★
---
Wednesday, 15 September 2021
Tuesday, 14 September 2021
Monday, 13 September 2021