Monday, 18 October 2021
All of these are purely guesses, based on rumors and my sense of which way the wind is blowing in Cupertino. I could well be wrong about most of these. I started a thread on Twitter with most of the following guesses — feel free to chime in with your guesses and wishes there. We need to do something for the next 90 minutes, might as well speculate.
New MacBook Pros:
Slightly thicker bodies.
Slightly raised feet for cooling.
No notch.
SD card slot + HDMI port. (I think an SD card slot is more likely than HDMI though — HDMI is so damn thick.)
USB-A port: nope.
New MagSafe connector.
Touch Bar? I hope they replace it with something new, Touch Bar 2, not just a return to dumb F-keys. F-keys would be easier though, and would satisfy the Touch Bar haters. I just can't shake the feeling that the Touch Bar was a wonderful idea but the first crack at it wasn't good enough. People need to feel keys — your eyes are on the display, not the keyboard.
CPU performance we can kind of extrapolate from the state-of-the-art A15 chips and from the existing M1's. We know they're going to be fast, and we know that adding more high-performance cores will be game-changing for many pro workflows. But I think a big part of the story will be sustained performance, not just peak performance. Let these chips actually get warm — hence my guess that these MacBook Pros might be slightly thicker than the Intel-based models they're replacing. We know from the late great iMac Pro that Apple can engineer incredible cooling systems that run nearly silently. Do it for pro MacBooks now.
What I think might prove shocking is the GPU performance of these chips. Particularly performance per watt. The hitch: apps will need to embrace Metal APIs to take advantage of them. Very interested to see which, if any, third-party developers got advanced access and get demo time during the show.
New large-display iMacs with pro-level performance? I'd love to see it. Feels due. But the rumor mill is very dry on this front. Would be fun if they're ready to go and Apple has kept them under wraps.
New standalone sanely-priced Apple display? Again, nothing from the rumor mill, but I'd love to see it. People want standalone displays for their MacBooks and Mac Minis. People don't want to spend $5,000 on a Pro Display XDR. Third-party display makers clearly are not capable of or willing to serve the Mac market. So why not get back in the prosumer display game with a $1,500 iMac-quality standalone display? ★
Wednesday, 13 October 2021
Caring — really caring — about watches is a mixed blessing. It's a fun hobby. It's also a curse. You notice little things. Really little things. And if those minute details please you, they bring you joy. But when they annoy you, even just one little thing can ruin an entire watch for you. Most people buying a new watch don't really care about the minute details. But that doesn't mean those minute details don't matter. The affection a particular watch engenders is the result of all those details, regardless of whether the beholder notices any of them in particular.
At a glance, all Apple Watches — from the original "Series 0" in 2015 to the new Series 7 models shipping this week — have more or less looked the same. Unlike any other product Apple has ever made, they really nailed the basic shape and look, the gestalt, on the first try. It was birthed as an iconic design.
Give them more than a glance though, and you can spot a significant evolutionary schism between Series 0–3 and Series 4–6. With Series 4, the displays went round-cornered (à la the iPhone X, and subsequent iPad Pros), which, side-by-side, makes the square-cornered displays on the Series 3 and prior look crude in comparison. (This is one reason it's such a shame that the Series 3 remains the entry-level $200 model.) Apple did its best to hide this crudeness in the early years of WatchOS, by using black backgrounds exclusively on nearly all of the then-available watch faces.1 Because Apple Watch has always used OLED displays, and OLED blacks are utterly black, a watch face with a black background effectively disguises the border between the display and its surrounding black bezel.
The Series 4–6 display wasn't just more graceful, with its round corners, but also just plain bigger. That's the first thing any observer would notice about the Series 4 through 6 models compared to the Series 0 through 3. But look carefully and you can see a clear difference in the case shapes, too. The Series 0–3 cases were like rectangular boxes with round sides and corners; the Series 4 introduced a new case shape that defies easy description. It was more capsule-like, more elliptical. More organic, like a water-worn pebble. The three-dimensional equivalent of the way that iOS (and, sadly, now Mac) app icons are not simple roundrects, but in fact super elliptical squircles. Another example: the fascinating shape of the iPhone X notch.
You don't have to care deeply about the details of these shapes. Most people don't. But designers at Apple do, because that's the job of a designer: not just to sweat the little details but to really sweat them. But I think even a casual observer would notice the change in case shape between Series 3 and 4, if you pointed it out to them. Apple Watch was born rounded, but got more rounded (and more complexly rounded) with Series 4.
Which brings us to Series 7.
The knock on Series 7 is that there's nothing new but a bigger display. But it's a much bigger display. It's the one new thing that everyone will notice, and it's very noticeable. Nothing new but a bigger display is enough to establish Series 7 as a landmark new design. This graphic from Apple's "Compare" page for Apple Watch is, to my eyes, very fair. (The Apple Watch SE is, effectively, a Series 6 without the always-on display and ECG and blood oxygen sensors. It's the lack of an always-on display that, in my opinion, retards the SE.)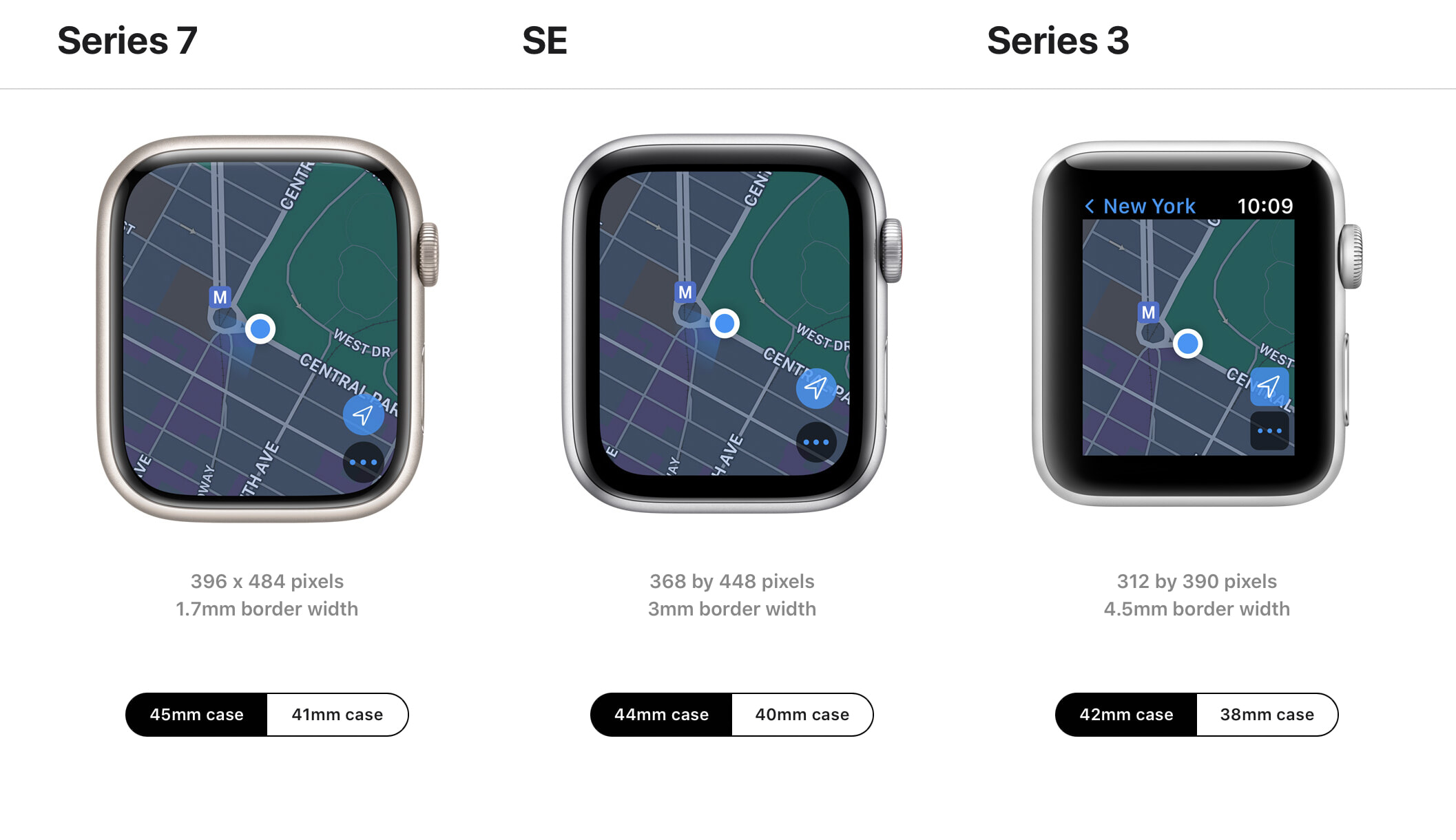 The thing most people will not notice, at least not by merely looking at the Series 7 next to a Series 4–6 (or SE), is that the case shape is all new too. It's ever so slightly bigger; hence the change in description from 44 / 40 mm to 45 / 41 mm, respectively, for the larger / smaller models. These sizes represent the heights of the watch cases, not the display sizes. The Series 7 watch cases are slightly wider, too, by about 1 mm.
1 mm is a minor difference by the scale of most devices. A new MacBook or iPad that grew by one single millimeter in height and width would be hard to notice. It might be barely noticeable for a phone. But 1 mm is a meaningful difference at watch scale. The Series 7 watch sits slightly bigger on the wrist. It's a subtle difference, to be sure, but it is noticeable. This is neither a complaint nor a compliment. You might like the bigger presence on your wrist, or you might not. It is different though. And because every other Apple product's "size" is determined by the display, not the case, many people might assume — wrongly — that the changes from 44 to 45 mm and 40 to 41 mm are only about fitting larger displays into the same size cases. With Series 7, the displays are a lot bigger; but the cases are a little bigger too.
So too with the watch faces on Series 7. They're all slightly bigger, not merely scaled to fill the bigger displays but redrawn to properly accommodate the bigger displays. To be in accordance; to be proportionally precise. This changes the character of the existing watch faces in subtle ways. My go-to watch face has been unchanged since 2015: Utility, with no numeric indexes. My first few days wearing the Series 7, my gut reaction was less that the watch itself had grown too large, but rather that the Utility watch dial had grown too large. Now, one week in, I've grown used to it. I needed time to adjust. Everything is bigger on the Series 7 watch faces, including the complications.
A couple of subtle details regarding the new display. The way that the outer edges of the display extend under the curves of the crystal is attractive. It's a neat refractive effect. There's no utility to it; it just looks cool. But it also means WatchOS app developers need to consider a new set of "safe area" layout guidelines. As per Apple's developer documentation, buttons and images should extend to the very edges of the display, but text should not. The Series 7 always-on display mode is noticeably brighter than on my personal Series 5 watch — the first Apple Watch that offered an always-on mode.
A new feature exclusive to Series 7 is a QWERTY on-screen keyboard. I found this keyboard very frustrating to use. If you're a swipe-typer on iPhone — I'm not — you might find it more useful, but if I need to enter text on my watch, I still find it way faster and way more accurate to dictate by voice. If I could disable this QWERTY keyboard, I would. The text entry user interface is better on the Series 4–6 watches because they don't waste so much space with this too-small keyboard. And I'm using a 45 mm Series 7; I can only imagine how finicky the keyboard is on the 41 mm models.
With the slightly bigger cases and significantly bigger displays, for those people who find themselves on the fence between the larger and smaller sizes, more people than ever will prefer the smaller 41 mm size. With the original Series 0–3 form factor, it felt like the 42 mm size was "regular" and the 38 mm was "small". That evened out with the Series 4–6 form factor. With Series 7, I suspect the 41 mm size will seem "regular" and the 45 mm will seem "large". (I use the verb suspect here because I haven't seen a 41 mm Series 7 in person yet.)2
Apple sent me the aluminum green Series 7, along with the green Solo Loop and Leather Link bands. I particularly like it on the Leather Link band, which is among my favorite straps Apple has made to date. The green leather has a sort of matte finish that pairs nicely with the non-glossy aluminum finish. The anodized green aluminum is really dark — much darker in person than Apple's product photography would suggest. It plays as black or near-black in most lighting conditions. I like this green watch much more in person than from how it looks on Apple's website — because it is so dark. If you're hoping for a more verdant green, though, you might be disappointed. I highly suggest looking at — and trying on — the new watches in person, even if you're already an Apple Watch owner.
For existing Apple Watch owners, there are very few reasons to consider buying a Series 7 other than the reasons why anyone ever buys a new watch: because you like the way it looks. Apple Watch is a watch that happens to be a computer, not a computer that you happen to wear on your wrist. Evaluate the upgrade decision like you would a computer or even a phone and you're missing the point.3
Seven generations in, it seems clear that Apple has pursued a consistent Platonic ideal for Apple Watch from the start, in terms of its shape, size, and display. Series 4 was a major refinement, with significant changes that brought Apple Watch quite close to that ideal. Series 7 is a minor refinement, not major, but that's because the Series 4 redesign got Apple Watch so close to what it was meant to be from the outset. Perhaps someday Apple will release an altogether re-imagined Apple Watch — a new ideal. But perhaps not. Apple Watch has always known what it wanted to be, and Series 7 is closer to that than ever. ★
Friday, 1 October 2021
Our long national iOS 15 Safari nightmare ended last month, praise be, but the lesser of the two bad Safari designs unveiled at WWDC persists and actually shipped: the new tabs in Safari 15 for Mac. Safari 15 on iPad suffers similarly, but it's the Mac version I'll concentrate on here.
The most controversial Mac Safari changes shown at WWDC — compressing tabs and the URL location field into a single row at the top of each window, and coloring the entire window with the accent color of the currently frontmost web page — are settings that (thankfully) can be turned off in Safari's Preferences window (under "Tabs", natch). The "Compact" layout that puts tabs and the location field in the same row — by using the tabs themselves as the text editing fields for URLs — is, thankfully, off by default. But the "Show color in tab bar" option is on by default: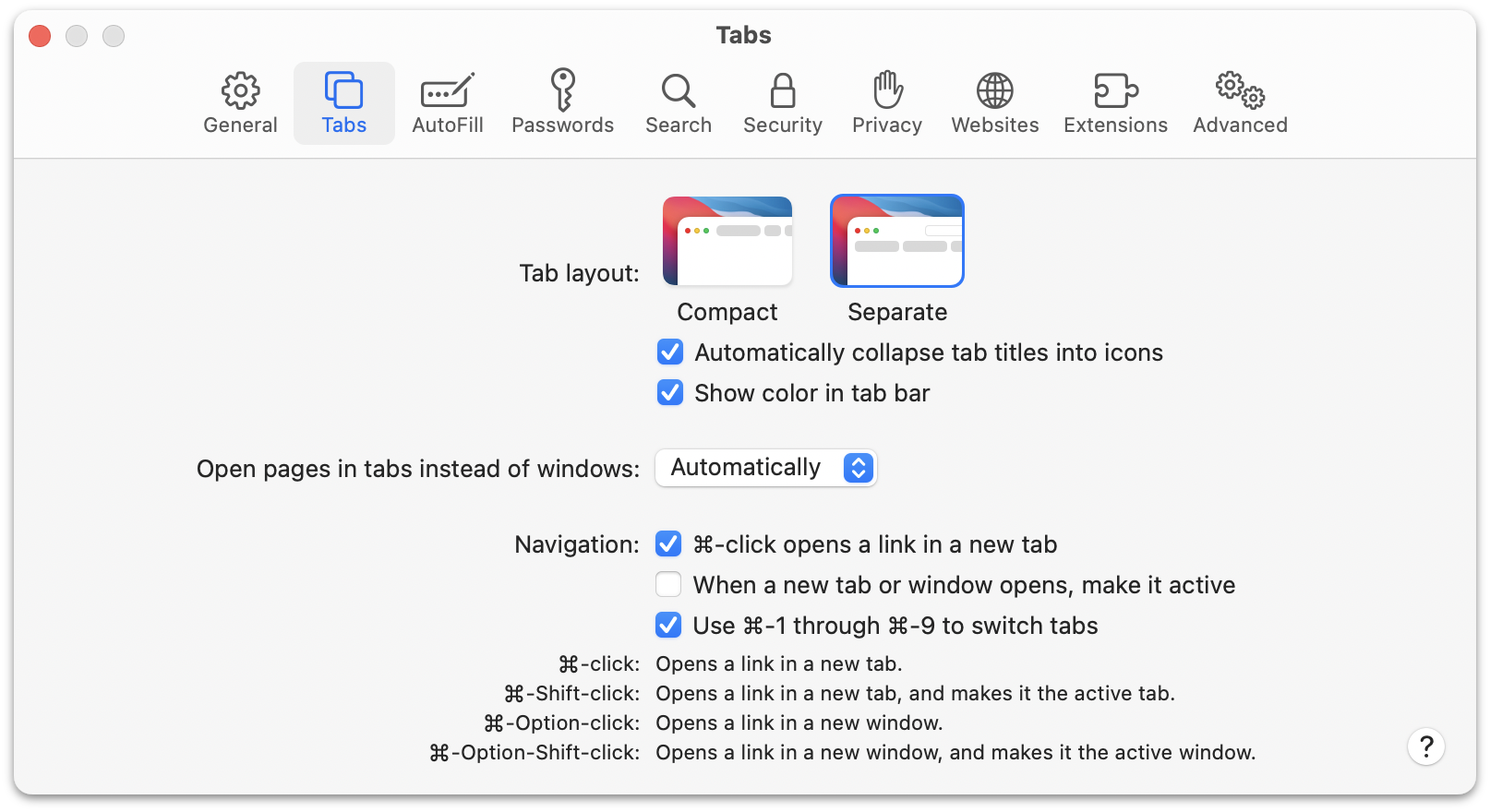 Here's what it looks like as you switch back and forth between tabs with this option on. (Note that I've done nothing, explicitly, to support this feature on Daring Fireball.)
Apple, in the "What's New in Safari" alert that's shown upon first run after upgrading to Safari 15, describes the new tabs thus:
Redesigned tabs
Tabs have a rounder and more defined appearance and adjust to match the colors of each site, extending your web page to the edge of the window.
This is nonsense. The color matching does not extend web pages at all. It just looks like it does. Who, for example, owns this button?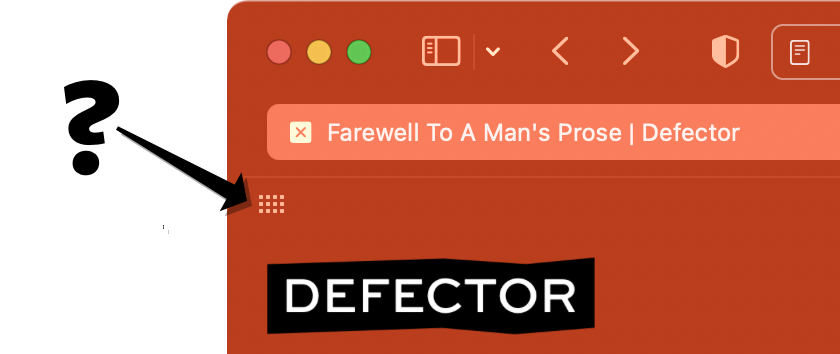 Is that Defector's button? Or is it Safari's? It sure as shit looks like it's Defector's — but it's Safari's. Click that thinking it's a menu for Defector and you'll be surprised to be dumped to your Safari Start Page.
I despise the new tabs even when the "Show color in tab bar" and "Compact" layout settings are turned off. They don't look like tabs. They look like buttons. Here are four full-window screenshots, in order from worst to best to my liking:
The "Separate" layout, with "Show color in tab bar" off, is the closest you can get to Safari's previous tab design. These new "tabs" waste space because, like buttons, they're spaced apart. Tabs that look like real-world tabs aren't just a decorative style. They're a visual metaphor. My brain likes visual metaphors. It craves them. And my brain is very much comfortable with the particular visual metaphor of tabs in a web browser window. Buttons do not work as a metaphor for multiple documents within a single window. Thus, trying to use the new Safari 15 on Mac (and iPadOS 15, alas), I feel somewhat disoriented working within Safari. I have to think, continuously, about something I have never had to think about since tabbed browsing became a thing almost 20 years ago.1 The design is counterintuitive: What sense does it make that no matter your settings, the active tab is rendered with less contrast between the tab title and the background than background tabs? The active tab should be the one that pops.
Safari actually debuted as a public beta in January 2003 without any support for tabbed browsing (which, humorously, I was OK with — the tab habit hadn't gotten its grips on me yet), but within a few weeks it had tabs. Apart from that brief weeks-long stint when it debuted as a public beta in 2003, Safari for Mac has always had tabs. And those tabs have always looked like tabs, because why would anyone want to make them look like anything other than tabs? There are certainly a lot of ways to style tabs in a UI. Try different browsers, try different windowing OSes, and you'll see many different takes on tabs. Even the Safari team at Apple has experimented with various different tab styles — most famously, in 2009, when they put the tabs at the top of the window for Safari 4's public beta. It was an experiment Apple wound up abandoning, but they didn't need to — it could have worked well with some tweaking, as I explored in a copiously illustrated post at the time.
Google Chrome — and Chrome-derivatives like Brave and Microsoft Edge — now use tabs-on-top layouts very much like what the Safari team experimented with in 2009. It's a fine design that confuses no one. They work because they both look like tabs and embrace the tab metaphor.
Not so with Safari 15. Consider a window with two tabs, perhaps both from the same website. A very common scenario, I think it's fair to say. With Safari 15, it's almost a guessing game, a coin flip, when you want to determine which tab is active: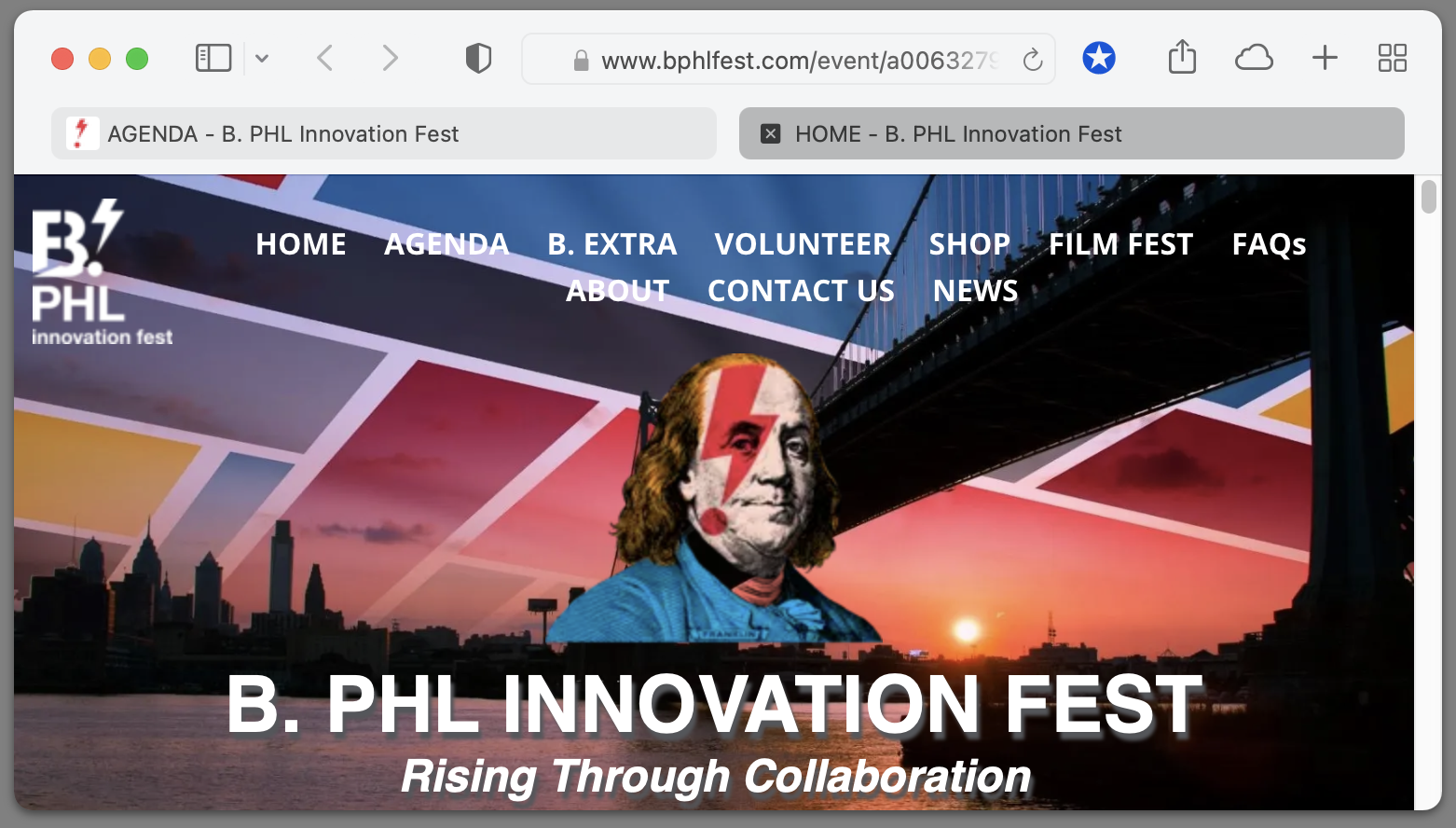 It's even more ambiguous in dark mode: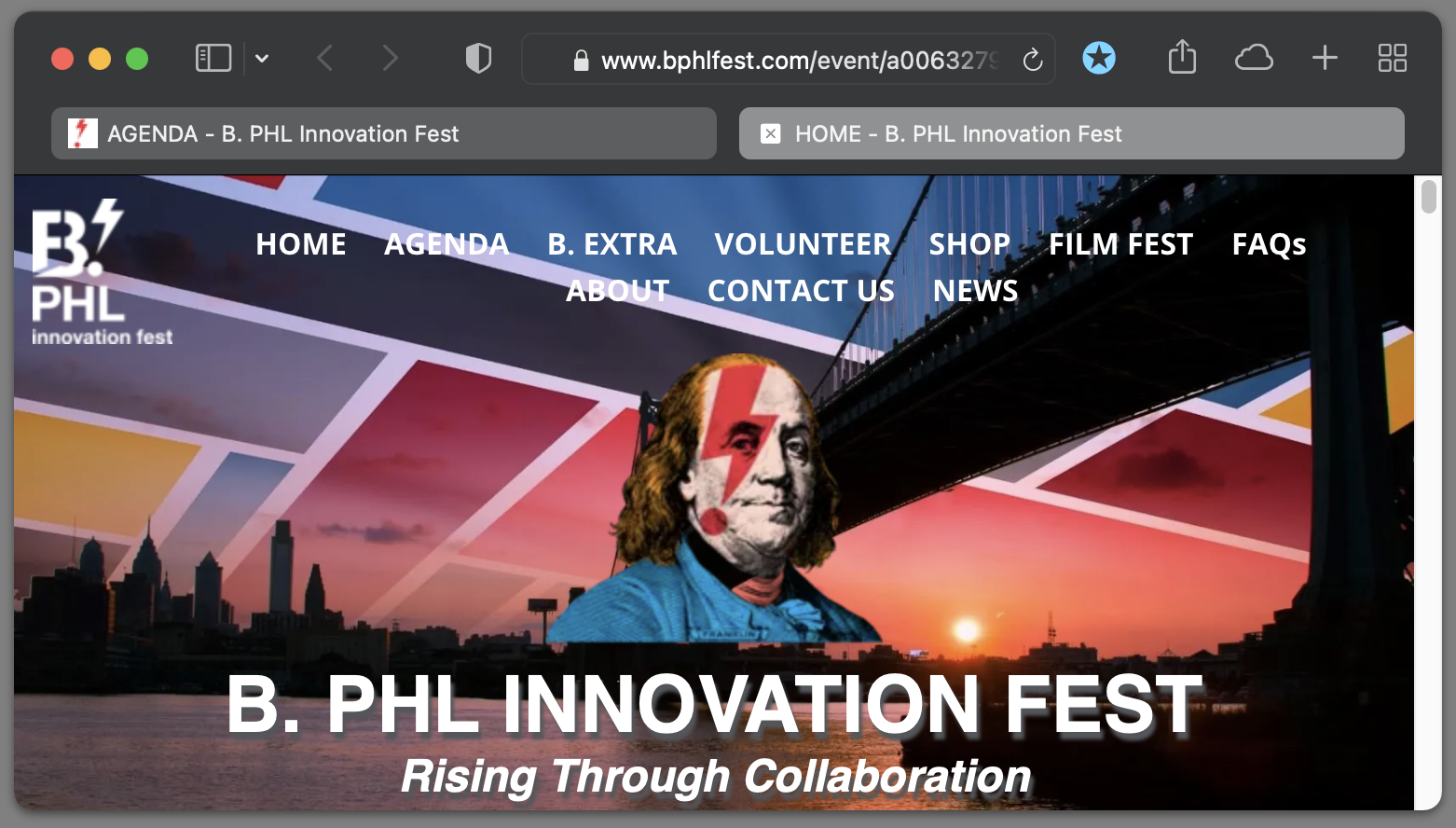 In Safari 14 — as well as Safari versions 1–13, and every other browser I'm aware of — there's never any ambiguity about which tab is active, in either light mode or dark mode: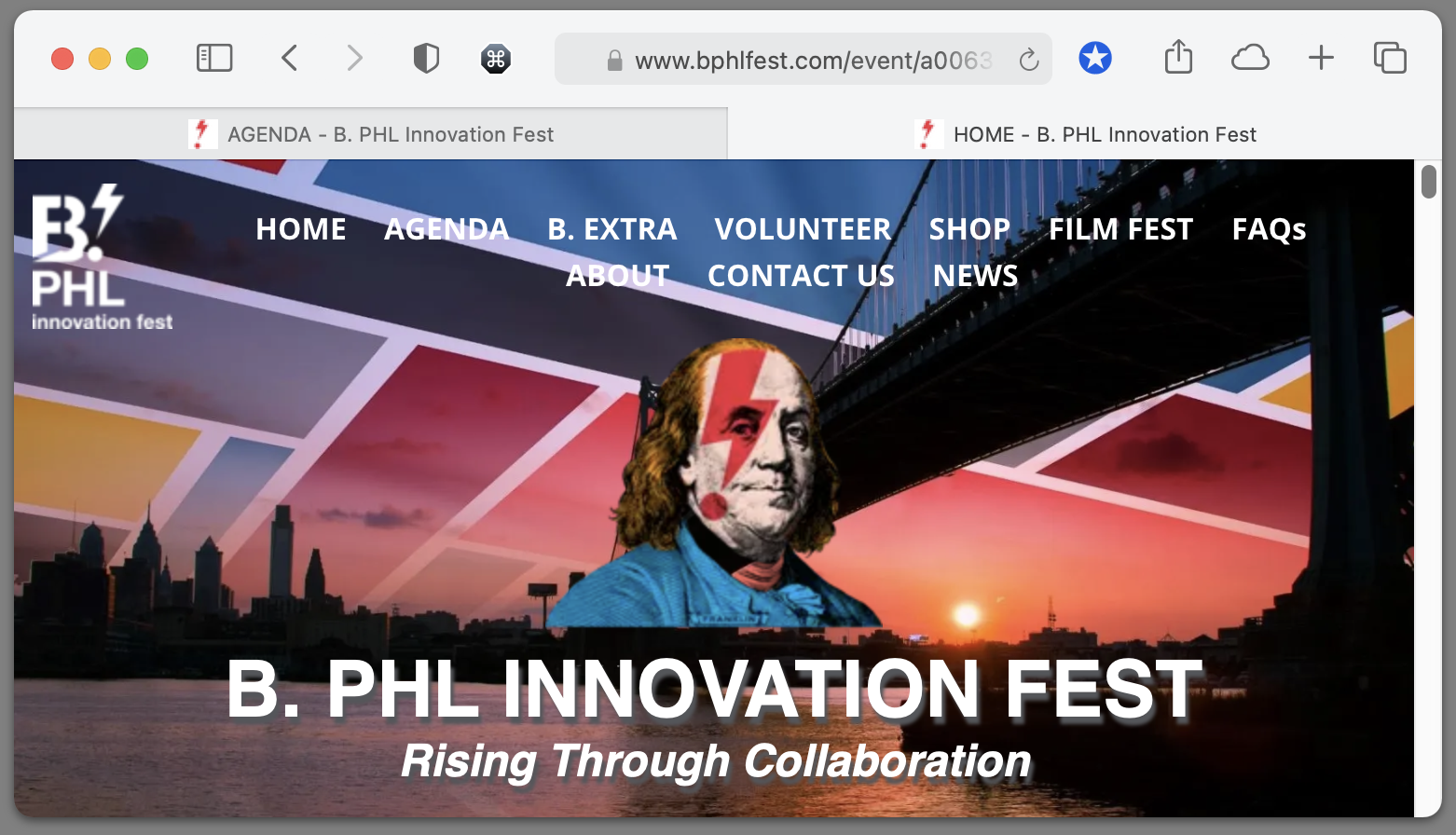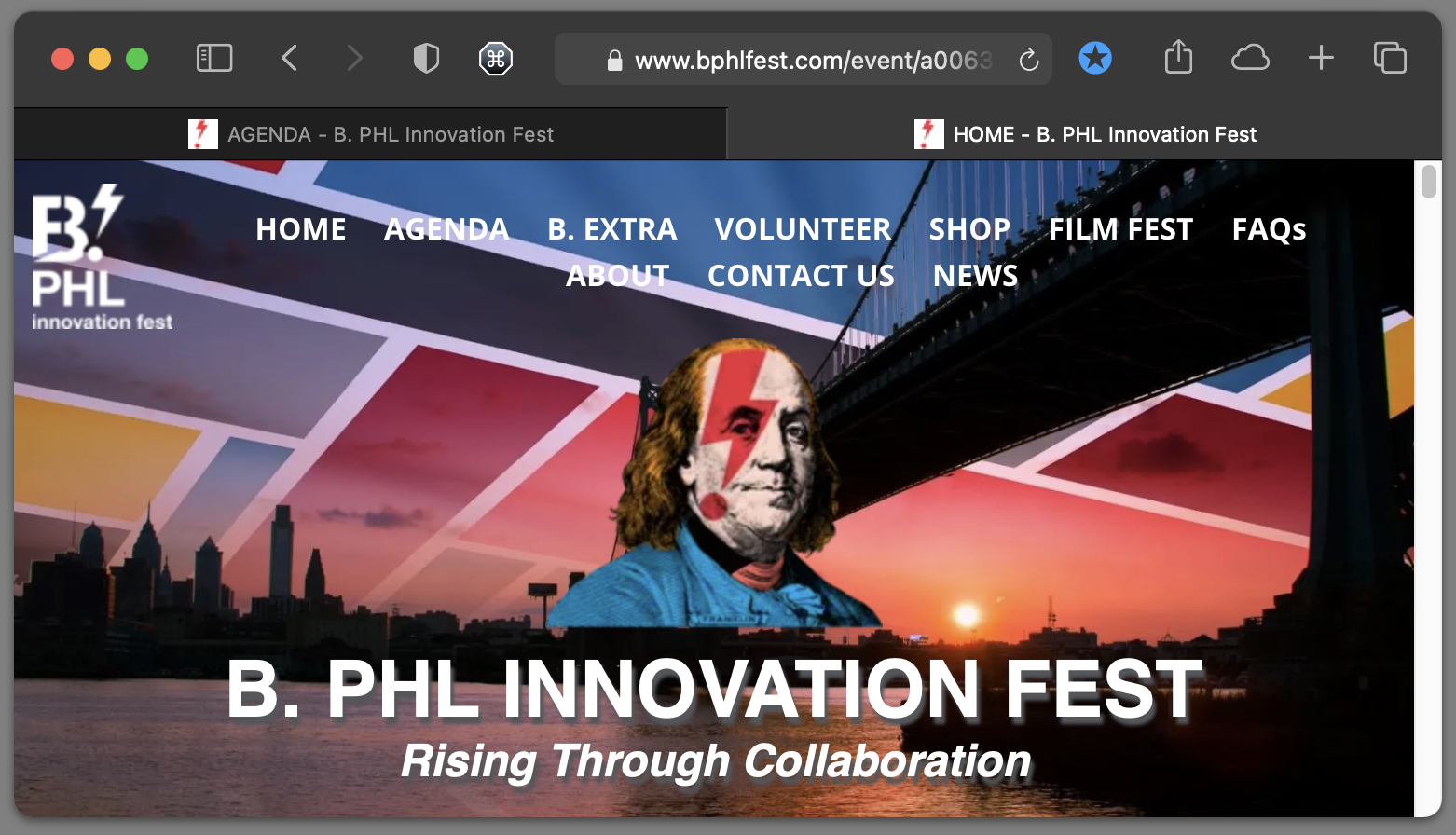 There's no ambiguity because the tabs are visually connected to the rest of the browser chrome, and the browser chrome is rendered in a way to make it visually distinct from the web page content. There's no ambiguity because the first job of any tab design ought to be to make clear which tab is active. I can't believe I had to type that sentence. But here we are.
Yes, it gets easier to discern the active tab with more than two tabs in a window, because any confusion as to whether darker or lighter indicates "active" is alleviated by having only one tab shaded differently than the others. But the utter failure of the new Safari tab design with exactly two tabs should have been reason enough to scrap this idea while it was experimental. Replacing an interface that doesn't require you to think at all with an interface that requires you to think — even a little — is a design sin of the first order. Designs should evolve over time in the other direction.
Does the Safari 15 tab design look cooler, particularly with the default coloring? I say no. I think it's novel, obviously, but suspect it's going to get old quickly. But even if you think it looks cool as fuck, that's not what user interface design is about. A good user interface needs to work first, then worry about looking cool.
The Safari 15 tab design is a blatant violation of Steve Jobs's oft-cited "Design is how it works" axiom:
Most people make the mistake of thinking design is what it looks like. People think it's this veneer — that the designers are handed this box and told, "Make it look good!" That's not what we think design is. It's not just what it looks like and feels like. Design is how it works.
If I were preparing a lecture for design students about what Jobs meant, I'd use Safari 14 and 15's tab designs as examples. If anything, Safari 15 feels like a ginned-up example — too obviously focused solely on how it looks, too obviously callous about how it works. If it hadn't actually shipped to tens of millions of Mac users as a software update, you'd think it was a straw man example of misguided design.
Functionality? Here's functionality. In Safari 14, the close tab button is just to the left of each tab's favicon. In Safari 15, bizarrely, the favicon turns into a close button on hover. First, hiding functionality behind unguessable hover states is a bad idea, but a hallmark of Apple's current HI team's fetish for visual minimalism. But turning an icon into a close button? Good god. Guy English, back on June 18:
Safari beta on macOS 12 tabs have a real anti-pattern: the favicon in the tab turns out to be the close tab button on hover. So if you aim at the favicon you'll close the tab. The only place in the entire OS where clicking an icon will delete the object you were interested in.
It's hard to express in words how perverse this is. The icon that represents the web page is a destructive button for that web page. Imagine clicking a document icon in the Finder to trash it.
Speaking of close buttons, if you open a dozen or so tabs in a window in Safari 15, the "tabs" shrink to just show the favicons. When this happens, close boxes stop appearing on non-frontmost tabs, even on hover. So how can you close these tabs without first activating them? To close them while they're not frontmost, you need to hold down the Command key while you move the mouse over them. Guess how many people are going to figure that out? (Not many.) Safari 14 does this too, but because its actual tab tabs are more space efficient, you have to open way more tabs in a window to get to the point where close boxes only appear for non-frontmost tabs while holding down the Command key.
From a usability perspective, every single thing about Safari 15's tabs is a regression. Everything. It's a tab design that can only please users who do not use tabs heavily; whereas the old tab design scaled gracefully from "I only open a few tabs at a time" all the way to "I have hundreds of tabs open across multiple windows". That's a disgrace. The Safari team literally invented the standard for how tabs work on MacOS. The tabs that are now available in the Finder, Terminal, and optionally in all document-based Mac apps are derived from the design and implementation of Safari's tabs. Now, Apple has thrown away Safari's tab design — a tab design that was not just best-of-platform, but arguably best-in-the-whole-damn-world — and replaced it with a design that is both inferior in the abstract, and utterly inconsistent with the standard tabs across the rest of MacOS.
The skin-deep "looks cool, ship it" nature of Safari 15's tab design is like a fictional UI from a movie or TV show, like Westworld's foldable tablets or Tony Stark's systems from Iron Man, where looking cool is the entirety of the design spec. Something designed not by UI designers but by graphic designers, with no thought whatsoever to the affordances, consistencies, and visual hierarchies essential to actual usability. Just what looks cool. This new tab design shows a complete disregard for the familiarity users have with Safari's existing tab design. Apple never has been and should not be a company that avoids change at all cost. But proper change — change that breaks users' habits and expectations — is only justifiable when it's an improvement. Change for change's sake alone is masturbatory. That with Safari 15 it actually makes usability worse, solely for flamboyant cosmetic reasons, is downright perverse.
Safari debuted in 2003 as the only major browser on Mac OS X with a first-class Mac interface.2 It remains the only major browser with a truly native Mac interface 18 years later. Safari hasn't just been a Mac-assed Mac app, it's been one of the best Mac apps, period — the sort of app UI designers turn to when they need to study how a proper Mac app implements something in its interface.
As someone who depends upon my web browser and relishes Mac apps that do things the Macintosh way, I'm angry. But I can only imagine how furious the WebKit team at Apple is. Safari is the app and WebKit is the rendering engine, but from a practical perspective they're one and the same, because — again — Safari is the only major WebKit browser for the Mac. Not because there couldn't be other great Mac WebKit browsers, but because Safari has been so good as a Mac app for so long, it left no room for a third-party Mac WebKit browser to gain traction.
The team that came up with these Safari redesigns shown at WWDC almost destroyed iOS Safari. Apple changed course over the summer and avoided that disaster. But though good design sense prevailed and iOS Safari was spared, the same design team has been allowed to disfigure Mac (and iPad) Safari. It's one thing when a bad UI design ships in a new or obscure Mac app from Apple; it's another thing altogether for what's almost certainly, by any measure, the single most-used app on the platform.
Web developers argue endlessly about the underlying differences in capabilities of rendering engines. Users don't think like that, though. They just want to use a browser that works, and that feels familiar and gets out of their way. Safari 15 for Mac is the opposite — it is unfamiliar and in your face.
Safari 15 for Mac is a tragic own goal — a de facto gift to Chrome and its growing browser hegemony. The option to turn off "Show color in tab bar" is an admittedly appreciated glass of ice water in hell. But true relief from the boiling hot sun of these craptacular "tabs" is just a download away. Google could and should run ads targeting Safari users, with a simple welcoming message: Switch to Chrome, the Mac browser where tabs look like tabs. ★