Thursday, 2 April 2020
Benjamin Mayo, writing for 9to5Mac yesterday:
In a significant shift, the Amazon Prime Video app on iOS and Apple TV now features a built-in content store. This means users can now buy or rent TV shows and movies directly inside the app on Apple platforms. The change was first spotted by The Verge.

For the longest time, Amazon did not support this because of Apple's App Store rules which require the developer to use Apple's In-App purchase system for digital content and give 30% of the revenue to Apple. The app now seems to use Amazon payment method if you have a card on file, otherwise it uses Apple In-App Purchase.
I've been digging into this since the news broke, and I think it's even more significant than Mayo suggests. It's not about whether Amazon has a credit card on file for your account — it's about whether you're already a Prime subscriber.
Here's Apple's official statement, which I was given yesterday:
Apple has an established program for premium subscription video entertainment providers to offer a variety of customer benefits — including integration with the Apple TV app, AirPlay 2 support, tvOS apps, universal search, Siri support and, where applicable, single or zero sign-on. On qualifying premium video entertainment apps such as Prime Video, Altice One and Canal+, customers have the option to buy or rent movies and TV shows using the payment method tied to their existing video subscription.
I've never heard of Altice One prior to this (it's a regional cable provider), and Canal+ I only know as a service popular in France. (So the "+" is pronounced plooce, not pluss.) So while Apple is technically correct that this program isn't new, with the addition of Prime Video it's effectively new to most of us.
Here's how it seems to work.
First, Amazon's Prime Video app only works if you're signed in with an Amazon account. You can create a new account in the app, but you need to be signed in. (Screenshot.) I'm using app, singular, and showing screenshots from iOS, but everything here applies equally to the Prime Video apps for both iOS, iPadOS, and tvOS.
If Your Amazon Account Has an Existing Prime Subscription
If you already subscribe to Prime (full Prime or just Prime Video), when you rent or purchase a movie in the app, the transaction is now handled by Amazon, using your credit card on file with Amazon. This is, in plain English, an in-app purchase insofar as you are making a purchase within the app, but it is not an Apple In-App Purchase. The interface is Amazon's, and the transaction is processed by Amazon.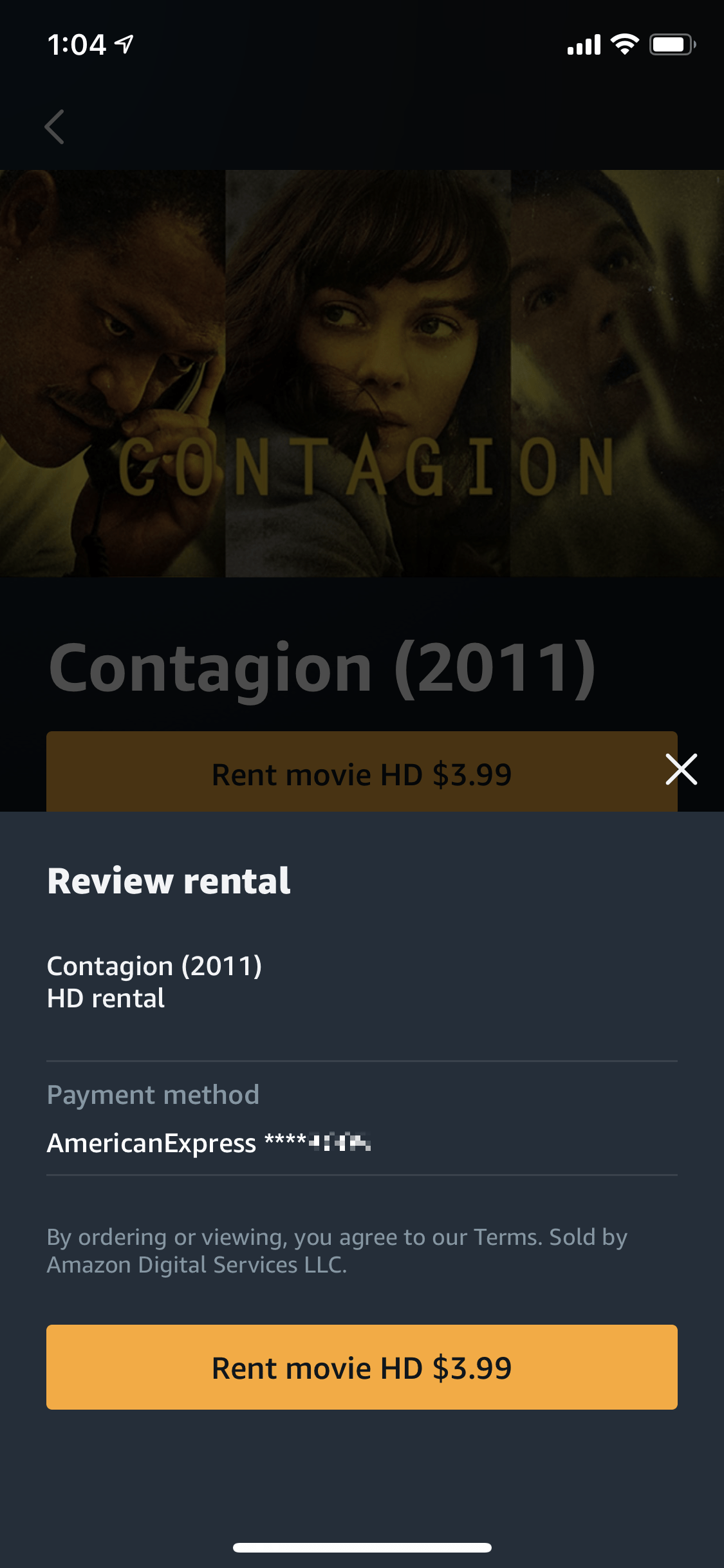 Amazon's permission to do this — to process credit card transactions on its own, right in the app — is new as of yesterday. And while Altice One and Canal+ have apparently been in the same program for some time, for most of us this is unprecedented. Apple's insistence that all in-app purchases of digital content go through Apple's official In-App Purchase mechanism — giving Apple its significant cut of each transaction — has been so steadfast ever since the inception of the App Store in 2008 that many observers genuinely wondered if Amazon had gone rogue yesterday, and was doing this without Apple's permission, hoping to provoke a high-stakes fight.
But this is completely sanctioned by Apple. If you have an existing Prime account — one you signed up for at Amazon's website — you can now purchase and rent movies and TV shows in the Prime Video app directly through Amazon. Apple doesn't see a dime.
If Your Amazon Account Does Not Have a Prime Subscription
If the Amazon account you're signed into does not have a Prime subscription, you can purchase or rent movies in the Prime Video app, and they will be processed as Apple In-App Purchases. This is true even if Amazon has a credit card on file for your account. If you are not subscribed to Prime, in-app purchases are Apple's In-App Purchases.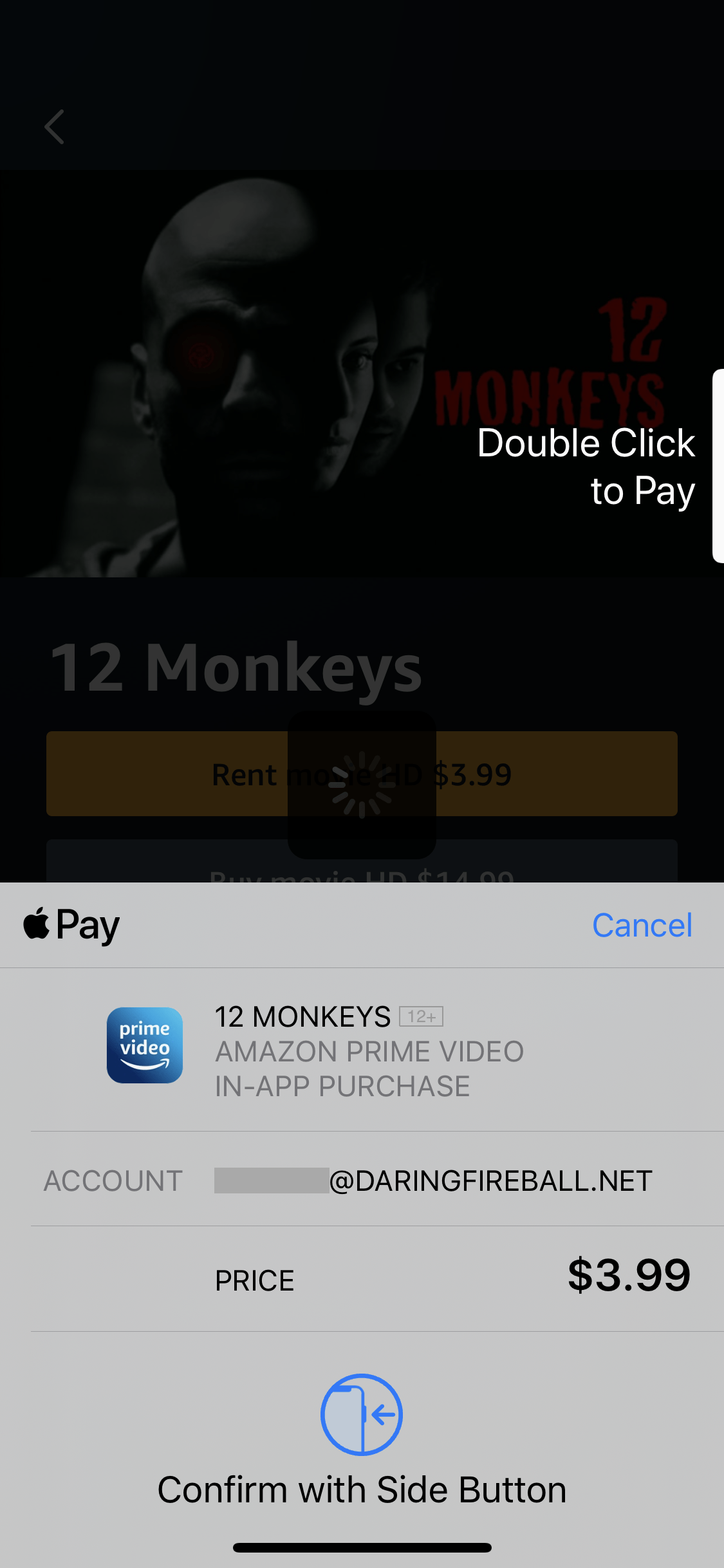 That's not even the most interesting part. If you don't subscribe to Prime, you can subscribe to Prime Video in-app for $9/month and it's an Apple iTunes subscription. Apple gets a cut and your subscription to Prime Video is managed like any other iTunes subscription.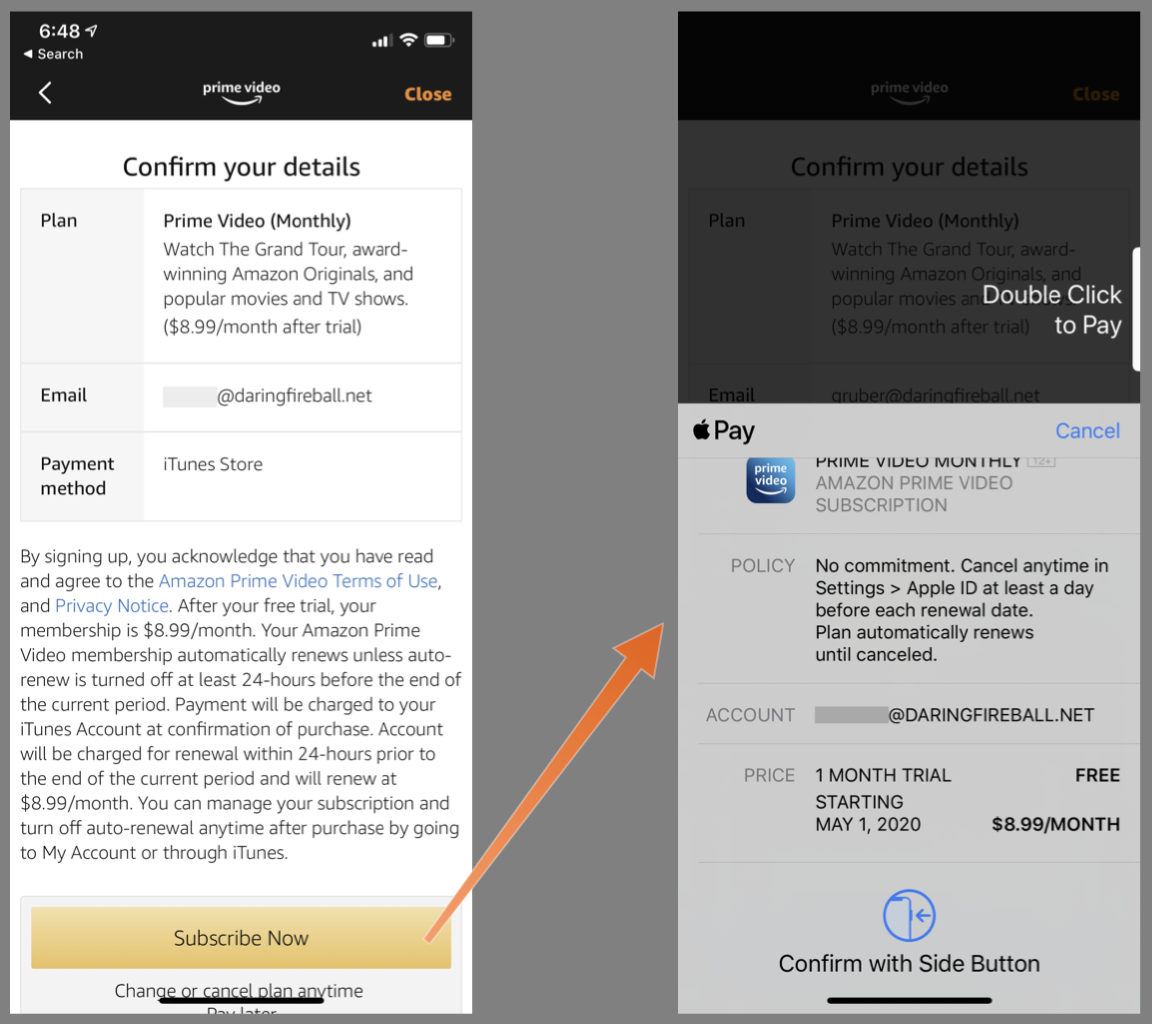 You get the same one-month free trial, and pay the same $9/month price thereafter, that you get when you sign up for Prime Video directly on Amazon.com. And it's a full cross-platform Prime Video account — you can use it to watch Prime Video content on the web, on Android devices — anywhere.
On Amazon's website, if you go to Prime Video → Settings, it is very clear that your account is managed through iTunes, and Amazon provides a very clear "Edit in iTunes" button.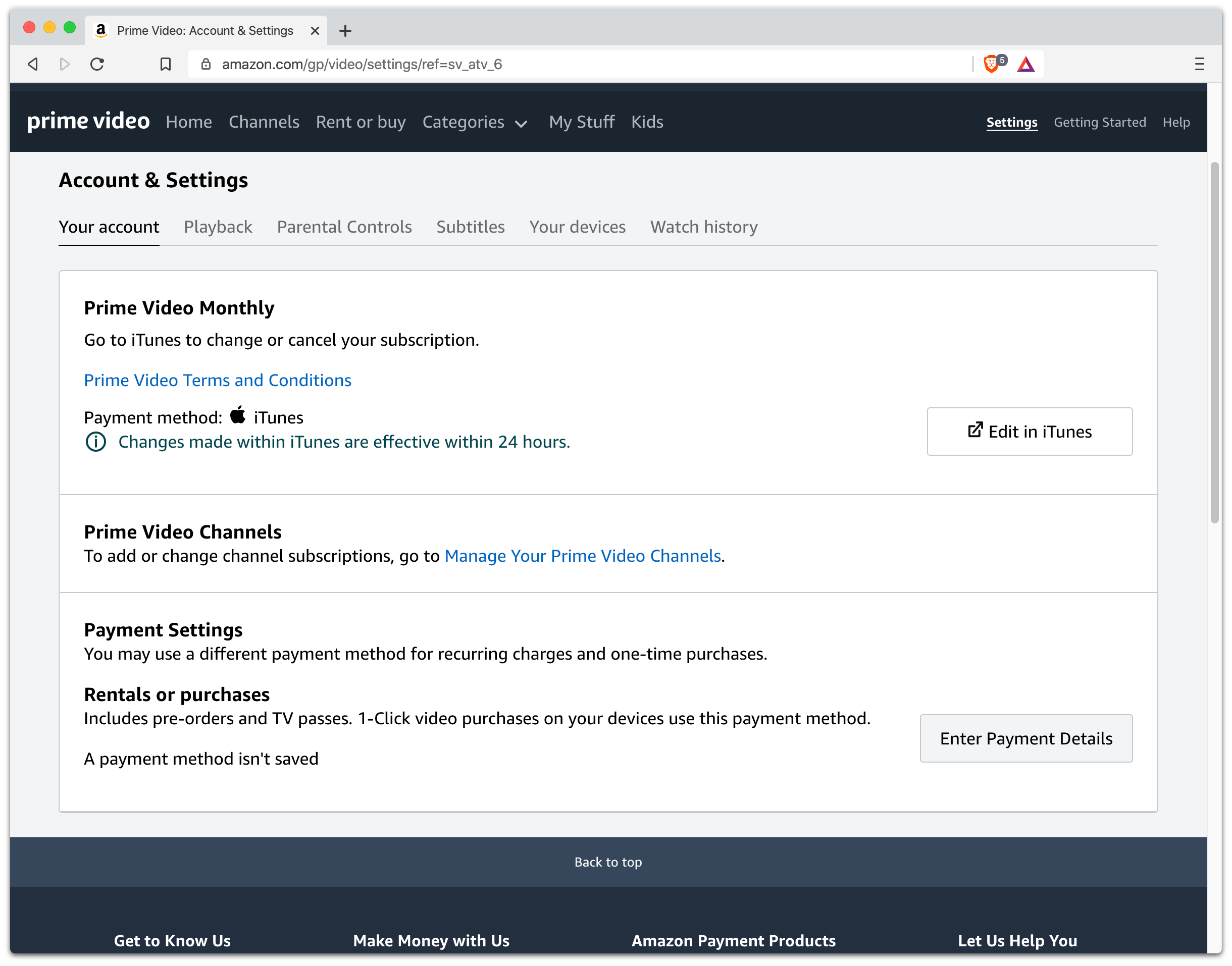 On MacOS 10.15 Catalina, clicking the "Edit in iTunes" button takes you to the subscriptions management section of your account settings in Apple's Music app; on iOS, it takes you to the subscriptions management section in the iTunes Store app.
In the Payment Settings section pictured above on Amazon's website, you can add a credit card payment method for "rentals or purchases". However, if your Prime Video subscription is through iTunes, in-app purchases on Apple devices will still go through Apple. This payment option only applies when buying or renting movies in Prime Video on non-Apple platforms. (I tested it on the web and Android.)
If you do not have a saved payment method in your Amazon account, when you attempt to purchase or rent a movie in the Prime Video app on Android, you will be prompted for your credit card info.
What Happens If You Sign Up for Full-Fledged Prime If You're Subscribed to Prime Video Via iTunes
There are two ways to get Prime Video content: a full-fledged Prime subscription (which includes all the free/discounted shipping benefits from real-world Amazon purchases, Amazon Music, etc.) or a Prime Video subscription. Full-fledged Prime costs $13/month; Prime Video costs $9/month. So what happens if you subscribe to Prime Video through iTunes, but subsequently decide to upgrade to a full-fledged Prime subscription at Amazon?
Well, you don't really get to "upgrade". You subscribe to Prime at Amazon.com as though you're altogether new to Prime. You must have a saved credit card on your account, and after your one-month trial, you'll be charged the full $13/month in addition to your existing $9/month iTunes subscription to Prime Video.
When you then visit your Prime Video settings — either on Amazon's website or in the Prime Video app — Amazon displays a prominent warning in red: "You might be charged twice for Prime Benefits." (Screenshots: web and app.)
The Quid Pro Quo
Let's return to Apple's statement on this program:
Apple has an established program for premium subscription video entertainment providers to offer a variety of customer benefits — including integration with the Apple TV app, AirPlay 2 support, tvOS apps, universal search, Siri support and, where applicable, single or zero sign-on.
What Apple is saying here is that for a video subscription service — pardon me, a premium video subscription service — to qualify for this program, the service has to support all of Apple's features for video content apps: AirPlay 2 support, a native tvOS app, single sign-on if applicable, universal search and Siri support (so if you search in the TV app for a show or movie, results from Amazon Prime Video show up). This includes integration with the TV app for features like Up Next — start watching a TV series in Prime Video and when you go to Apple's TV app (on any device) your next episode should appear in Up Next. Supporting all of these features is a lot of work, and Amazon has done it all.
So the deal seems to be this:
The Prime Video app supports every feature that makes a third-party subscription video service a first-class citizen in Apple's multi-device TV ecosystem.
For users with existing Prime subscriptions, or new subscriptions made on Amazon's website, Amazon now gets to bill them directly for movie rentals and purchases made in the app, giving Apple no cut of the transactions.
Users can subscribe to Prime Video in-app using an iTunes subscription, giving Apple a recurring cut, and leaving subscription management in Apple's hands.
For users without a Prime subscription, or with a Prime subscription made through the app, Amazon now bills them for purchases and rentals through Apple's In-App Purchase mechanism, giving Apple a cut.
Why would Apple agree to this? Financially, Apple now gets a cut of some Prime Video rentals and purchases, and a recurring cut of new Prime Video subscriptions made in-app. And Apple TV users get all the benefits from the Prime Video app supporting AirPlay 2, universal search, and integration with the TV app that Apple is trying to make the default interface for watching shows and movies. Prior to this deal, Apple made nothing from Prime Video — it was a free app with no in-app purchases, and there was no way to subscribe to Prime Video through iTunes.
Why would Amazon agree to this? Amazon now gets to sell movies and TV shows directly in the Prime Video app for iOS and tvOS users. For existing Prime subscribers, they get to keep all of the money from these purchases and rentals. The tricky question is why would Amazon agree to allow people to subscribe to Prime Video through iTunes, giving Apple a cut of the recurring subscription. Apple's standard terms for subscriptions are a 70/30 percent split for the first year, and 85/15 thereafter. I would bet that Amazon negotiated more favorable terms than this, but no one but Amazon and Apple know that. (It is widely understood that Netflix negotiated more favorable terms with Apple back when Netflix supported subscriptions through iTunes — they had an 85/15 split for the first year, too.) But even if Amazon is getting the standard 70/30-then-85/15 terms — I doubt that, but let's just say even if they are — I can see why they'd agree to it if they think they've already saturated the potential market for Prime subscribers they can get on their own.
If their new sign-ups for Prime are tapering off in the U.S. — which seems very possible, given how popular Prime is and how long it's been around — any new subscriptions they can get through in-app iTunes subscriptions may well be worth the recurring cut Apple will take. There's practically zero risk that any existing Prime Video subscribers are going to cancel just to resubscribe using iTunes, and even less risk that any full-fledged Prime subscribers would downgrade to Prime Video only. It's all upside for Amazon, even with Apple's cut of in-app transactions.
It's a win for Apple, a win for Amazon, and a win for users in the Apple TV ecosystem.
Amazon has, effectively, pulled a reverse Netflix. ★
Monday, 30 March 2020
Joseph Cox, reporting for Motherboard last week:
As people work and socialize from home, video conferencing software Zoom has exploded in popularity. What the company and its privacy policy don't make clear is that the iOS version of the Zoom app is sending some analytics data to Facebook, even if Zoom users don't have a Facebook account, according to a Motherboard analysis of the app. […]

"That's shocking. There is nothing in the privacy policy that addresses that," Pat Walshe, an activist from Privacy Matters who has analyzed Zoom's privacy policy, said in a Twitter direct message.
Zoom subsequently removed the Facebook integration code and fast-tracked an update to the App Store. But still. This is a company with a history of playing fast and loose with privacy and security. You may recall last summer, when it came to light that the Mac version of Zoom secretly installed a web server, which remained installed and running even if you deleted the Zoom app from your machine. Shockingly, this enabled a security exploit that allowed hackers to take control of your Mac's camera — the sort of privacy nightmare scenario that leads folks to tape over their cameras. Zoom called this hidden unremovable-through-normal-means web server a feature, not a bug. The bug was so insidious that Apple had to push a silent MacOS update to remove Zoom's hidden web servers.
I'm not prone to histrionics but this is genuinely outrageous — not even to mention the fact that Leitschuh reported this to Zoom months ago and Zoom effectively shrugged its corporate shoulders.

If you ever installed Zoom, I'd go through the steps to eradicate it and never install it again.
This Facebook data issue is nowhere near as bad as the web server issue. But it betrays Zoom's institutionally cavalier attitude to privacy. Their privacy policy more or less grants them carte blanche to do whatever the hell they want.
Mistakes happen. Bugs happen. I not only forgive mistakes, I enjoy forgiving mistakes. But Zoom's callous disregard for privacy does not seem to be a mistake. As Zoom itself said about the hidden web server they secretly installed on Macs, it's a feature not a bug.
Alas, Zoom's video conferencing technology is best of breed, and because Zoom is easy to use and the quality is so high, it is exploding in popularity now that the whole world is working and socializing remotely. All of the following can be — and I believe are — true: Zoom is popular, useful, and by their own admission not trustworthy.
If you must use Zoom or simply want to use it, I highly recommend using it on your iPad and iPhone only.1 The iOS version is sandboxed and reviewed by the App Store. The Mac version of Zoom is not available through the App Store, which makes me trust it not a bit. Much of the Mac software I rely on every day is not from the App Store — but all of it comes from developers I trust, who have proven reputations.
Zoom is not on that list.
Update: On the Mac, Zoom requires the use of an installer, and Zoom's installer experience is… not confidence inspiring. The entire installation takes place during the preflight stage of the installation. Again, that's clearly not an oversight or honest mistake. Everyone knows what "preflight" means. It's a complete disregard for doing things properly and honestly on Zoom's part. There's no way to check what files will be installed and where before their installer has gone ahead and installed them. (Hacker News thread with details.)
Update 2: Zoom also has a web version, with fewer features than the desktop app. If you need to use Zoom from your Mac, try that — using a private browser window — before you download and install their app.
In closing, I'll turn the virtual mic over to Doc Searls, who wrote this in the closing paragraphs of the first of a series of posts on Zoom and privacy:
Here's the thing: Zoom doesn't need to be in the advertising business, least of all in the part of it that lives like a vampire off the blood of human data. If Zoom needs more money, it should charge more for its services, or give less away for free. Zoom has an extremely valuable service, which it performs very well — better than anybody else, apparently. It also has a platform with lots of apps with just as absolute an interest in privacy. They should be concerned as well. (Unless, of course, they also want to be in the privacy-violating end of the advertising business.)

What Zoom's current privacy policy says is worse than "You don't have any privacy here." It says, "We expose your virtual necks to data vampires who can do what they will with it." ★
Saturday, 28 March 2020
Cursor is an overloaded term. There are two discrete elements of modern computing that we loosely refer to as "cursors":
The icon that moves around on the screen that you control with your mouse or trackpad.
The vertical bar that blinks in a text editing field to indicate where typed characters will appear.
For clarity, it's best not to refer to either of these things as cursors. Instead:
Mouse/trackpad pointer.
Insertion point.
This terminology has been slightly confusing over the last week, since Apple's surprise announcement of pointer support in iPadOS 13.4. In their marketing materials, Apple is calling pointers "cursors". E.g, on the webpage for the refreshed iPad Pros:
The click-anywhere trackpad opens up a whole new way to work in iPadOS. It allows control of the new cursor in iPadOS, which is perfect for tasks like editing a spreadsheet, selecting text, or simply doing everything right from the trackpad.
From the Apple Newsroom announcement:
iPadOS 13.4 brings trackpad support to iPad for the first time for a more natural typing experience and added precision for tasks such as writing and selecting text, working with spreadsheets and pro workflows. Designed specifically for the touch-first experience on iPad, the cursor appears as a circle that highlights user interface elements, text fields and apps on the Home screen and Dock, giving a clear indication of what users can click on.
In neither of these cases is cursor ambiguous — in context, it's completely clear they're referring to the trackpad pointer. But as a general rule, it's better to err on the side of precision, and pointer and insertion point always avoid ambiguity.
In its technical documentation, Apple is clear. In the updated Human Interface Guidelines:
Pointers (iPadOS)

iPadOS 13.4 introduces dynamic pointer effects and behaviors that enhance the experience of using a pointing device with iPad. As people use a pointing device, iPadOS automatically adapts the pointer to the current context, providing rich visual feedback and just the right level of precision needed to enhance productivity and simplify common tasks.

The iPadOS pointing system gives people an additional way to interact with apps and content — it doesn't replace touch. Some people may continue to use touch only, while others may prefer to use the pointer or a combination of both. Let people choose how to interact with your app, and avoid condensing your interface or making changes that require them to use the pointer.
From Apple's excellent Apple Style Guide (available free of charge in the Apple Books store):
cursor
Don't use in describing the macOS or iOS interface; use insertion point or pointer, depending on the context. The term cursor is appropriate when you describe the VoiceOver interface and may be appropriate when you describe other interfaces and in developer materials.
"Other interfaces" would include the terminal/command-line, where the (perhaps) blinking insertion point is properly called the cursor.
When it comes to pointers, it's worth noting the Apple Style Guide recommends getting specific:
pointer
OK in general references, but be specific whenever appropriate: arrow, crosshair, I-beam.
And, of course, the Apple Style Guide prescribes OK, never okay. ★